Copyright
©2007 Baishideng Publishing Group Inc.
All rights reserved.
Migrated endoclip and stone formation after cholecystectomy: A new danger of acute pancreatitis
Kemal Dolay, Halil Alis, Aliye Soylu, Gulum Altaca, Ersan Aygun, Department of General Surgery1 and Gastroenterology 2, Endoscopy Unit, Bakırkoy Research and Training Hospital, Bakirkoy, Istanbul, Turkey
Author contributions: All authors contributed equally to the work.
Correspondence to: Kemal Dolay, MD, Bakırköy Eğitim ve Araştırma Hastanesi Genel Cerrahi Kliniği Endoskopi Ünitesi Istanbul, Turkey. dolayk@yahoo.com
Telephone: +90-212-6011909 Fax: +90-212-5713278
Received: August 5, 2007
Revised: September 28, 2007
Accepted: November 16, 2007
Published online: December 21, 2007

Endoclip migration into the common bile duct following laparoscopic cholecystectomy (LC) is an extremely rare complication. Migrated endoclip into the common bile duct can cause obstruction, serve as a nidus for stone formation, and cause cholangitis. We report a case of obstructive jaundice and acute biliary pancreatitis due to choledocholithiasis caused by a migrated endoclip 6 mo after LC. The patient underwent early endoscopic retrograde cholangiopancreatography (ERCP) with endoscopic sphincterotomy and stone extraction.
---
Citation: Dolay K, Alis H, Soylu A, Altaca G, Aygun E. Migrated endoclip and stone formation after cholecystectomy: A new danger of acute pancreatitis. World J Gastroenterol 2007; 13(47): 6446-6448
---
INTRODUCTION
Laparoscopic cholecytectomy (LC) has become the standard approach in the treatment of benign gallbladder disease. The widespread use of LC does not increase the total incidence of postoperative complications[1]. Endoclip migration into the common bile duct was first reported by Raul et al[2] in 1992 as an extremely rare complication. To our knowledge, this is the first case of a migrated clip eventually resulting in acute biliary pancreatitis after LC, although choledocholithiasis due to endoclip migration into the common bile duct has been reported[1].
CASE REPORT
A 56-year-old woman with mild right upper quadrant pain for 2 d was admitted to our hospital for acute onset of severe upper abdominal pain radiating to the back accompanied with vomiting for 12 h. On physical examination, she had no fever, the sclera was icteric, and there was tenderness on the right upper quadrant of the abdomen and the epigastric area with no rigidity and rebound pain. Her amylase and lipase levels were 2066 U/L and 1980 U/L, respectively. Her liver function tests were as follows: 5 mg/dL direct bilirubin, 303 IU/L gamma glutamyl transpeptidase, 135 IU/L alkaline phosphatase, 127 mg/dL glucose, 12 g/dL blood urea nitrogen, 170 IU/L lactate dehydrogenase, 8.6 mg/dL calcium, 3.8 g/dL albumin, 66 mmHg arterial Po2, 6800/μL white blood cells, 35% hematocrit , and 12 g/dL hemoglobin. She underwent selective noncomplicated LC 6 mo prior to this episode of acute pancreatitis.
Plain abdominal X-rays showed three endoclips in the right upper quadrant, two of them were close to each other and one was located inferiomedially to the others. Abdominal ultrasonography (US) revealed that the common bile duct was dilated to 12 mm in diameter and the pancreas was swollen. The distal common bile duct could not be evaluated adequately by US.
The patient was diagnosed as mild biliary acute pancreatitis based on the modified Imrie criteria. After medical treatment was started, ERCP performed on the second day of admittance, demonstrated a stone (12 mm in diameter) and an imbedded surgical clip at the distal part of common bile duct which was dilated to 13 mm in diameter (Figure 1A). A sphincterotomy of 15mm was performed. The extraction balloon catheter was easily burst when the stone was extracted. The stone was removed via a Dormia basket catheter (Figure 2A and B).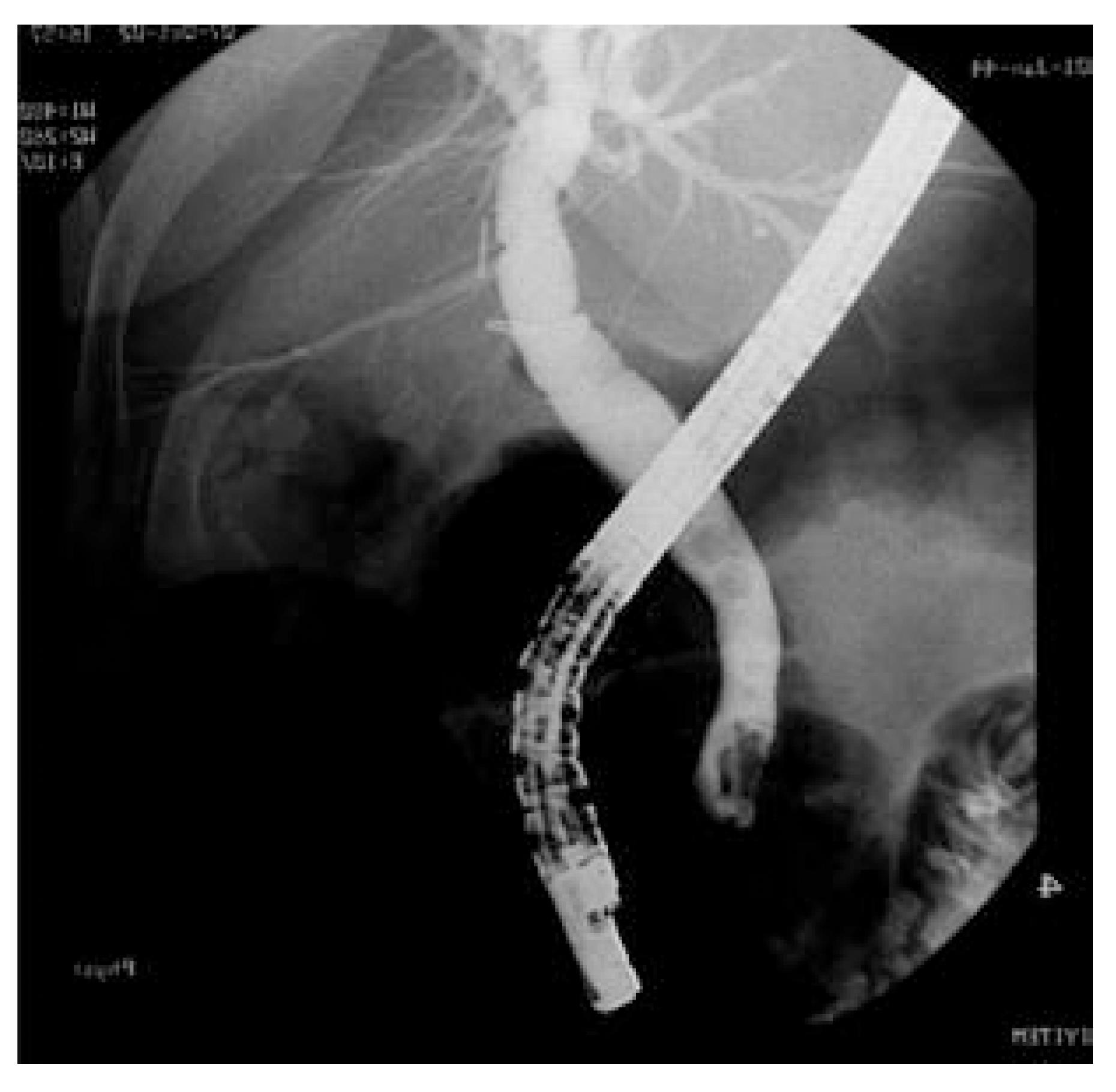 Figure 1 ERCP demo-nstrating a stone (12 mm in diameter) and an imbedded surgical clip at the distal part of the common bile duct.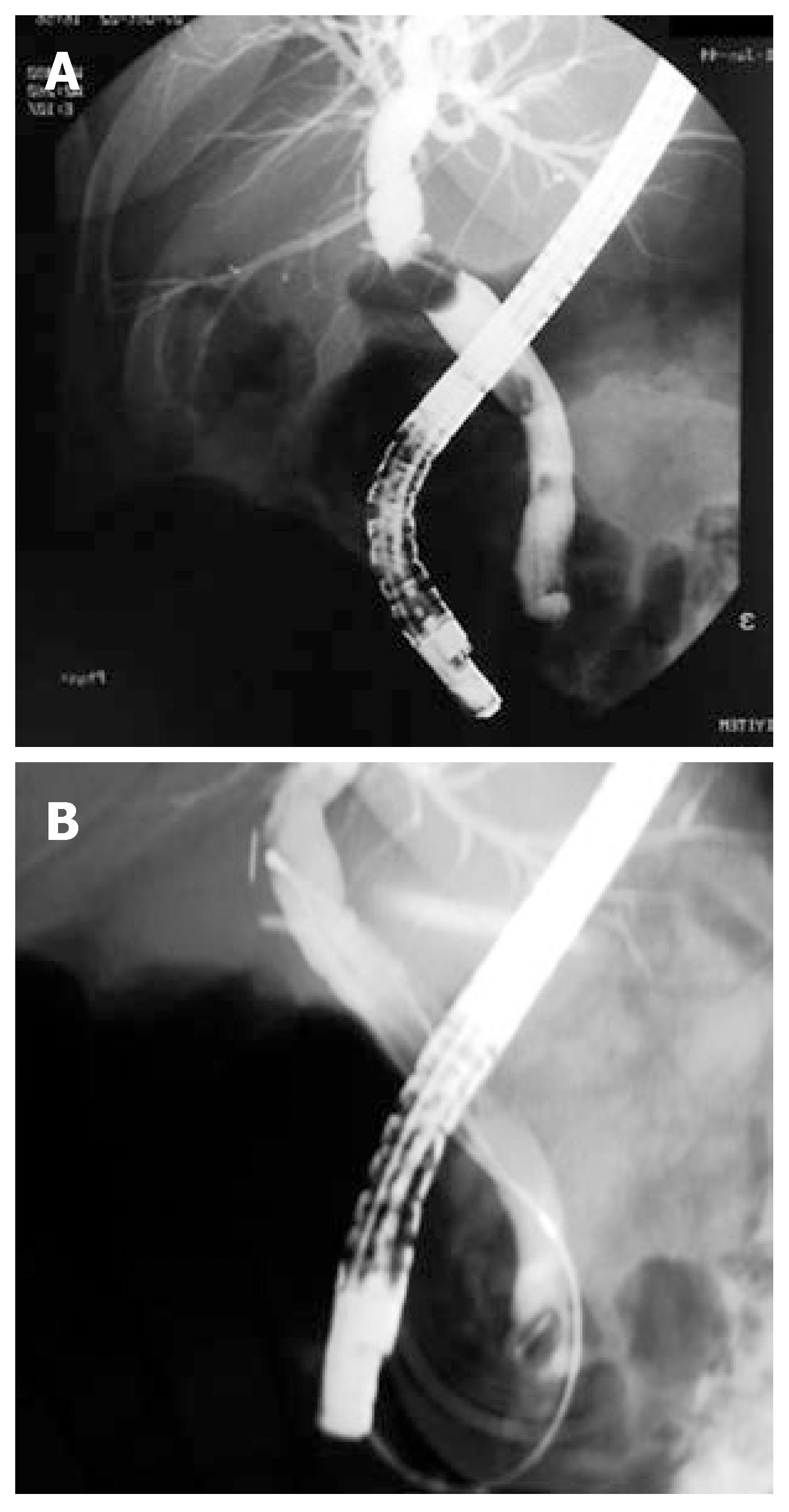 Figure 2 Placement of balloon catheter (A) and (B) Dormia basket catheter to extract the stone above the common bile duct after endoscopic sphincterotomy.
Her symptoms improved on the first day after ERCP and the serum amylase level decreased to 250 IU/L. Her amylase levels and other biochemical parameters were normal on d 2 after ERCP and she was discharged from the hospital without any complications. There was no clinical or biochemical abnormality attributable to the biliary system or pancreas during the 1-year follow-up period after ERCP.
DISCUSSION
Although the long term behavior of metal endoclips placed during LC is not clear, it is a well known-phenomenon that the remained foreign materials in abdominal cavity tend to migrate towards the organs with lumens. Since stone formation within the common bile duct due to silk suture material after open cholecystectomy (OC) was first described in 1987, various foreign bodies causing nidus formation in bile ducts have been reported[3,4]. Ban et al[3] have divided biliary tract foreign bodies into three categories: operative residuals, penetrating missiles, and ingested items.
The first cases of choledocholithiasis due to endoclip migration into the common bile duct after OC and LC were reported by Walker et al[5] in 1979 and by Raoul et al[2] in 1992, respectively.
The true pathogenesis of migration of endoclips into the common bile duct is unclear. According to the first hypothesis, cystic duct remains patent due to ineffective clipping resulting in bilioma with bile leakage[2,6-8]. This bilioma leads to necrosis in the stump of the cystic duct by inducing chronic inflammation. The liberated clip in the necrotized cystic duct stump migrates into the common bile duct by eroding it mechanically. Presentation of the bile leakage might be subclinical, self-limited or clinically overt, which may explain why migrations occur in the early postoperative period with bile leakage.
According to the second hypothesis, the clip migrates into the ductal system by eroding the bile duct due to the local inflammation around the endoclip[6,9-12]. Short cystic duct or cystic artery, clip placement close to the common bile duct, manipulations after clipping (uncontrolled aspiration and irrigation, retraction of porta hepatis, etc.), local suppurative complications and ischemia on the ductal wall (excessive dissection) are risk factors for clip migration.
There have been rare reports concerning the migration of clips into the common bile duct resulting in complications other than stone formation, such as cholangitis, obstruction and stenosis of the common bile duct[6,11,13]. Cetta et al[14] reported a case of transient acute pancreatitis in the absence of associated stones 15 d after LC, probably due to spontaneous passage of an endoclip through the common bile duct. The case presented here is unique since stone formation and eventually acute pancreatitis occurred due to clip migration. It was reported that the time of endoclips to migrate into the bile ducts after LC is between 11 d and 6 years[2,6,7,15,16].
Absorbable clips and ultrasonic dissection without clipping in LC can prevent occurrence of clip migration and its complications[13,17]. However, these methods have not yet been used commonly by surgeons probably due to the complication and high costs of their applications. Bile duct stones associated with migration of clips after LC are usually extracted during ERCP[2,8,14]. However, when ERCP fails or in cases with additional pathology, open surgery or percutaneous transhepatic cholangioscopy can be performed[8,18].
The role of early ERCP and endoscopic sphincte-rotomy (ES) in the treatment of acute biliary pancreatitis is still controversial[19]. At present, early endoscopic intervention is suggested in patients with acute biliary pancreatitis when criteria for severity are met and/or there are coexistent cholangitis, jaundice, dilated common bile duct, smoldering or deteriorating clinical course[19]. In this case, we preferred early ERCP due to the presence of jaundice and dilated common bile duct.
In conclusion, endoclips after LC may migrate into the common bile duct leading to stone formation, obstruction, cholangitis, stenosis and even pancreatitis. Care should be taken during clip application, and clips should be completely squeezed by the clip applicator and unnecessary manipulations after clipping should be avoided.
S- Editor Liu Y L- Editor Wang XL E- Editor Ma WH