Copyright
©2007 Baishideng Publishing Group Inc.
All rights reserved.
Review of idiopathic pancreatitis
Jason Kihyuk Lee, University of British Columbia Department of Medicine, Vancouver, British Columbia, Canada
Robert Enns, University of British Columbia Department of Medicine, Division of Gastroenterology, St. Paul's Hospital, Vancouver, British Columbia, Canada
Author contributions: All authors contributed equally to the work.
Correspondence to: Robert Enns, MD, FRCP, University of British Columbia Department of Medicine, Division of Gastro-enterology, St. Paul's Hospital, Vancouver, British Columbia, Canada. renns@interchange.ubc.ca
Telephone: +1-604-6886332 Fax: +1-604-6892004
Received: June 15, 2007
Revised: July 16, 2007
Accepted: November 1, 2007
Published online: December 21, 2007

Recent advances in understanding of pancreatitis and advances in technology have uncovered the veils of idiopathic pancreatitis to a point where a thorough history and judicious use of diagnostic techniques elucidate the cause in over 80% of cases. This review examines the multitude of etiologies of what were once labeled idiopathic pancreatitis and provides the current evidence on each. This review begins with a background review of the current epidemiology of idiopathic pancreatitis prior to discussion of various etiologies. Etiologies of medications, infections, toxins, autoimmune disorders, vascular causes, and anatomic and functional causes are explored in detail. We conclude with management of true idiopathic pancreatitis and a summary of the various etiologic agents. Throughout this review, areas of controversies are highlighted.
---
Citation: Lee JK, Enns R. Review of idiopathic pancreatitis. World J Gastroenterol 2007; 13(47): 6296-6313
---
INTRODUCTION
Pancreatitis is a relatively common disorder with a myriad of etiologies all resulting in a common end result of inflammation within the pancreas. Acute pancreatitis (AP) results in acute inflammation typically presenting as abdominal pain with elevated levels of pancreatic enzymes[1]. Chronic pancreatitis (CP) is defined as a clinical syndrome of progressive inflammatory changes in the pancreas leading to permanent structural damage with subsequent impairment of both exocrine and endocrine function[2]. Chronic pancreatitis is often preceded by recurrent bouts of acute pancreatitis, however, occasionally it can present in a 'silent' fashion.
The label of "idiopathic pancreatitis" (IP) was originally designated to cases of pancreatitis wherein a diagnosis could not be made through a thorough history, physical examination, laboratory studies, and noninvasive imaging modalities such as abdominal ultrasonography/computerized tomography. Previously, this nomenclature had accounted for 8%-44% of cases being termed "idiopathic"[3-9]. Recent new laboratory and technological advances have been able to shred the enigmatic veils of IP to a point wherein with extensive evaluation it is possible to reveal the etiology in 79%-80% of patients previously labeled as having "idiopathic pancreatitis"[10,11]. More modern imaging investigations include, but are not limited to fine cut computerized tomography, endoscopic retrograde pancreatography, magnetic resonance pancreatography as well as endoscopic ultrasound.
EPIDEMIOLOGY
Longitudinal data on incidence trends report an increase in AP[12] which may be attributable to increases in all causes of pancreatitis as well as improved detection methods. The fatality rate for pancreatitis has continued to range between 3%-10%[13-18] despite a marked decrease in pancreatitis case fatality presumably secondary to early recognition of severity and complications as well as improved intensive care management[14,15]. Thomson[6] and others[7,17] have noted that in AP mortality rates are greater when the etiology is IP (14.1%)[6], compared with gallstone pancreatitis (7.2%)[6]. In addition, the clinical impact of IP is further highlighted by the fact that 40 percent (the largest subgroup) of all AP fatalities are attributable to IP[19,20]. The incidence of IP ranges from 4.21 per 100000[21] to as high as 45.33 per 100000[9] depending on the population studied and the time in which data was collected with a trend toward high incidence in populations studied more recently[12,13,22]. The incidence appears to be equal between the two sexes and tends to increase with age in both before starting to plateau around 70 years[18].
Elucidating the etiology of pancreatitis, if possible is paramount as it guides therapy and may theoretically subsequently improve patient outcomes, thereby preventing relapses. Some studies have shown that over 50% of untreated patients with acute IP experience recurrent episodes[23-25]. This contrasts with other studies where only 1 of 31 patients with a first episode of unexplained AP suffered another attack during a median follow up of 36 mo[26]. These conflicting results may reflect different patient populations, perhaps even within the same category known as IP.
Aside from the initial objective to decrease acute patient mortality and morbidity, repeated insults to the pancreas may progress to chronic pancreatitis with irreversible morphologic and functional changes[2,24,27]. This concern typically results in aggressive investigation for those patients with more than one episode of AP. This approach is supported by a study by Kaw and Brodmerkel in a study that included 126 patients with two or more episodes of IP. They demonstrated that investigations including bile for microlithiasis, a secretin stimulation test, and sphincter of Oddi manometry (SOM) was able to clarify the etiologies in 79 percent of patients[11]. In this study they were able to offer 75% of these patients treatment that resulted in the absence of AP in over 60% of cases over a 30 mo follow-up period[11].
However there is ongoing debate against aggressive evaluation. The Kaw and Brodmerkel study confirmed previous morbidity data demonstrating that SOM is not a benign procedure and that complications occur[11]. Additionally, many aggressive techniques for diagnosing the etiology of pancreatitis, including SOM, may not be routinely available. Therefore the generalizability of this study has been brought into question.
This article will examine some of the etiologies that must be excluded prior to a diagnosis of IP. An attempt will be made to highlight the areas of controversy, and make suggestions based on the best available evidence. For the purpose of this IP article, gallstones and alcohol related pancreatic disease will not be discussed as their presentation is usually easily determined. For a more comprehensive list of all etiologies of pancreatitis please refer to Table 1.
Category
Agent/Diagnosis
Vascular
Atheroembolism
Intraoperative hypotension
Hemorrhagic shock
Vasculitis (systemic lupus erythematosus and polyarteritis nodosa)
Infectious
Viral
Mumps
Coxsackievirus type B
Hepatitis B
Cytomegalovirus
Herpes simplex
Varicella-zoster
HIV
Rubella (probable)
Bacterial
Legionella
Leptospira
Salmonella
Mycoplasma
Brucella
Mycoplasma
Salmonella typhi
Fungal
Aspergillus
Parasites
Toxoplasma
Cryptosporidium
Ascaris lumbricoides
Trauma
Blunt or penetrating abdominal injury
Post-ERCP pancreatitis
ERCP sphincterotomy
Manometry of sphincter of Oddi
Iatrogenic operative complication
Metabolic
Hypertriglyceridemia (typesI, IV, V)
Hypercalcemia
Hyperparathyroidism
Toxins
Ethyl alcohol
Scorpion venom
Methyl alcohol
Organophosphorous insecticides
Medications The following drugs were definitely associated with pancreatitis
Antimicrobial agents
Metronidazole, Stibogluconate, Sulfonamides, Tetracycline, Nitrofurantoin, Erythromycin, Isoniazid
HIV Therapy
Didanosine, Pentamidine
Diuretics
Furosemide, Thiazides
Commonly used Gastroenterology Medications
5-ASA, Sulphasalazine, Cimetidine, Ranitidine, Mercaptopurine, Proton pump inhibitors
Cardiac Agents
Procainamide
Immunosuppressives or Chemotherapeutics
L-asparaginase, Azathioprine, Cytosine arabinoside, Dexamethasone
Neuropsychiatric Agents
Mechanical
Valproic Acid, αMethyl Dopa
Other Commonly Used
Acetaminophen, Salicylates, Sulindac, Calcium, Ethinylestradiol, Norethindrone
Gallstones
Microlithiasis and Biliary Sludge.
Sphincter of Oddi dysfunction
Pancreas divisum
Annular pancreas
Autoimmune pancreatitis
Pancreatobiliary Tumours
Cholodochocele
Duodenal stricture or obstruction
Miscellaneous
Ascariasis
Post ERCP
Renal transplant
Genetic
Hyper IgG4 disease
CFTR
Serine protease inhibitor Kazal type 1 mutation
Cationic trypsinogen gene PRSS1 mutation
Autoimmune
Sjogren's syndrome
Primary biliary cirrhosis
Renal tubular acidosis
PANCREATITIS ETIOLOGIES OFTEN LABELLED AS IDIOPATHIC PANCREATITIS
GENETIC ASSOCIATIONS AND CAUSES
An exciting development is the recognition of genetic mutations that are associated with pancreatitis.
MEDICATIONS
The list of medications that are associated with or that cause pancreatitis is increasing[228-230]. In one German study 1.4% of all acute pancreatitis was related to medications[231]. Another study reported an even lower association of 0.3%[232]. Drugs with the highest incidence of pancreatitis are azathioprine and mercaptopurine (incidence, 3 to 5%)[233] and didanosine (23%)[234].
Most medication related to pancreatitis is due to idiosyncratic response or a direct toxic effect. A high index of suspicion and astute drug history is crucial for making the diagnosis.
A few areas of medications causing pancreatitis will be highlighted. Firstly, physicians should be aware of a recent development showing an association of proton pump inhibitors and pancreatitis[235-237]. Secondly, some medications, such as pentamidine, valproic acid, and didanosine, appear to cause injury weeks to months after exposure, possibly through the accumulation of a toxic metabolite[238]. Hypersensitivity reactions have been implicated in other drugs, such as azathioprine, mercaptopurine, metronidazole, aminosalicylates, and sulfonamides, and these drugs characteristically lead to pancreatitis within one month after exposure[238]. Lastly, some medications like acetaminophen may cause pancreatitis with a single dose[239].
A complete list of medications that are classified as being definitely associated with pancreatitis derived from multiple references is shown in Table 1[228-230,240-242].
TOXINS
Toxins that have been linked to pancreatitis include the most common alcohol. The more deadly methanol can also cause AP[243]. Although exceedingly rare scorpion bites from Trinidad have been known to cause AP[244,245]. Another rare cause of IP is organophosphorous poi-soning[246].
INFECTIOUS CAUSES
A plethora of infectious agents have been associated with AP[247]. A full list of definite and probable etiologic agents is provided in Table 1 from data gathered from Parenti et al[247]. It is unclear how often an infectious etiology is responsible for IP but many appear to be associated with it[247].
A clinician must be suspicious of an infectious etiology in the characteristic syndrome caused by the particular infectious agent notwithstanding that this was evident in only 70% of patients in the prior review for definite cases[247]. A routine search for an infectious cause in IP is not recommended unless there is a strong clinical suspicion.
Ascariasis is an important cause of infectious obstructive AP in India where it is the second most common cause of AP[248]. At times this may also present with associated biliary tree infestation requiring endoscopic decompression[249].
An infectious group worth discussing in greater detail is HIV infections and their relation to AP[250]. One large series revealed that 4.7% of hospitalized patients with HIV had AP[251]. While primary HIV infection itself can be a cause of AP[252,253] it is more commonly attributable to a complication of medications taken as part of HIV treatment or medications for opportunistic infections such as Pneumocystis carinii and Mycobacterium avium-intracellulare[250].
METABOLIC
Hypertriglyceridemia
Serum triglyceride concentrations above 11.3 mmol/L are capable of causing AP although admittedly the pathogenesis of inflammation is unclear[254]. It is thought that hypertriglyceridemia represents 1.3%-3.8% of AP cases[255]. The incidence has been best defined in children with inherited disorders of lipoprotein metabolism that is associated with severe hypertriglyceridemia which are 35%, 15%, and up to 40% in hyperlipidemia typesI, II, and V respectively[256,257]. Other acquired causes of hypertriglyceridemia include obesity, diabetes mellitus, hypothyroidism, pregnancy, estrogen or tamoxifen therapy, glucocorticoid excess, nephritic syndrome, and beta blockers[258-260,255].
Drug-induced disease is more likely to occur in patients with underlying hypertriglyceridemia[256]. It is important to not neglect the lactescent serum as it is a vital clue to the diagnosis[255].
Controversy surrounds the contribution of hype-rlipidemia in causing AP in alcoholics[261] but it is thought that in most alcohol abusers the moderate elevations of triglyceride levels are transient and likely to be an epiphenomenon rather than a causative agent of pancreatitis[262].
Hypercalcemia
Occurring in uncommon frequency, hypercalcemia of any cause is a known cause of AP[263,264]. Postulated mechanisms include calcium deposition in the pancreatic duct and calcium activation of trypsinogen within the pancreatic parenchyma[265,266].
There are questions however on hyperparathyroidism, a cause of hypercalcemia, and the link to pancreatitis rose in one large study of 1153 patients that found that AP occurred in only 1.5 percent of patients that was of a statistically non significant difference from that of the general population[267]. This finding was mirrored in two other studies[268,269]. This is still an open controversy however as other studies have supported at least an association and a significantly increased relative risk of AP in patients with hyperparathyroidism[270,271]. Until the debate is resolved it is recommended that the parathyroid be checked in recurrent IP if hypercalcemia is present.
VASCULAR DISEASE
Pancreatic ischemia is an uncommon but an established cause of pancreatitis reported in: (1) vasculitis (systemic lupus erythematosus, polyarteritis nodosa, and microscopic polyangiitis)[272-274], (2) atheroembolism[275,276], (3) hypotension and shock[277-279].
While it is true that most patients have mild attacks of pancreatitis secondary to ischemia, fatal necrotizing pancreatitis is a rare occurrence[277].
TRAUMATIC CAUSES
Blunt or penetrating abdominal injuries can cause pancreatitis although it is incredibly rare given the retroperitoneal location of the gland[280]. Types of trauma that cause pancreatitis can range from a mild contusion, severe crush injury, or transection of the gland[280].
Post ERCP pancreatitis remains the commonest severe complication of ERCP found to occur in 5%-7% of patients in a recent review[281]. It may be possible that prophylactic stenting of the pancreatic duct in selective cases and minimally traumatic cannulation techniques may prevent some cases[281] and indeed this has been shown to be cost effective in high risk patients[282]. Octreotide infusion does not prevent ERCP-induced pancreatitis or affect serum amylase levels[283]. Likewise, transdermal glyceryl trinitrate did not improve the rate of success in ERCP cannulation or prevent post-ERCP pancreatitis in either average or high-risk patient groups[284]. Allopurinol at high doses has been shown in a prospective randomized trial to lower the risk of post-ERCP pancreatitis[285] but this study requires further verification as other studies have shown no benefit[285,286]. Risk factors for post-ERCP pancreatitis have been well described[287].
AUTOIMMUNE CAUSES
Autoimmune pancreatitis is a more recently described type of chronic pancreatitis characterized by an autoimmune inflammatory process in which prominent lymphoplasmacytic infiltration with associated fibrosis of the pancreas causes organ dysfunction[288-290]. The reported prevalence of autoimmune pancreatitis is between 5 and 6% of all patients with chronic pancreatitis[291]. A series from the United States shows that 11% of patients (27 of 254) with chronic pancreatitis received a diagnosis of autoimmune pancreatitis based on histological findings[292].
Immunologic abnormalities including hypergamma-globulinemia, elevated serum IgG4 levels, and the presence of autoantibodies against carbonic anhydrase and lactoferrin are important markers of the disease[288]. In particular, autoantibodies against lactoferrin and carbonic anhydrase II have been identified as potential serologic markers of autoimmune pancreatitis[293,294]. The finding of increased serum IgG levels or the presence of autoantibodies is supportive of the diagnosis, whereas an elevated serum IgG4 level is nearly diagnostic[288].
CP has also been found to be in association with Sjogren's syndrome, primary biliary cirrhosis, and renal tubular acidosis[295,296]. The diagnosis is usually based on clinical suspicion and serum autoantibody to a pancreatic antigen previously discussed. Inflammatory bowel disease is also occasionally associated with autoimmune pancreatitis[297].
Differentiating the focal form of autoimmune pancreatitis rather than pancreatic carcinoma can be very difficult on the basis of CT imaging only[288]. Diffuse pancreatic-ductal narrowing is highly diagnostic of autoimmune pancreatitis[288,289,291]. There are also nonspecific endoscopic findings in the stomach or colon in patients with autoimmune pancreatitis, foci of slightly pale, thickened mucosa with loss of visible vascular pattern were observed in some cases[298]. The role for MRCP is at this time undefined[288].
EUS is a key tool in the diagnosis of autoimmune pancreatitis and its differentiation from other pancreatic diseases. The most common finding on endoscopic ultrasonography is diffuse or focal pancreatic enlargement along with a diffusely hypoechoic parenchyma, similar to findings on transabdominal ultrasonography[299,300].
The use of corticosteroid therapy is not mandatory in autoimmune pancreatitis, as there are reports of the spontaneous resolution of a pancreatic mass, stricture, and jaundice[301,302]. When steroids are given the response is often dramatic and can be monitored via clinical, laboratory and radiological parameters[303-306].
MISCELLANEOUS CAUSES
Recent reports of a new disease known as hyper IgG4 disease has been linked to IP[307] but more data is required before further comment. It is unclear if this is an entirely separate entity from autoimmune pancreatitis.
In renal transplant cases pancreatitis can occur as a result of the procedure itself[308], immunosuppressant medications (see above 'Medications'), opportunistic infections[309] or through allograft pancreatitis[310].
CHRONIC PANCREATITIS
The aforementioned etiologies of IP can all theoretically lead to CP. The diagnosis is best made after considering the results of ERCP, pancreatic function tests, and EUS[24].
It has been suggested that pancreatic function testing may help establish the diagnosis of CP at an earlier stage[311]. It appears based on recent evidence that EUS may be the most sensitive test[311,312] for CP diagnosis with the caveat of false positives[313].
Mortality rates for CP are 3-4 times greater than in controls[314,315]. Pancreatitis in CP accounts for 20 percent of mortality but mortality is usually from non-pancreatic causes[314,315]. CP carries with it many complications such as pancreatic duct strictures, stones, pseudocyst, fistulas, pseudoaneurysm, or ascites[316-320].
TRUE IDIOPATHIC PANCREATITIS
In spite of extensive systematic investigations and exhaustive efforts, there will be patients with true IP (TIP). Recommendations are difficult to make given the heterogeneity of studies that have evaluated this problem. Generally there are 4 therapies that might be applicable in TIP taking into account that TIP most likely represents a group of heterogeneous disorders: antioxidants, ursodeoxycholic acid, pancreatic enzymes, and somatostatin or its analogue octreotide.
Antioxidants (e.g., vitamin C, and E, beta carotene) have been shown to reduce the pain involved in IP[321]. It is postulated that patients with AP or CP may have a deficiency in antioxidants either locally within the pancreatic parenchyma or systemically[322]. A cocktail of antioxidants including 600 μg of selenium, 9000 IU of β-carotene, 0.54 g of vitamin C, 270 IU of vitamin E, and 2 g of methionine daily[321] was shown to have a statistically significant benefit in reducing attacks of pancreatitis. It is again stressed that these trials have limited power since the above study evaluated only 28 patients[321].
In patients who continue to have attacks of pancreatitis despite having cholecystectomy or endoscopic sphincterotomy, or patients with contraindications to surgical and endoscopic treatment, maintenance therapy with ursodeoxycholic acid has also been suggested with some benefit[31,323].
Pancreatic enzyme therapy has recently been reviewed and the efficacy in IP or recurrent AP or CP is small[324]. However, given the low risk of enzyme therapy it has been suggested as a therapeutic trial in treating CP and IP[325,326].
Somatostatin or its analogue octreotide has been postulated to reduce pancreatic secretion and thereby be of benefit in the treatment of relapsing pancreatitis. This therapy entails either a continuous infusion or frequent injections in the past[327]. A 1 mo depot injection has recently become available and may make this therapy more attractive but data is limited with existing data on octreotide and somatostatin focused on altering outcomes during an index hospitalization of severe pancreatitis rather than preventing subsequent attacks[327].
APPROACH TO RECURRENT IP
The authors of this review propose the following systematic approach for patients who have had more than one attack of IP. The following is not validated and is meant to be only used as a guide. For specific details please refer to the aforementioned sections (Figure 1).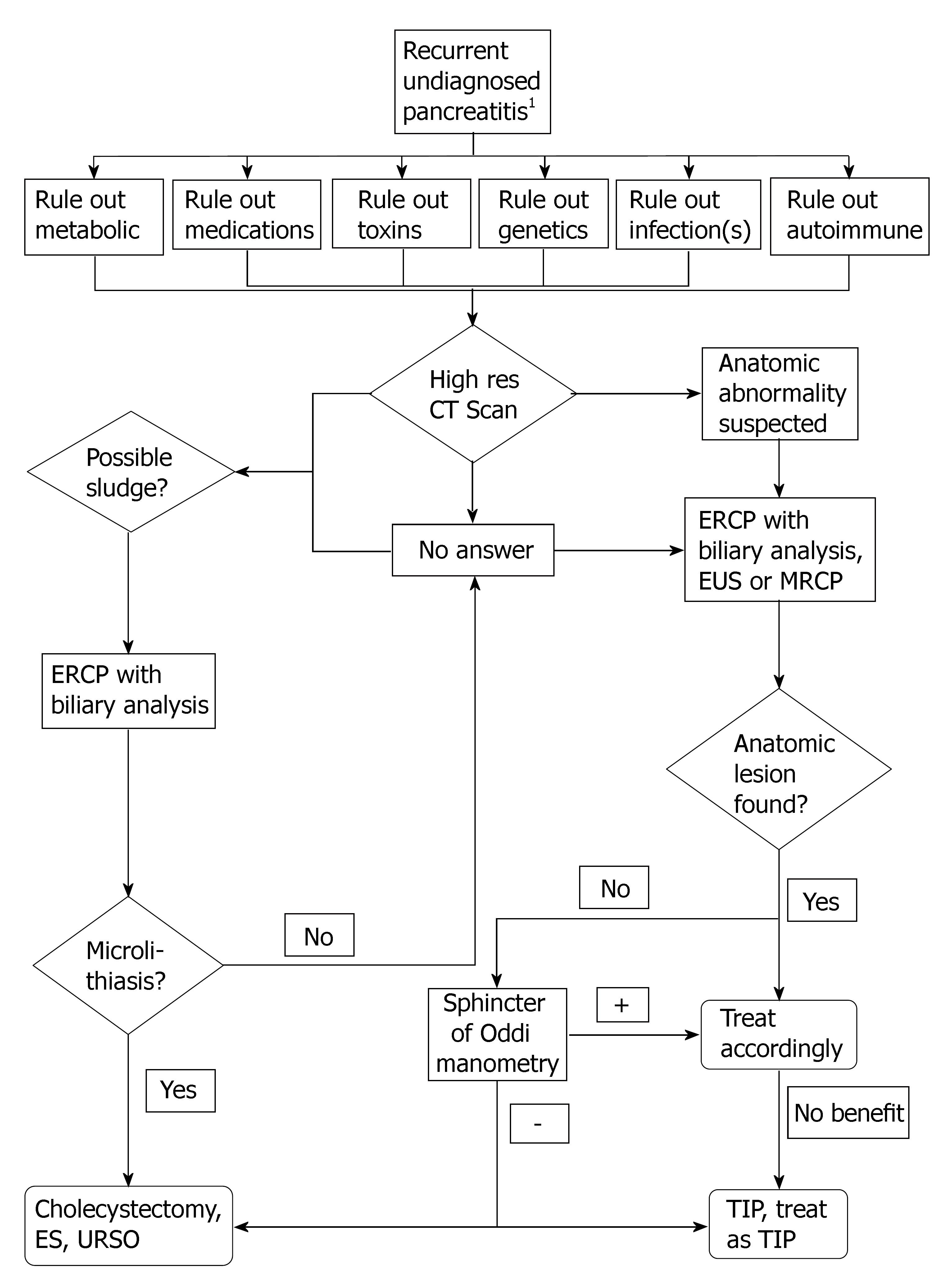 Figure 1 1To arrive at the label of recurrent undiagnosed pancreatitis, a history, physical exam, routine laboratory investigations, chest radiograph, abdominal ultrasound, and or computed tomography must fail to find the etiology of pancreatitis.
Although sludge may be picked up on transabdominal ultrasound, the low sensitivity precludes exclusion of diagnosis of microlithiasis. ES: Endoscopic sphincterotomy; TIP: True idiopathic pancreatitis; EUS: Endoscopic ultrasound; CT: Computed tomography; URSO: Ursodeoxycholic acid.
CONCLUSION
True IP is declining as knowledge and technology advances. IP has been found now to represent a myriad of etiologies that have been elucidated with the advancement of laboratory and endoscopic studies. It is thought that a thorough workup of these cases should reveal an etiology in up to 80% of cases. If genetic screening is applied it is suspected the etiologies may be explained in a much higher percentage of cases. There are still many controversies surrounding some of the IP etiologies and full consensus agreement is lacking in many areas. This review comprehensively outlined the latest evidence in the etiology, pathogenesis, diagnosis, and treatment strategies. It is felt that establishing a diagnosis is key, for it has the potential to direct management. It is recognized, however, that for many of the disorders (particularly genetic abnormalities) there are limited therapies. Elucidating all the causes of IP is a challenge that needs to be faced so that patients can avoid unnecessary morbidity and mortality from subsequent invasive testing.
The treating physician should perform a detailed history to rule out medication, metabolic, and toxin related etiologies. Moreover a detailed history should raise the possibility of genetic associations and causes as well as infectious etiologies so that further testing can be best directed. Celiac disease, vascular disease, and autoimmune causes of pancreatitis should be considered in evaluating the optimal approach to IP.
The most common causes of IP include microlithiasis and biliary sludge, sphincter of Oddi Dysfunction, and anatomic abnormalities. When there is any risk or suggestion of malignancy either as a cause or as an association of the etiology, as in choledochoceles, appropriate management including the necessary diagnostic workup and consideration of surgical excision when the diagnosis is made needs to be considered. In the aforementioned causes it is clear that both imaging techniques such as MRCP, EUS, high resolution CT, and interventional techniques as ERCP play their respective roles.
Indeed with further research additional causes of IP and associations of IP will be revealed. Even with exhaustive efforts and considering all the etiologies in this article there will still be a few patients who will continue to have true IP. In these patients non specific therapy including pain control is often unfortunately the only option. Certainly further advances in pancreatitis will be welcome.
S- Editor Liu Y L- Editor Alpini GD E- Editor Ma WH