Copyright
©2006 Baishideng Publishing Group Co.
, Limited. All rights reserved.
World J Gastroenterol.
Jan 21, 2006;
12(3): 354-362
Published online Jan 21, 2006. doi: 10.3748/wjg.v12.i3.354
Epidemiology of gastric cancer
Katherine D Crew, Alfred I Neugut, Department of Medicine and the Herbert Irving Comprehensive Cancer Center, College of Physicians and Surgeons, and the Department of Epidemiology, Mailman School of Public Health, Columbia University, New York, NY 10032, United States
Correspondence to: Alfred I Neugut, MD, PhD, New York-Presbyterian Hospital, 722 West 168th Street, MSPH 725, New York, NY 10032, United States. ain1@columbia.edu
Telephone: +1-212-305-1732 Fax: +1-212-305-0178
Received: June 10, 2005
Revised: June 28, 2005
Accepted: July 28, 2005
Published online: January 21, 2006

The incidence and mortality of gastric cancer have fallen dramatically in US and elsewhere over the past several decades. Nonetheless, gastric cancer remains a major public health issue as the fourth most common cancer and the second leading cause of cancer death worldwide. Demographic trends differ by tumor location and histology. While there has been a marked decline in distal, intestinal type gastric cancers, the incidence of proximal, diffuse type adenocarcinomas of the gastric cardia has been increasing, particularly in the Western countries. Incidence by tumor sub-site also varies widely based on geographic location, race, and socio-economic status. Distal gastric cancer predominates in developing countries, among blacks, and in lower socio-economic groups, whereas proximal tumors are more common in developed countries, among whites, and in higher socio-economic classes. Diverging trends in the incidence of gastric cancer by tumor location suggest that they may represent two diseases with different etiologies. The main risk factors for distal gastric cancer include Helicobacter pylori (H pylori) infection and dietary factors, whereas gastroesophageal reflux disease and obesity play important roles in the development of proximal stomach cancer. The purpose of this review is to examine the epidemiology and risk factors of gastric cancer, and to discuss strategies for primary prevention.
---
Citation: Crew KD, Neugut AI. Epidemiology of gastric cancer. World J Gastroenterol 2006; 12(3): 354-362
---
INTRODUCTION
Overall, gastric cancer incidence and mortality have fallen dramatically over the past 70 years[1]. Despite its recent decline, gastric cancer is the fourth most common cancer and the second leading cause of cancer-related death worldwide[2,3]. In 2000, about 880 000 people were diagnosed with gastric cancer and approximately 650 000 died of the disease[4].
The two main tumor sites of gastric adenocarcinoma are proximal (cardia) and distal (noncardia). Despite a decline in distal gastric cancers, proximal tumors have been increasing in incidence since the 1970s, especially among males in the Western countries[5,6]. These gastric tumor types predominate in populations from different geographic locations, racial and socio-economic groups. They may also differ in genetic susceptibility, pathologic profile, clinical presentation, and prognosis. The observed differences between gastric cancers by anatomic site suggest that they are distinct diseases with different etiologies. Detailed epidemiological analyses of their demographic trends and risk factors will help guide future cancer control strategies.
PATHOLOGIC CONSIDERATIONS
About 90% of stomach tumors are adenocarcinomas, which are subdivided into two main histologic types: (1) well-differentiated or intestinal type, and (2) undifferentiated or diffuse type. The intestinal type is related to corpus-dominant gastritis with gastric atrophy and intestinal metaplasia, whereas the diffuse type usually originates in pangastritis without atrophy.
The intestinal type is more common in males, blacks, and older age groups, whereas the diffuse type has a more equal male-to-female ratio and is more frequent in younger individuals[7,8]. Intestinal type tumors predominate in high-risk geographic areas, such as East Asia, Eastern Europe, Central and South America, and account for much of the international variation of gastric cancer[9]. Diffuse type adenocarcinomas of the stomach have a more uniform geographic distribution[10]. A decline in the incidence of the intestinal type tumors in the corpus of the stomach accounts for most of the recent decrease in gastric cancer rates worldwide[11]. In contrast, the incidence of diffuse type gastric carcinoma, particularly the signet ring type, has been increasing[12].
DEMOGRAPHIC TRENDS
Time trends
In the 1930s, gastric cancer was the most common cause of cancer death in US and Europe. During the past 70 years, mortality rates have fallen dramatically in all developed countries largely due to unplanned prevention. However, in the past 30 years, the incidence of gastric cardia adenocarcinoma rose by five- to six-fold in developed countries[13-19]. Gastric cardia tumors now account for nearly half of all stomach cancers among men from US and UK[6,20]. There has also been a rising trend in esophageal adenocarcinoma, in which obesity, gastroesophageal reflux disease (GERD), and Barrett's esophagus are major etiologic factors. Gastric cardia cancers share certain epidemiologic features with adenocarcinomas of the distal esophagus and gastroesophageal (GE) junction, suggesting that they represent a similar disease entity.
Geographic variation
Gastric cancer incidence rates vary by up to ten-fold throughout the world. Nearly two-thirds of stomach cancers occur in developing countries[4]. Japan and Korea have the highest gastric cancer rates in the world[21,22]. High-incidence areas for noncardia gastric adenocarcinoma include East Asia, Eastern Europe, and Central and South America[20,23]. Low incidence rates are found in South Asia, North and East Africa, North America, Australia, and New Zealand (Figure 1A).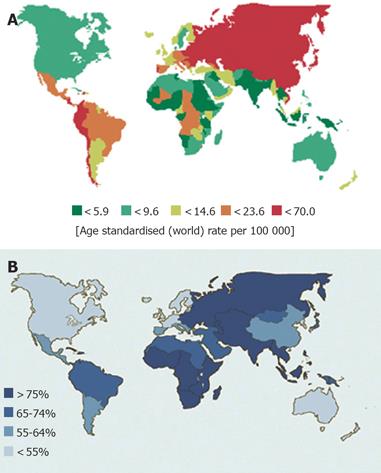 Figure 1 (A) Incidence of stomach cancer in males.
(B) Prevalence of H pylori infection in asymptomatic adults. (Data adopted from Parkin et al[3].)
In Japan, gastric cancer remains the most common type of cancer among both men and women. Age-standardized incidence rates in Japan are 69.2 per 100 000 in men and 28.6 per 100 000 in women[3]. In contrast to the increasing incidence of proximal tumors in the West, distal tumors continue to predominate in Japan. However, even in Japan, the proportion of proximal stomach cancers has increased among men[24].
Migrant populations from high-risk areas such as Japan show a marked reduction in risk when they move to low-incidence regions such as the US[25]. Subsequent generations acquire risk levels approximating those of the host country[20,23].
Sex, race, and age distribution
Noncardia gastric cancer has a male-to-female ratio of approximately 2:1[20,23]. Incidence rates are significantly higher among blacks and lower socio-economic groups, and in developing countries[20]. Incidence rises progressively with age, with a peak incidence between 50 and 70 years.
In contrast, for gastric cardia carcinomas, men are affected five times more than women and whites twice as much as blacks[26]. In addition, the incidence rates of proximal gastric cancers are relatively higher in the professional classes[27]. Different rates of genetic polymorphisms according to tumor sub-site suggest variation in susceptibility to stomach cancer by tumor location[28]. These findings suggest that noncardia and cardia adenocarcinomas are distinct biological entities.
SURVIVAL
For the past few decades, gastric cancer mortality has decreased markedly in most areas of the world[29,30]. However, gastric cancer remains a disease of poor prognosis and high mortality, second only to lung cancer as the leading cause of cancer-related death worldwide. In general, countries with higher incidence rates of gastric cancer show better survival rates than countries with lower incidence[31]. This association is largely due to a difference in survival rates based on tumor location within the stomach. Tumors located in the gastric cardia have a much poorer prognosis compared to those in the pyloric antrum, with lower 5-year survival and higher operative mortality[32].
In addition, the availability of screening for early detection in high-risk areas has led to a decrease in mortality. In Japan where mass screening programs are in place, mortality rates for gastric cancer in men have more than halved since the early 1970s[33]. When disease is confined to the inner lining of the stomach wall, 5-year survival is on the order of 95%. In contrast, few gastric cancers are discovered at an early stage in US, leading to 5-year relative survival rates of less than 20%[34]. Similarly in European countries, the 5-year relative survival rates for gastric cancer vary from 10% to 20%[35,36]. Host-related factors may also affect prognosis, as a US study demonstrated that gastric cancers in persons of Asian descent had a better prognosis compared to non-Asians[37].
RISK FACTORS
Gastric cancer is a multifactorial disease. The marked geographic variation, time trends, and the migratory effect on gastric cancer incidence suggest that environmental or lifestyle factors are major contributors to the etiology of this disease.
PREVENTION OF GASTRIC CANCER
CONCLUSION
In summary, cardia and noncardia gastric cancers exhibit unique epidemiologic features characterized by marked geographic variation, diverging time trends, and differences based on race, sex, and socio-economic status. H pylori infection and dietary factors appear to be the main causative agents for distal gastric cancer, whereas GERD and obesity play a primary role in proximal gastric cancer. Future directions in primary prevention should target modifiable risk factors in high-risk populations. In the planning and evaluation of gastric cancer control activities, detailed demographic analyses will inform future screening and intervention studies.
S- Editor Xia HHX and Guo SY L- Editor Elsevier HK E- Editor Liu WF