World J Gastroenterol.
Feb 15, 2004;
10(4): 514-520
Published online Feb 15, 2004. doi: 10.3748/wjg.v10.i4.514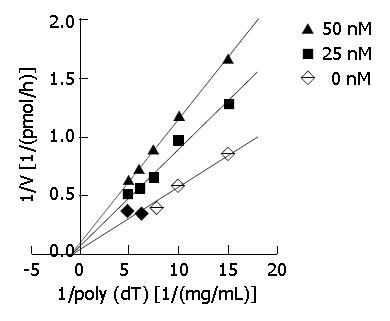 Figure 3 Kinetic analysis.
Primase activity was measured in the absence or presence of DMTCCI using the indicated concentrations of DNA template poly[dT]. A Dixon plot was made on the basis of the data. Basically similar results were obtained in three separate repetitions of the experiment.
---
Citation: Li ZM, Liu ZC, Guan ZZ, Zhu XF, Zhou JM, Xie BF, Feng GK, Zhu ZY, Jiang WQ. Inhibition of DNA primase and induction of apoptosis by 3,3'-diethyl-9-methylthia-carbocyanine iodide in hepatocellular carcinoma BEL-7402 cells. World J Gastroenterol 2004; 10(4): 514-520
---