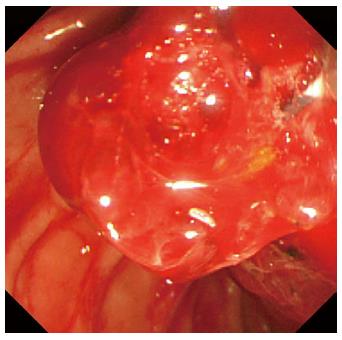 Figure 2 Endoscopic image of the papilla of Vater was gradually worsening because of the adhesion of a significant amount of coagulation.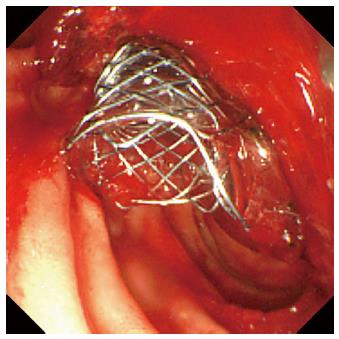 Figure 3 We placed a fully covered Wallflex® self-expandable metallic stent that was 10 mm with an 8-cm diameter across the papilla of Vater, and hemorrhage stopped immediately.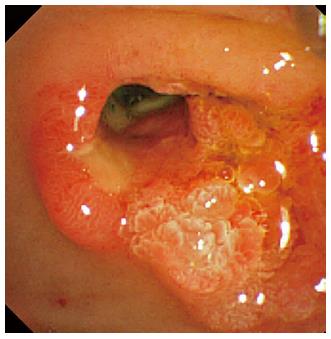 Figure 4 Re-bleeding was not observed after the self-expandable metallic stent removal, and an ulcerative lesion appeared from the orifice of the papilla of Vater to the lower bile duct.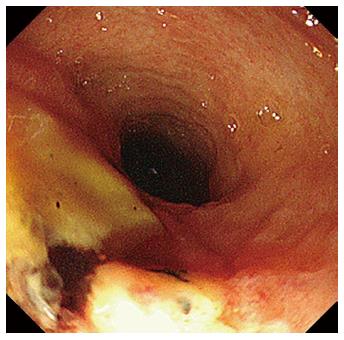 Figure 5 Direct peroral cholangioscopy revealed an exposed vessel with a laceration in the lower bile duct ulcerative area.
---
Citation: Shimizu S, Naitoh I, Nakazawa T, Hayashi K, Miyabe K, Kondo H, Nishi Y, Umemura S, Hori Y, Kato A, Ohara H, Joh T. Case of arterial hemorrhage after endoscopic papillary large balloon dilation for choledocholithiases using a covered self-expandable metallic stent. World J Gastroenterol 2015; 21(16): 5090-5095
---