Copyright
©2013 Baishideng Publishing Group Co.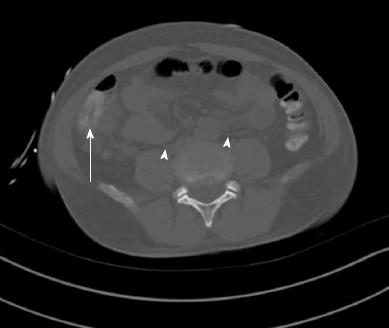 Figure 1 A computer tomography of the abdomen without contrast performed on the day of admission.
There was moderate mural thickening of the proximal ascending colon (arrow) with surrounding adenopathy and mild pericolonic stranding. Also visible are mesenteric, pericolonic and retroperitoneal lymph nodes (arrowheads) with the largest measuring 1.6 cm in short axis in the right pericolonic region.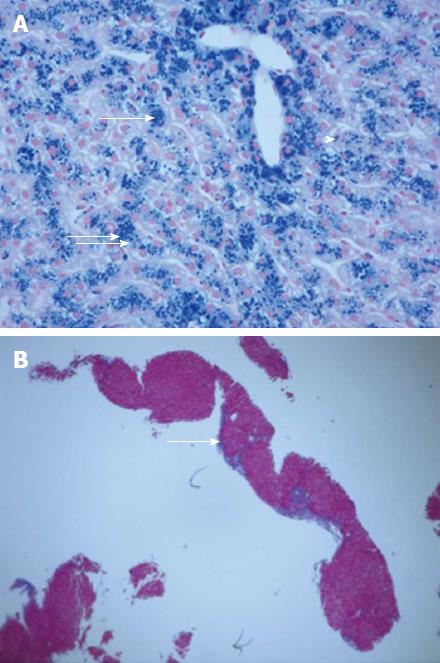 Figure 2 Liver biopsy.
A: There is marked, 3+, accumulation of iron primarily in the hepatocytes (arrows), but also in Kupffer cells (arrow head), and bile duct epithelium in association with moderate lobular hepatitis (Prussian Blue stain for iron, × 400); B: There is increased fibrosis with focal portal-to-portal and occasional central-portal septum formation (arrow) indicating progression towards early cirrhosis (Masson Trichrome stain, × 40).

Figure 3 Bone marrow biopsy.
A: A necrotizing granuloma (arrow) with trilineage maturation and markedly increased iron storage [hematoxylin and eosin (HE) stain, ×100]; B: An area of necrosis (arrowhead) with erythrophagocytosis typical, but not diagnostic of Yersinia infection (HE stain, × 400).
---
Citation: Selsky N, Forouhar F, Wu GY. An ironic case of liver infections: Yersinia enterocolitis in the setting of thalassemia. World J Gastroenterol 2013; 19(37): 6296-6298
---