Copyright
©2012 Baishideng Publishing Group Co.
World J Gastroenterol.
Feb 28, 2012;
18(8): 814-820
Published online Feb 28, 2012. doi: 10.3748/wjg.v18.i8.814

Figure 1 Immunohistochemical staining of mismatch repair proteins. A: MLH1 gene protein, x 200 magnification. Positive nucleus staining for MLH1 protein in normal colon (left) and absent staining in colon cancer (right); B: MSH2 gene protein, x 200 magnification. Absent nuclear staining for MSH2 protein in mucinous carcinoma (left) and positive staining in fibrous stromal cells, as internal control (right).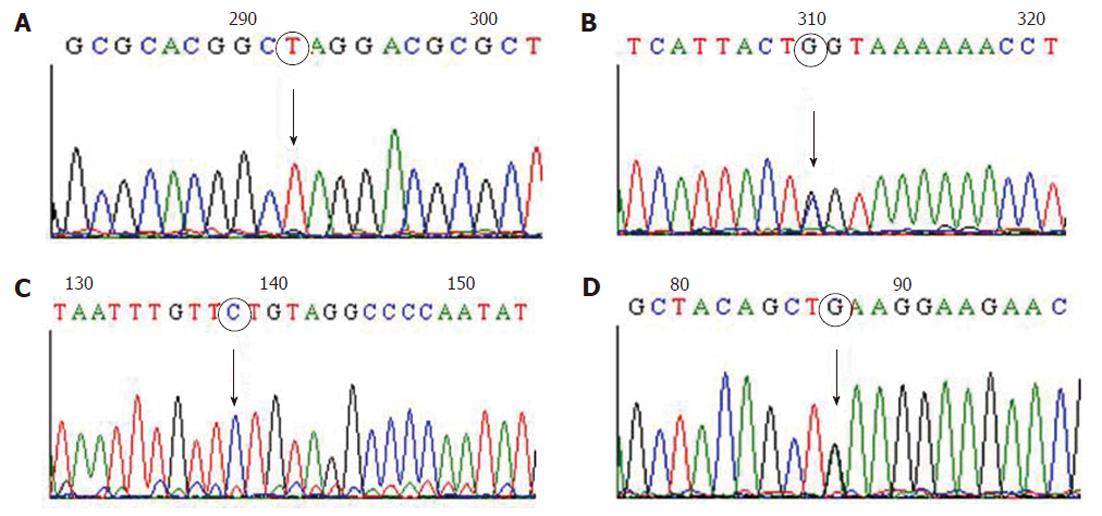 Figure 2 DNA sequencing result showing the germline mutations of MSH2 gene identified in 4 Lynch syndrome patients. A: Deleterious mutation, c.142G > T, which resulted in a nonsense mutation (Glu48Stop); B: Novel mutation, transversion mutation c.2005G > C, which resulted in a missense mutation (Gly669Arg); C: Splice-site mutation, c.2006-6T > C, which was adjacent to exon 13 of MSH2 gene; D: MLH1 promoter polymorphism, -93G > A (rs1800734).
---
Citation: Zahary MN, Kaur G, Abu Hassan MR, Singh H, Naik VR, Ankathil R. Germline mutation analysis of MLH1 and MSH2 in Malaysian Lynch syndrome patients. World J Gastroenterol 2012; 18(8): 814-820
---