Copyright
©2012 Baishideng Publishing Group Co.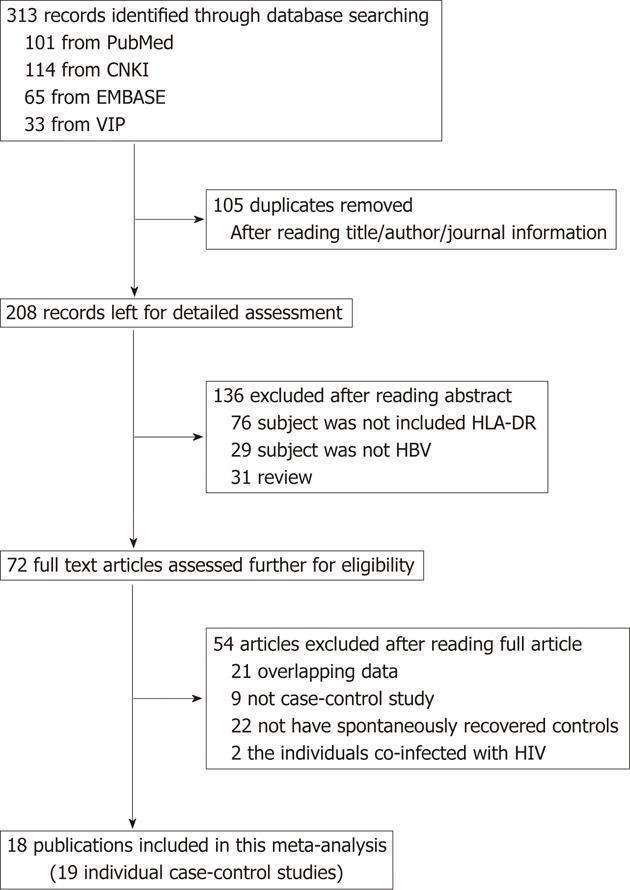 Figure 1 Results of literature search.
This figure describes the whole process of searching for articles for inclusion in this systematic review and meta-analysis. HLA: Human leukocyte antigens; HBV: Hepatitis B virus; HIV: Human immunodeficiency virus.

Figure 2 Forest plots of pooled odd ratio with 95% confidence interval for associations between human leukocyte antigens-DR polymorphisms and clearance of chronic hepatitis B virus infection.
The fixed-effects model was constructed using the Mantel-Haenszel's method. Subgroup meta-analysis was conducted based on ethnicity (Chinese Han group and other ethnic groups). The squares and horizontal lines correspond to the study-specific odd ratio (OR) and 95% confidence interval (95% CI); the box size is proportional to the meta-analysis study weight, the diamonds represent the pooled OR and 95% CI. HLA: Human leukocyte antigens.
---
Citation: Yan ZH, Fan Y, Wang XH, Mao Q, Deng GH, Wang YM. Relationship between HLA-DR gene polymorphisms and outcomes of hepatitis B viral infections: A meta-analysis. World J Gastroenterol 2012; 18(24): 3119-3128
---