Copyright
©2006 Baishideng Publishing Group Co.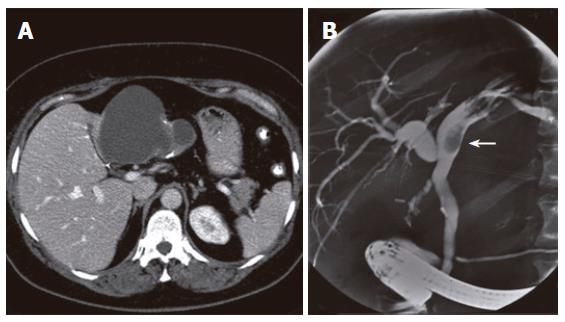 Figure 1 Abdominal CT-scan showing a large cystic mass in the left liver lobe with internal septations and calcifications in the cyst wall (A) and ERCP showing a polypoid lesion in the left hepatic duct (arrow) in case 1 (B).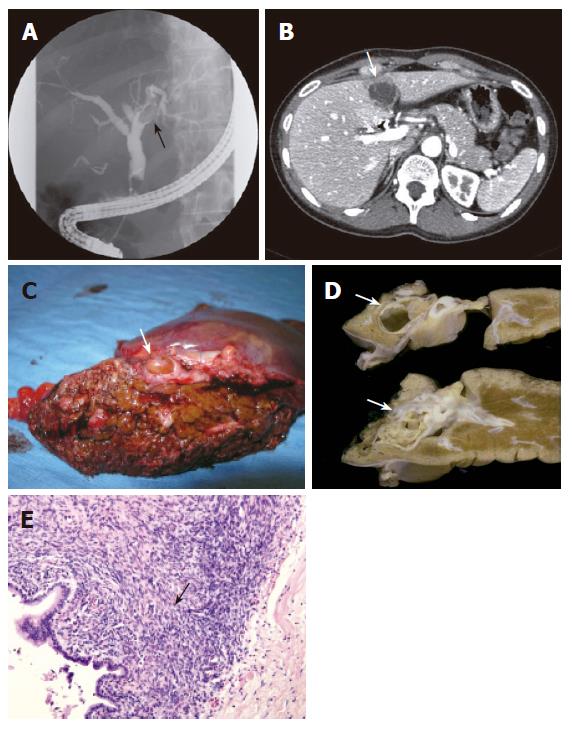 Figure 2 ERCP showing a filling defect due to an intraluminal lesion (arrow) in the left hepatic duct (A), CT-scan showing a cystic lesion with internal septations measuring 3.
6 cm located in segment 4 (arrow) (B), specimen after left hemihepatectomy showing macroscopic features of a large lesion (arrow) inside the left bile duct filling up the entire lumen (C), macroscopical cut sections of a multicystic lesion (arrows) encapsulated by a thick fibrous capsule arising from the left hepatic duct (D), microscopical features showing columnar mucinous epithelium with underlying dense-cellular stroma resembling ovarian stroma (arrow) (HE X 200) (E) in case 3.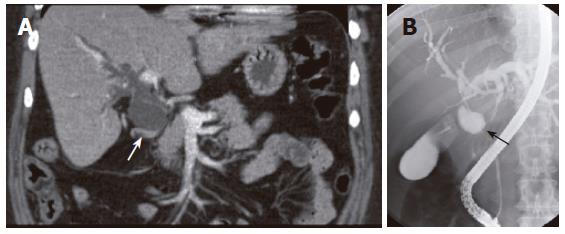 Figure 3 Abdominal coronal CT-scan showing dilated intrahepatic bile ducts and common bile duct (arrow) (A), ERCP showing filling of a cystic lesion (arrow) connected to the common bile duct, initially diagnosed as a duplicate gallbladder or choledochal cyst (B) in case 4.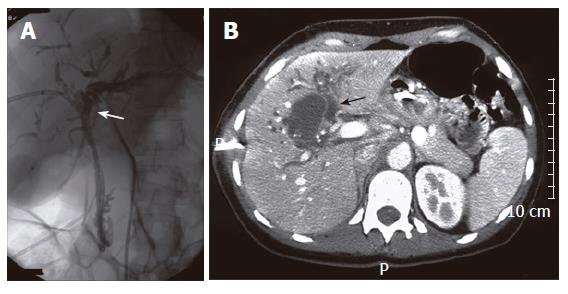 Figure 4 Percutaneous transhepatic drainage (PTD) showing complete obstruction at level of the proximal bile duct (A), abdominal CT showing a cystic lesion with irregularly thickened wall in conjunction with dilatated intrahepatic bile ducts (arrow) (B) in case 5.
---
Citation: Erdogan D, Busch OR, Rauws EA, Delden OMV, Gouma DJ, Gulik TMV. Obstructive jaundice due to hepatobiliary cystadenoma or cystadenocarcinoma. World J Gastroenterol 2006; 12(35): 5735-5738
---