Copyright
©2005 Baishideng Publishing Group Inc.

Figure 1 HE staining of liver tissue 48 h (A) and 72 h (B) after MHV-3 infection in Balb/cJ mice and 72 h (C) after MHV-3 infection in A/J mice.
Arrows represent areas of hepatocyte necrosis.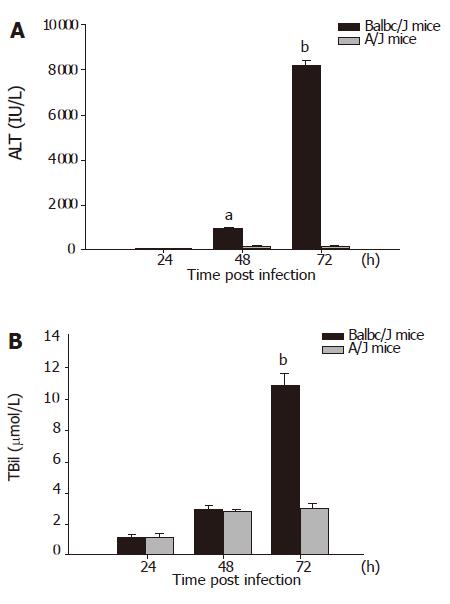 Figure 2 Serum ALT (A) and TBil (B) levels in MHV-3 infected Balb/cJ and A/J mice. bP<0.01 vs A/J mice group.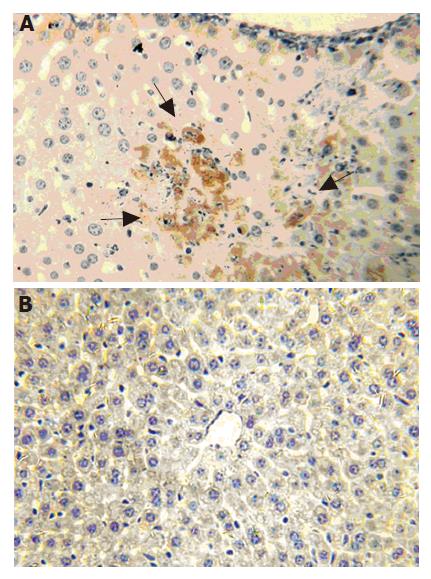 Figure 3 Mfgl2 expression in liver 24 h after MHV-3 infection Balb/cJ (A) and A/J (B) mice by immunohistochemical staining.
Arrows represent mfgl2 positive cells.

Figure 4 Immunohistochemical staining of hfgl2 in liver of patients with server AOC hepatitis B (A) and mild chronic hepatitis B (B) or in PBMC of patients with severe AOC hepatitis B (C).
Arrows represent hfgl2 positive cells.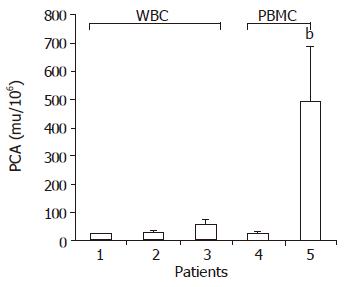 Figure 5 PCA levels in PBMC and WBC of patients. 1. Healthy control; 2. patients with mild chronic hepatitis B; 3. patients with severe AOC hepatitis B; 4. healthy control; 5. patients with severe AOC hepatitis B. bP<0.01 vs group 4
---
Citation: Zhu CL, Yan WM, Zhu F, Zhu YF, Xi D, Tian DY, Levy G, Luo XP, Ning Q. Fibrinogen-like protein 2 fibroleukin expression and its correlation with disease progression in murine hepatitis virus type 3-induced fulminant hepatitis and in patients with severe viral hepatitis B. World J Gastroenterol 2005; 11(44): 6936-6940
---