Copyright
©2012 Baishideng Publishing Group Co.
World J Nephrol.
Feb 6, 2012;
1(1): 4-11
Published online Feb 6, 2012. doi: 10.5527/wjn.v1.i1.4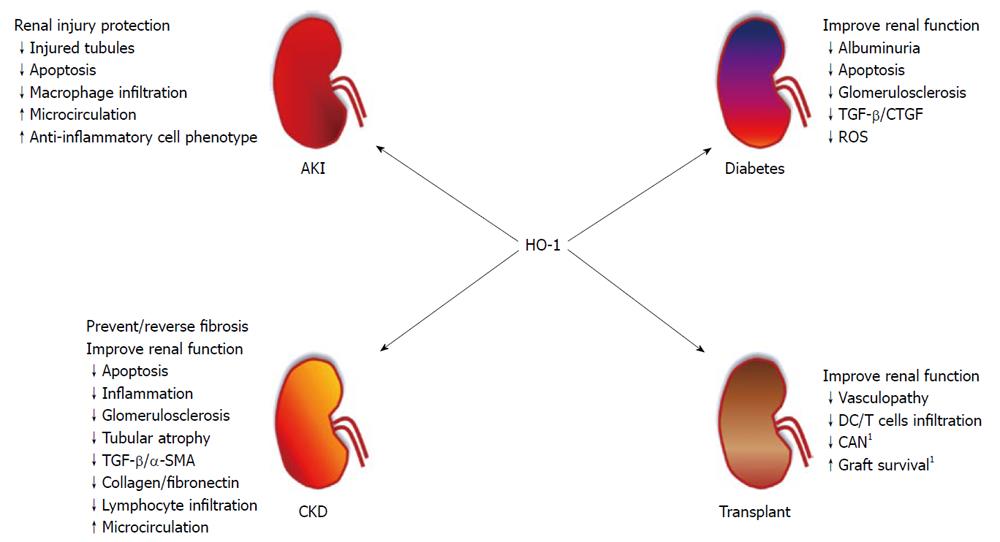 Figure 1 Overview of heme oxygenase-1 in renal diseases. Heme oxygenase (HO)-1 induction prevents renal damage in diverse renal diseases, such as acute kidney injury (AKI), chronic kidney disease (CKD), diabetic nephropathy (Diabetes) and renal Transplant. Arrows followed by text indicate increase (↑) or decrease (↓). 1Requires further study. TGF: Transforming growth factor; SMA: Smooth muscle actin; CTGF: Connective tissue growth factor; CAN: Chronic allograft nephropathy.
---
Citation: Correa-Costa M, Amano MT, Câmara NOS. Cytoprotection behind heme oxygenase-1 in renal diseases. World J Nephrol 2012; 1(1): 4-11
---