Copyright
©2013 Baishideng.
All rights reserved.
Phytochemicals in ocular health: Therapeutic potential and delivery challenges
Goutham R Adelli, Ramesh Srirangam, Soumyajit Majumdar, Department of Pharmaceutics, School of Pharmacy, the University of Mississippi, University, MS 38677, United States
Soumyajit Majumdar, the Research Institute of Pharmaceutical Sciences, the University of Mississippi, University, MS 38677, United States
Author contributions: Adelli GR, Srirangam R and Majumdar S solely contributed to this paper.
Correspondence to: Soumyajit Majumdar, MS, PhD, Department of Pharmaceutics, School of Pharmacy, the University of Mississippi, 111 Faser Hall, University, MS 38677, United States. majumso@olemiss.edu
Telephone: +1-662-9153793 Fax: +1-662-9151177
Received: July 17, 2012
Revised: November 30, 2012
Accepted: January 5, 2013
Published online: March 9, 2013

Diabetic retinopathy (DR) and age-related macular degeneration (AMD) are the leading causes of blindness in adults. The impact of these conditions on the quality of life is increasing in significance with a rise in life expectancy. The role of hyperglycemia, oxidative stress and inflammatory responses in the development and/or progression of DR and AMD, and several other sight threatening ocular diseases, is well established. In proliferative retinopathy, signals sent by the retina for nourishment, triggers the growth of fragile and abnormal blood vessels. Changes in ocular pressure may lead to rupture of these blood vessels causing severe vision problems. Recent in vitro and preclinical studies demonstrate that certain phytochemicals possessing potent antioxidant and anti-inflammatory activity and ocular blood flow enhancing properties may be very useful in the treatment of, or as a prophylactic measure for, DR and AMD. Apart from these properties they have also been investigated for their anti-bacterial, hormonal, enzyme stimulation, and anti-angiogenic activities. The attractive aspect of these potential therapeutic candidates is that they can act on multiple pathways identified in the etiology of DR, AMD, cataract and other ocular diseases. However, results from clinical trials have been somewhat ambiguous, raising questions about the concentrations of these bioflavonoids achieved in the neural retina following oral administration. Unfortunately, as of date, an efficient noninvasive means to deliver therapeutic agents/candidates to the back-of-the eye is still not available. This review examines some of these promising natural agents and discusses the challenges encountered in delivering them to the posterior segment ocular tissues through the oral route.
---
Citation: Adelli GR, Srirangam R, Majumdar S. Phytochemicals in ocular health: Therapeutic potential and delivery challenges. World J Pharmacol 2013; 2(1): 18-34
---
INTRODUCTION
A report from the World Health Organization (WHO) in 2011 estimated that approximately 285 million people were suffering from visual impairment worldwide out of which 39 million face blindness while 246 million suffer from moderate to severe vision impairment. With an increase in the average survival age and the percentage of diabetics, diabetes related retinopathies are rapidly gaining in significance. It has been predicted that, without additional steps, these numbers will increase to 75 million blind and 200 million visually impaired by the year 2020 (WHO, 2010). Age seems to be a causative factor in blindness as 90% and 58% of the population with blindness are aged above 45 years and 60 years respectively.
Oxidative stress, inflammatory mechanisms and decreased antioxidant capacity in the ocular tissues are all thought to play an active role in the development and progression of these ocular diseases. The following sections briefly highlight the etiology of these ocular disorders, followed by discussions on the therapeutic potential of various phytochemicals and challenges encountered in their delivery to the ocular tissues.
Diabetic retinopathy
Diabetic retinopathy (DR) is the most common diabetes associated eye disease and is the leading cause of blindness in American adults[1,2]. The WHO estimates that over 360 million worldwide will suffer from diabetes by the year 2030. Currently, 10% of the diabetics suffer from type 1 diabetes whereas 90% suffer from type 2 diabetes. DR in type 1 diabetics approaches 80% and 90 % prevalence rate after 10 years and 20 years of diabetes, respectively. Up to 21% of patients with type 2 diabetes have recently been found to have retinopathy at the time of first diagnosis of diabetes, and most develop some degree of retinopathy over subsequent decades[3].
DR can be broadly categorized into three stages; background DR, pre-proliferative DR and proliferative DR (PDR)[4-6]. In background DR, hyperglycemia is considered to induce thickening of capillary basement membranes and death of pericytes, which support the vessel wall, and endothelial cells of retinal blood vessels. Microaneurysms and vascular leakage follow, and blockage of retinal capillaries take place. In pre-proliferative DR, loss of vascular patency leads to areas of increasing retinal hypoxia and multiple hemorrhages. Increased areas of tissue non-perfusion stimulate the production of angiogenic factors leading to the proliferation of vessels, which is a typical feature of PDR. The newly formed blood vessels by themselves do not lead to vision loss, but leakage of blood through their weak walls can result in severe vision loss and can ultimately lead to complete loss of sight.
Hyperglycemia and tissue hypoxia, are considered to be principal factors in the DR pathology described above. Multiple studies demonstrate the relationship between high blood glucose, oxidative stress and initiation of DR[6-11] as shown in Figure 1. The retina is highly susceptible to oxidative damage since: (1) it has an abundance of the polyunsaturated fatty acids in its membrane bilayers, whose double bonds are prime targets for peroxidation reactions; (2) it is periodically subjected to continuous light which, by photoexcitation, can initiate free radical formation and peroxidation reactions; and (3) the retina is a highly metabolic tissue that requires a high rate of blood flow in order to receive an adequate oxygen supply. Oxidative damage in biological systems occurs when endogenous antioxidant mechanisms are overwhelmed by free oxygen radicals or reactive oxygen species (ROS). These radicals are extremely unstable and can cause cytotoxicity and cellular damage by reacting with plasma membrane lipids, DNA, RNA and metal-containing compounds[12].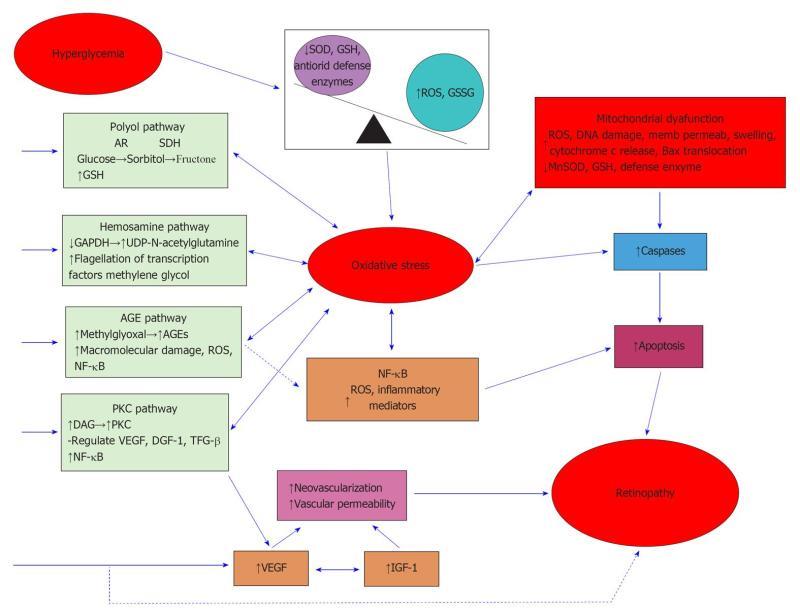 Figure 1 Oxidative stress mediated dysmetabolisms in diabetic retinopathy.
AR: Aldose reductase; SDH: Sorbitol dehydrogenase; GSH: Glutathione; GAPDH: Glyceraldehyde 3-phosphate dehydrogenase; AGEs: Advanced glycation end product; ROS: Reactive oxygen species; NF-κB: Nuclear factor κB; PKC: Protein kinase C; DAE: Diacylglycerol; VEGF: Vascular endothelial growth factor; DGF-1: Dispersed gene family-1; TFG-β: Transforming growth factor-β; SOD: Superoxide dismutase; GSSG: Oxidant glutathione; IGF-1: Insulin-like growth factor-1; MnSOD: Manganese superoxide dismutase. Reproduced with permission from[200].
Multiple pathways have been suggested to be activated during hyperglycemia associated oxidative stress, which subsequently leads to damage of retinal blood vessels. These include nitric oxide (NO) synthesis[13,14], nuclear factor-kappa B (NF-κB) expression, secretion of cytokines such as interleukin (IL)-1β, lipid peroxide generation, activation of retinal caspase-3, protein kinase C (PKC) stimulation and alterations of retinal glutamate levels[12,15-20].
In advanced stages, i.e., PDR, reduced retinal blood flow induces retinal ischemia which leads to hypoxic conditions in the retina. Hypoxia stimulates production of a variety of local agents including vascular endothelial growth factor (VEGF)[6,21-25], prostaglandins (PGs), cyclooxygenase-2 (COX-2) and NO, all of which participates in increasing vascular permeability and angiogenesis[6]. The VEGF family plays a key role in the regulation of vascular patency and is involved in both physiological and pathological angiogenesis, stimulating endothelial cells to migrate, proliferate and form tubes[6,26-29]. VEGF is also a potent vascular bed permeability enhancer[30,31]. Hypoxia is a stimulant for COX-2 transcription also in various tissues[6,32-34], including human vascular endothelium[6,32] and neural cells[35]. NF-κB, an oxygen sensitive transcription factor[6,36,37] mediates the induction of COX-2 in hypoxic conditions. The angiogenic properties of COX-2 are likely to directly involve VEGF, as COX-2 has been shown to up-regulate VEGF synthesis which can be inhibited with selective or non-selective COX inhibitors[6,38,39].
In the context of DR, the actions of PGs E2 and I2 are also considered to be important in the development of angiogenesis, breakdown of the blood-retinal barrier and alterations in retinal blood flow[6,40-45]. These PGs are produced via the COX-2 pathway[6,46-48]. Prostaglandins, and in particular PGE2, are also strong inducers of VEGF in cell types such as synovial fibroblasts monocytes and lung and retinal Müller cells. There is evidence that the vascular events prior to angiogenesis may involve the induction of COX-2 followed by VEGF. It has thus been suggested that angiogenesis may be mediated by dual interdependent gene expression pathways that involve COX-2 and VEGF[6,49].
NO is known to participate in vascular permeability and angiogenesis via interactions with VEGF and COX-2. NO reacts with superoxide anions to form peroxynitrite, a highly reactive oxidant. Excess production of peroxynitrite in diabetes may exhibit cytotoxic effects by increasing DNA damage, stimulating lipid peroxidation and depleting glutathione levels[50-52]. Peroxynitrite alters tyrosine in proteins to form nitrotyrosine and nitration of proteins can inactivate mitochondrial and cytosolic proteins and damage cellular elements leading to nitrative stress[53]. PDR is the most damaging stage of DR as it leads to the generation of abnormally located retinal blood vessels with weak capillary walls. Microvascular leakage from these newly formed blood vessels can lead to total blindness through a variety of mechanisms.
In addition to hyperglycemia associated increased ROS generation, it has recently been demonstrated that the total antioxidant capacity (TAC) of the vitreous humor and aqueous humor is lowered in DR. Mancino et al[54] determined the antioxidant capacity of blood, aqueous humor and vitreous of controls (non-diabetic) and of patients with non-proliferative DR (NPDR) and with PDR. The authors observed that the control group displayed significantly higher TAC levels than the diabetic sub-groups in both the vitreous and aqueous humor. PDR patients had decreased TACs in the vitreous and aqueous humor as compared with control subjects and with the NPDR patient subgroup, pointing to the role of oxidative stress in the progression of NPDR to PDR[54]. The results strongly support the need for increased antioxidant levels in the retina, aqueous humor and vitreous humor.
Age-related macular degeneration
Age-related macular degeneration (AMD), which can be categorized into dry and wet AMD, is the leading cause of irreversible vision loss in the developed world. As per the statistical data published by the National Eye Institute, AMD affected 1.75 million persons in the United States, in 2004, a number which is expected to rise to nearly 3 million by 2020 due to the aging of the population[55]. Like DR, progression of AMD is linked to the activation of inflammatory and immunological pathways[56]. Presence of excess ROS and decreased antioxidant capacity in the ocular tissues is also considered to play a significant role in the initiation and progression of AMD[57,58]. Ding et al[59] provides a summary of the molecular pathways involving inflammation, angiogenesis and oxidative stress, considered to play a role in the development of AMD.
Cataract
Oxidative stress induced damage to the lens fibers has also been well documented. It is thought that these free radicals accelerate and aggravate cataract development. Additionally, diabetic lenses show an impaired antioxidant capacity that increases their susceptibility to oxidative stress. The loss of antioxidants is exacerbated by glycation and inactivation of lens antioxidant enzymes like superoxide dismutase[60].
CURRENT TREATMENT STRATEGIES
During the first two stages of DR blood sugar, pressure, and cholesterol control is recommended. Additionally, antioxidant therapy has shown reasonable promise. Free radical scavenging activity of the antioxidants protects the retinal blood vessel endothelial cells and pericytes from apoptosis in a high glucose and oxygen rich environment, as in the retina[61-67]. PDR is treated with laser surgery. This procedure is called scatter laser treatment. Although some loss of peripheral vision may be noticed, scatter laser treatment can save the remaining sight. Scatter laser treatment works better before the fragile, new blood vessels have started to bleed. Even if bleeding has started, scatter laser treatment may still be possible, depending on the amount of bleeding. If the bleeding is severe, a surgical procedure called a vitrectomy may be needed. Recent studies have demonstrated that VEGF, PKC and COX-2 inhibitors, antibodies and proteins may be effective in controlling PDR[61-66,68-77]. Anti-VEGF injection therapy, photodynamic therapy using intravenous verteporfin and sometimes laser surgery are used to treat and control the progression of AMD. High doses of antioxidants and zinc have also been shown to be useful in AMD[78].
A major shortcoming of the current therapeutic options is that no one candidate appears to be capable of acting on the multiple pathways involved in the initiation and progression of these ocular diseases. Another major challenge is achieving therapeutic concentrations of the active ingredients in the neural retina, where significant damage to the retinal blood vessels and neuronal cells occur. Identification and targeted delivery of compounds that can act on multiple pathways would be a significant advancement in the prevention and treatment of these sight-threatening ocular diseases.
POTENTIAL OF NATURAL COMPOUNDS
STILBENE DERIVATIVES: RESVERATROL
Resveratrol (RES) is a stilbene derivative (Figure 6) found in the skin of grapes and some other fruits. It is a phytoalexin, produced by plants during pathogenic infections. The pharmacological activity of RES was not noticed until 1992 when Baur et al[143] proved its cardio protective action in rodent models.
Most of the ophthalmic diseases such as AMD, PDR, proliferative vitreoretinopathy and cataract are the direct consequences of oxidative stress at a molecular level on various ocular tissues[144,145]. King et al[146] reported that RES prevented oxidative stress in cultured human RPE cells. They observed a 20% decrease in oxidation, compared to the control group, when treated with 100 μmol/Lol per liter RES. Concentration dependent anti-proliferative activity of RES was observed with 25%, 49% and 80% reduction of cell proliferation at 100, 200 and 400 μmol/L RES, respectively. Pintea et al[147] performed similar experiments with cultured human RPE cells and observed reduced levels of ROS following exposure to 500 μmol/L hydrogen peroxide in the presence of 25, 50 and 100 μmol/L RES. They also reported that RES at concentrations of 25-100 μmol/L showed protective effects without any cytotoxicity and increased superoxide dismutase, glutathione peroxidase, and catalase activity in a dose dependent manner. Zheng et al[148] also demonstrated the anti-oxidative activity of RES against oxidative stress induced by hydrogen peroxide in human lens epithelial cells (LEC). The authors observed that pretreatment with 20 μmol/L RES for 12 h is optimum for anti-oxidant activity.
RES has been reported to have both pro-apoptotic and anti-apoptotic activities[149]. Gurong et al reported that these activities of RES depend on the forkhead box O genes in porcine LEC. They observed that when this gene is silenced by specific small interference RNAs the protective activity of RES was lost. The authors also reported a reduction of cell senescence markers in RES treated LEC.
Alex et al[150] performed experiments on anti-proliferative activity of RES, EPCG and curcumin using ARPE-19 and human RPE culture cells at various concentrations. After 72 h RES was found to be the most effective in inhibiting cell growth and cell division. Oxidative stress and over expression of factors such as VEGF, angiotensin-converting enzyme, MMP-9, and endothelial nitric oxide synthase are responsible for ocular neovascularization. Yar et al[151] investigated the effect of RES on ocular neovascularization and found decreased mRNA levels of these factors.
Increased glucose levels in diabetes causes accumulation of inflammatory mediators in RPE[152-157]. As discussed earlier, inflammatory molecules such as cytokines, IL-6, TNF-α, arachidonic acid and COX, PG, intercellular adhesion molecules (ICAM), monocyte chemotactic protein (MCP) are responsible for ocular inflammation and pathological conditions such as DR[158] and AM[159]. Kubota et al[160] used oral doses of 5, 50, 100, 200 mg/kg of bodyweight in endotoxin induced uveitis (EIU) mice model with RES. They found a significant dose dependent reduction in leukocyte adhesion molecules, ICAM. The levels of ICAM and MCP were also reduced in the retina and RPE-choroid on administration of 50 mg/kg of RES in the EIU mice model. All other inflammatory mediator levels were also diminished.
Zhou et al[161] observed increased levels of the glaucoma biomarker, endothelial leukocyte adhesion molecule-1, when acutely treated with H2O2. Chronic treatment resulted in sustained stress response activation[162]. Luna et al163] observed a significant inhibition of these markers on administration of RES. They also noted that at high concentrations (200 μmol/L and 400 μmol/L) RES is cytotoxic and leads to cell death in less than 48 h. At concentrations of 50-100 μmol/L RES exerts its anti-inflammatory activity.
CURCUMIN
Curcumin is a natural phenol obtained from Curcuma longa of the Zingiberaceae family. It is the major of the three curcuminoids. Curcumin is used as an anti-inflammatory and anti-oxidant in various pathological conditions.
Oxidative stress is one of the major reasons for age related atherogenesis[164-169]. Awasthi et al[170] used an in vitro rat model to establish the activity of curcumin as an antioxidant in treating cataract. When treated with curcumin, 75 mg/kg, there was a significant increase in the glutathione S-transferase isozyme, rGST8-8, which uses 4-hydroxy-2-nonenal/L, a highly electrophilic product of lipid peroxidation, as a substrate and reduces it. It was observed that naphthalene, through an oxidative stress mediated pathway, causes cataract in rat and rabbit models. When treated with 0.005% w/w curcumin, there was significantly less opacification and apoptosis of LEC[171]. Suryanarayana et al[172] also studied the effect of curcumin in galactose induced cataract in rats. They observed that at 0.002% curcumin inhibited the onset and maturity of cataract by inhibiting oxidative species, and at 0.01% delayed the onset but accelerated the maturity of cataract formation indicating the increased oxidative stress conditions in hyperglycemic conditions. The results were supported by the report from Renu and Mamta who used 0.05% of curcumin and observed an increase in oxidative stress factors VGEF, IL-1β and nitrotyrosine and decreased GSH[173]. Manikandan et al[174] reported the protective action of curcumin in selenium induced cataract in Wister rats by inhibiting inducible nitric oxide synthase (iNOS) expression. Kumar et al[175] reported the reduced expression of α A and α B crystallins, produced during oxidative stress conditions in ocular tissues, in the presence of curcumin. Kimura et al[176] reported the inhibition of NF-κB and TNF-α by curcumin in human corneal epithelial cells.
Gupta et al[177] reported the anti-inflammatory effect of curcumin in diabetic rats, investigating the inflammatory mediators VGEF and TNF-α. They observed a significant reduction of these mediators in DR. Chen et al[178] studied the anti-inflammatory activity of curcumin in human corneal cells using sodium chloride in the medium which served as an in vitro dry eye syndrome model. Curcumin, at 5 μmol/L, prevented an increase in IL-1β, p38 mitogen-activated protein (MAP) kinase, JNK MAP kinase and NF-κB. Mandal et al confirmed the anti-inflammatory effect of curcumin in retinal cells. They suggested that curcumin modifies the activity of the inflammatory mediators such as NF-κB, phosphatidylinositol-3-kinase, nuclear factor erythroid 2-related factor 2 and prevents AMD.
An et al[179] evaluated anti-proliferative activity of curcumin in cultured rabbit RPE and reported a dose dependent and time dependent inhibition of RPE cells by increased Ca2+, which causes a decrease in DNA content. Lu et al[180] used N18 mouse-rat hybrid retina ganglion cells for the determination of the anti-proliferative effect of curcumin. In this study, arrest of N18 cells in the G2/M phase induces endoplasmic reticulum stress leading to apoptosis of retinal ganglion based on caspase-3-dependent and independent pathways. Huang et al[181] reported that curcumin induced apoptosis in bovine LEC by lowering the cell DNA levels. Curcumin was also found to inhibit human fetal retinal pigment epithelium cell proliferation by arresting the cell in G2/M phase of cell cycle[182].
Anti-angiogenic activity of curcumin was investigated in corneal endothelial cells of transgenic mouse model[183]. Curcumin was found to have angiostatic activity, inhibiting endogenous gelatinase B expression induced by fibroblast growth factor-2 which is responsible for angiogenesis. Mrudula et al[184] also investigated for anti angiogenic activity of Curcumin in streptozotocin-induced diabetic rat retina at 0.002% or 0.01% curcumin or 0.5% turmeric for a period of 8 wk. They observed inhibition of VGEF expression in treated rats. I/R injury leads to the neuron loss, glial activation and vascular degeneration. When this condition was treated with 0.01%-0.25% Curcumin, there was inhibition of injury induced NF-κB and STAT-3 which leads to inhibition of I/R injury and 0.05% Curcumin lead to vaso-protective effect[185]. Vasireddy et al[186] reported anti-protein aggregation of Curcumin in case of P23H mutation where rhodopsin molecules forms misfolding and forms aggregates leading to loss of activity.
Thus, curcumin seems to be a promising candidate for as antioxidant, anti-inflammatory, anti-proliferative, and anti-angiogenic activity.
OCULAR DRUG DELIVERY
Although the potential of the phytochemicals as therapeutic agents for oxidative stress associated ocular diseases has been demonstrated, their delivery to the ocular tissues and physiological diffusion barriers encountered has not been investigated. In order to limit/prevent oxidative damage it is imperative that the bioflavonoids reach the deeper ocular tissues such as the neural retina and lens, the sites of free radical induced damage, in effective concentrations. Unfortunately, drug delivery to the ocular tissues, especially the posterior segment ocular tissues, is a very challenging task.
The eye is a secluded organ, protected by various physiological barriers that restrict entry of xenobiotics into the ocular tissues from the external environment (topical or periocular) or systemic circulation (Table 1). The choroidal blood vessels possess many large fenestrations and pinocytic vesicles that allow free exchange of endogenous/exogenous substances between the choroidal stroma and choroidal vasculature.
Physiological barriers
Route of administration

---

Topical
Peri-ocular
Systemic
Oral
Precorneal loss
√
Corneal ultrastructure
√
Corneal efflux proteins
√
Corneal tight junctions
√
Conjunctival efflux proteins
√
Conjunctival tight-junctions
√
Conjunctival vasculature
√
Aqueous humor outflow
√
Anterior chamber metabolism
√
Scleral vasculature
√
√
√
√
Choroidal vasculature
√
√
√
√
Bruch's membrane
√
√
√
√
Outer BRB
RPE tight junctions
√
√
√
√
RPE efflux pumps
√
√
√
√
Inner BRB
Tight-junctions
√
√
Efflux proteins
√
√
Low concentration gradient
√
√
First pass effect
√
Absorption limitations
√
Metabolism in the GIT
√
Systemic metabolism
√
Thus, systemically administered therapeutic agents can easily diffuse out into the choroidal stroma from the systemic circulation[187]. Bruch's membrane, separating the choroid from the RPE, acts as a barrier to the diffusion of only macromolecules, like proteins and genes, and thus does not pose much of a diffusional barrier to small molecules. The RPE, on the other hand, presents a formidable permeation barrier to small drug molecules in their diffusion into the neural retina and vitreous humor from the choroidal stroma[187-189]. Epithelial cells of the RPE are joined together by tight junctions[190-194] similar to those observed in the blood-brain barrier, severely restricting paracellular diffusion of hydrophilic molecules. The RPE cells also express the efflux proteins P-gp and multidrug resistance-associated protein (MRP) on the basolateral membrane[195-198]. As a result, trans-retinal permeation of compounds that are substrates of these efflux proteins, from the systemic circulation (choroidal side) into the neural retina/vitreous humor, is strongly modulated by RPE P-gp/MRP mediated efflux. The RPE, thus, presents a major barrier to the exchange of therapeutic agents between the choroidal stroma and the neural retina/vitreous humor, and is referred to as the outer BRB.
Similar to the RPE, the endothelial cells of the blood vessels perfusing the neural retina express efflux proteins and tight-junction proteins[189,199]. The efflux proteins are polarized on the apical membrane of the endothelial cells (facing the lumen of blood vessels) and prevent entry of xenobiotics from the systemic circulation into the neural retina. Like in the outer BRB, tight junction proteins expressed on the inner BRB also severely limits paracellular diffusion of hydrophilic compounds. The barrier properties of the retinal blood vessel endothelial cells are commonly referred to as the inner BRB. Additionally, because of extensive intestinal and hepatic metabolism, the hydrophilic metabolites of the phytochemicals are seen in the systemic circulation and are available for penetration into the ocular tissues. The ambiguity in the results obtained from the limited number of clinical studies that have been carried out with the phytochemicals could be because of the inadequate delivery of the compounds into the tissues of the eye[200].
Periocularly administered agents also encounter the RPE barrier. Thus, the inner and outer BRB acts as a considerable physiological barrier to the ocular delivery of therapeutic agents through the systemic and transcleral routes of administration. Additionally, transcleral permeation is also challenged by the scleral and choroidal blood flow and lymphatics.
Topical administration is the most favored route of administration for ocular disorders. Although significant advances have been made with respect to drug delivery into the front of the eye through the topical route, back-of the eye delivery remains a significant challenge. It is thought that following topical application diffusion into the cornea, followed by lateral migration into the sclera and then diffusion across the choroid and RPE into the vitreous, is the major pathway for topically administered agents[201]. Thus, scleral and choroidal vascular and lymphatic systems as well as the RPE present significant barriers in the diffusional path. Additionally, precorneal loss, corneal ultrastructure and efflux proteins expressed on the corneal membrane present additional physiological barriers to topically administered agents.
OCULAR DELIVERY OF THE PHYTOCHEMICALS
The important bioflavonoids are well-established substrates of P-gp/MRP[202-210], and their glucuronides are extremely hydrophilic in nature as well as probable substrates of efflux proteins[211-213]. In view of the ocular barriers, very little, if any, of the parent compound and their metabolites can permeate into the neural retina from the systemic circulation. Considering that the majority of the free radical induced cellular damage is in the neural retina, achieving therapeutic drug concentrations in this tissue is absolutely necessary. It is noted, however, that oral administration may be beneficial in some aspects of the overall disease pathogenesis, e.g., in increasing retinal circulation and in decreasing microvascular leakage. There is some evidence that the hydrophilic metabolites are converted into the parent forms at the site of action[214]. However penetration of these metabolites across the retina is doubtful. Approaches based on direct intravitreal injections and transscleral applications have proven to be effective in delivering therapeutic levels of drug candidates to the back-of-the eye. Although, the intravitreal route is invasive in nature and is associated with various risk factors such as endophthalmitis and retinal detachment, they remain the most effective approach to date since this route avoids all the blood-ocular barriers. Intravitreal nanoparticulate systems can be tailored through judicial formulation approaches to achieve sustained release of the therapeutic agents for prolonged periods of time[215,216] thus minimizing the frequency of injection. Bourges et al[217] injected nanoparticles of different particle sizes and charge into vitreous humor of rabbit eye. They observed the migration of these particles from vitreous humor to retinal layers. They also observed the presence of the nanoparticles even after 4 mo of the single injection. Transscleral approaches, such as subconjunctival delivery, helps in achieving high local concentration gradient of therapeutic agents. However, the challenges posed by the scleral and choroidal lymphatics and vasculature have to be taken into account. Misra et al[218] investigated subconjunctivally biodegradable hydrogel implants for sustained release of insulin to treat DR. Based on hematoxylin and eosin stain, these implants proved to deliver drug to retina for very long time without causing any harmful effects on eye.
CONCLUSION
Several phytochemicals are potential candidates that can be used as a prophylactic agent in DR and AMD. However, systemically they exist mainly as the hydrophilic metabolites whose permeation into the ocular tissues are questionable and needs investigation. Moreover, activity of these metabolites is also not well established. In view of the challenges faced in the ocular delivery of the phytochemicals through the oral or systemic routes, topical instillation appears to be the most promising mode of administration. Although the retinal barriers, specifically the outer BRB, is still encountered by this route, the high local concentrations achieved and the absence of significant metabolism of the aglycones in the ocular tissues presents a greater likelihood of achieving therapeutic concentrations in the back-of-the eye. Studies carried out in our laboratory suggests that while significant hesperetin levels can be achieved in the RPE-choroid tissue through the topical route, getting a compound into the vitreous humor is still a challenge. Vitreal concentrations reflect free drug concentrations in the neural retina since the diffusional barrier between these two ocular components is thought to be negligible. Concentrations in the RPE-choroid by itself cannot guarantee levels in the neural retina since the compound may be in the choroid or bound to the RPE or Bruch membrane proteins. Thus, penetration into the back-of-the eye is governed by the physicochemical characteristics of the molecules and the susceptibility to being effluxed. Moreover, the compounds are rapidly cleared from the ocular tissues. Thus, further investigations into the development of novel approaches for sustained delivery of the phytochemicals to the posterior segment ocular tissues, through direct intravitreal injections or trans-scleral delivery, are needed. For anterior segment diseases, the topical formulations prepared using currently available technologies, should be an effective means of testing the therapeutic effectiveness of these promising compounds.
P- Reviewer Cherng JY S- Editor Song XX L- Editor A E- Editor Xiong L