Copyright
©The Author(s) 2015.
Published by Baishideng Publishing Group Inc. All rights reserved.
Role of cytokines and other factors involved in the Mycobacterium tuberculosis infection
Tania Beatriz Romero-Adrian, Jorymar Leal-Montiel, Graduate Studies in Immunology, Institute of Biological Research, Faculty of Medicine, University of Zulia, Maracaibo-Venezuela 4011, Venezuela
Gerardo Fernández, Service of Pediatric, Southern General Hospital, Maracaibo 4004, Zulia State, Venezuela
Alejandra Valecillo, Rheumatology and Immunology Service, University Hospital, Maracaibo 4011, Zulia State, Venezuela
Author contributions: Romero-Adrian TB reviewed the data, analyzed the data, wrote the paper and organized the review; Leal-Montiel J provided data and opined on the review; Fernández G and Valecillo A provided data.
Supported by Institute of Biological Research, Faculty of Medicine, University of Zulia, Maracaibo, Venezuela.
Open-Access: This article is an open-access article which was selected by an in-house editor and fully peer-reviewed by external reviewers. It is distributed in accordance with the Creative Commons Attribution Non Commercial (CC BY-NC 4.0) license, which permits others to distribute, remix, adapt, build upon this work non-commercially, and license their derivative works on different terms, provided the original work is properly cited and the use is non-commercial. See: http://creativecommons.org/licenses/by-nc/4.0/
Correspondence to: Tania Beatriz Romero-Adrian, Physician, Pediatrician, Parasitologist, Magister Scientiarum in Clinical Immunology, Medical Sciences Doctor, Graduate Studies in Immunology, Institute of Biological Research, Faculty of Medicine, University of Zulia, 69 B Avenue 77-49 Street, Maracaibo-Venezuela 4011, Venezuela. betrizromero@cantv.net
Telephone: +58-0261-7532659 Fax: +58-0261-7533822
Received: June 9, 2014
Peer-review started: June 10, 2014
First decision: July 10, 2014
Revised: November 18, 2014
Accepted: February 4, 2015
Article in press: February 9, 2015
Published online: March 27, 2015

Mycobacterium tuberculosis (Mtb) is a pathogen that is widely distributed geographically and continues to be a major threat to world health. Bacterial virulence factors, nutritional state, host genetic condition and immune response play an important role in the evolution of the infection. The genetically diverse Mtb strains from different lineages have been shown to induce variable immune system response. The modern and ancient lineages strains induce different cytokines patterns. The immunity to Mtb depends on Th1-cell activity [interferon-γ (IFN-γ), interleukin-12 (IL-12) and tumor necrosis factor-α (TNF-α)]. IL-1β directly kills Mtb in murine and human macrophages. IL-6 is a requirement in host resistance to Mtb infection. IFN-γ, TNF-α, IL-12 and IL-17 are participants in Mycobacterium-induced granuloma formation. Other regulating proteins as IL-27 and IL-10 can prevent extensive immunopathology. CXCL 8 enhances the capacity of the neutrophil to kill Mtb. CXCL13 and CCL19 have been identified as participants in the formation of granuloma and control the Mtb infection. Treg cells are increased in patients with active tuberculosis (TB) but decrease with anti-TB treatment. The increment of these cells causes down- regulation of adaptive immune response facilitating the persistence of the bacterial infection. Predominance of Th2 phenotype cytokines increases the severity of TB. The evolution of the Mtb infection will depend of the cytokines network and of the influence of other factors aforementioned.
Core tip: Cytokines are proteins that can alter the behavior or properties of the cell itself or of another cell. These proteins are involved in the immunopathology of different diseases. Study of the cytokines in Mycobacterium tuberculosis infection is very important. They participate in the establishment, persistence and evolution of the infection. The intricate complexity of these regulating proteins stimulate the investigation to the search of more effective treatments that permit the eradication of a disease as tuberculosis which is one of the leading causes of mortality and morbidity worldwide despite efforts made by the scientific community.
---
Citation: Romero-Adrian TB, Leal-Montiel J, Fernández G, Valecillo A. Role of cytokines and other factors involved in the Mycobacterium tuberculosis infection. World J Immunol 2015; 5(1): 16-50
---
INTRODUCTION
Tuberculosis (TB), caused by Mycobacterium tuberculosis (Mtb) is one of the leading causes of mortality and morbidity in different age groups throughout the world, especially in developing countries. The World Health Organization reported an incidence of 8.6 million cases of TB globally. Most of the estimated number of cases occurred in South-East Asia (29%), African (27%) and Western Pacific (19%) regions. India and China alone accounted for 26% and 12% of total cases, respectively. An estimated 1.1 million (13%) of the 8.6 million people who developed TB were HIV-positive. About 75% of these cases were in the African Region[1]. The latent form of Mtb, that represent one-third of the global population, can reactivate years after a primary infection when host immunity declines[2]. In Venezuela the TB prevalence in Warao children was 3190/100.000[3].
Mtb enters the body almost exclusively by the airway (95%). Mtb is usually located in the lungs, causing pulmonary TB, but in a variable proportion, can spread through the blood and it produces extra pulmonary tuberculosis, with involvement of the lymph nodes, pleura, genitourinary system, meninges and peritoneum[4].
Pulmonary TB is the main clinical form of the disease and is classified into primary and post-primary (or reactivation). The primary pulmonary TB is due to initial infection with tuberculous bacillus. The location of the primary focus is sub pleural in the mid lung segment. In these primary foci infiltration of lymphocytes, monocytes (MNs) and macrophages (MAs) occur. MAs engulf the bacilli and reach the hilar and mediastinal lymph nodes and occasionally supraclavicular or retroperitoneal causing lymphadenopathy. The injuries of the parenchyma and lymph nodes are resolved spontaneously with calcifications radiographically visible. The post-primary TB is due to endogenous reactivation of the bacillus present in residual foci located in the pulmonary apexes, kidney and/or adrenal glands, which were controlled at the time and remained dormant for many years[4].
Investigations appoint that TB pathogenesis can be divided in four events: inhalation of Mtb, inflammatory cell recruitment, control of mycobacteria proliferation and post primary TB. Mycobacteria persistence is associated to failure in the immune vigilance; reactivation of the disease, nearby bronchial damage and spreading of the Mtb to other areas of the lungs[4-9]. It has been shown that whereas 90% of infected individuals will remain latently infected without clinical symptom, 10% of the individuals infected with Mtb will develop active disease[10].
In developing TB, many factors participate, such as: (1) virulence of Mtb strain; (2) Mechanisms of Mtb Evasion; (3) Host genetic; (4) the coexistence environmental factors such as poverty, malnutrition and overcrowding, facilitate infection; and (5) immune response[11,12].
In this review, we discuss all the factors related with immune response and the participation of cells and regulating proteins in the Mtb infection. Also, overall information about the pathological-mechanisms inherent to the behavior of cytokines which allow explaining the clinical manifestations, the evolution of the disease and the resistance to drugs among other aspects, represent a substantial contribution to the knowledge of TB.
IMMUNE RESPONSE, FUNCTION OF THE CELLS AND CYTOKINES PARTICIPANTS IN THE MYCOBACTERIUM TUBERCULOSIS INFECTION
Immune response
Many models of animals have been utilized for the study and understanding of TB, such as: Mice[13], rabbits[14], guinea pigs[15], and Nonhuman Primates[16,17]. In addition, studies in vivo e in vitro in human have provided important insights.
These investigations and other have shown that the balance between host immunity and bacterial evasion strategies among other factors determine the control in vivo of Mtb. Innate and adaptive immune responses are important for the eradication of the microorganism Figure 1. Pathogen recognition receptors, Toll-like receptors, Nucleotide Oligomerization Domain (NOD)-like receptors, and C-type lectins, have all been implicated in recognition of mycobacteria and in the initiation of the cytokines response. Adaptive immunity is triggered when the bacterial infection eludes the innate defense mechanisms[18]. Gallegos et al[19] and Urdahl et al[20] have suggested that TB bacterium reside in an immune-privileged site during the earliest stages of infection. Mycobacteria invade the host's pulmonary alveoli, where adaptive immunity is activated. Mtb is initially phagocytized by macrophages, where the bacterium is able to survive[21]. Infected macrophages secrete Tumor necrosis factor-α (TNF-α) to recruit CD4+ and CD8+ T cells to the site of infection[22] where they realize effector functions. In turn, cytokines as Interferon-γ (IFN-γ) cause the activation of macrophages[23]. Bacteria are mainly killed by activated macrophages and by cytotoxic functions of activated CD4+ and CD8+ T cells or by TNF-α induced apoptosis of infected macrophages. The balance between pro-inflammatory and anti-inflammatory cytokines regulates the effectiveness of the immune response and tissue damage. Recent studies have demonstrated a role for B lymphocytes towards protection against mycobacterial infections[24]. These lymphocytes form evident aggregates in the lungs of tuberculous humans, non-human primates and mice, which show features of germinal center B cells. These cells can regulate the T cell response, cytokine production and the level of granulomatous reaction[25].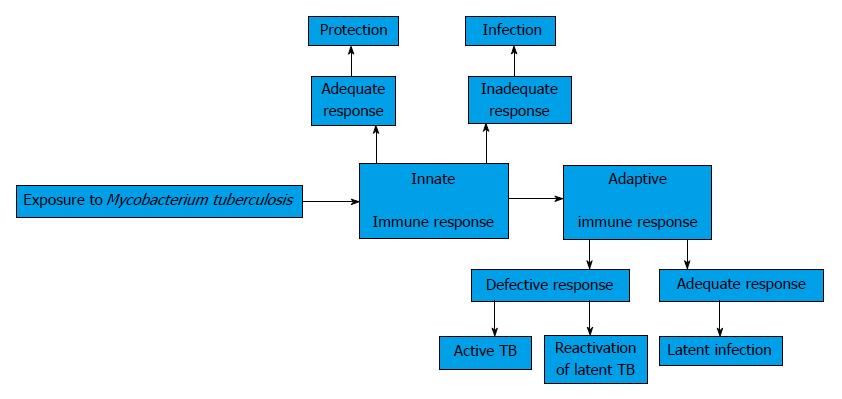 Figure 1 Innate and adaptive immune responses in the Mycobacterium tuberculosis infection.
TB: Tuberculosis.
Granulomas form when an intracellular pathogen or its constituents cannot be totally eliminated. These consist of a central core of infected macrophages. The core can include multinucleated giant cells surrounded by epithelial cells. Other cell types are recruited such as: DCs, lymphocytes and fibroblasts. The collagen as element of extracellular matrix integrates the granuloma. This circumscribes the infectious process and also affects immunopathologically sites, where located[26,27].
Matrix metalloproteinases-9 (MMP-9) from epithelial cells initiates recruitment of monocytes to the developing granuloma. During reactivation, granulomas become caseating and necrotic, and the increment of MMP-1 secretion from macrophages allows the degradation of collagen and tissue destruction, which culminates in Mtb released into the airways. Experimental studies have revealed the importance of metalloproteinases. Mice treated with an inhibitor of MMPs delayed the formation of granuloma or these were smaller with more collagen. The exact mechanisms by which this balance is achieved, and how it breaks down are unknown. After many years, the organisms emerge from latency to develop post primary tuberculosis that produces cavities in the lungs where the proliferation of large numbers of bacteria occurs and the cough that the patients present facilitate transmission to new hosts[26,27].
Function of the cells
Many cells take place in the immune response in the Mtb infection. Also, the regulating proteins that secrete these cells form a complex network that traduces pathological change in cells and tissues. All this determines an active and latent form of the infection which depends of the evolution in time[4].
Phagocytic cells
Neutrophils are among the earliest cells to migrate to the site of Mtb infection and evidence exists that these phagocytes participate in the granulomatous reaction[28,29]. Increased neutrophil infiltration has been associated with excessive lung pathology and with poor bacillary control in genetically susceptible mice[30,31]. It has been proposed that neutrophilia is indicative of failed Th1 immunity in response to the use and challenge with aerosol Mtb[32]. There is also evidence suggesting that interaction of Mtb with neutrophils increment DCs migration to the draining lymph nodes thereby promoting the initiation of adaptive immune response in an aerogenic tuberculous infection[33].
Researchers have evaluated the significance of neutrophils in the protection against Mtb and conflicting results have yielded[28,30,34-39]. The role of these professional phagocytes in TB is yet to be clearly defined. However, the roles of neutrophils in development of immune response to Mtb could depend on the characteristics of the site of immunological reaction and the level of neutrophilia, as well as other immune system factors[40].
Mtb-induced neutrophil extracellular traps (NETs) were found to be reactive oxygen species and phagocytosis dependent. NETs binding heat shock protein 72 (Hsp72) or recombinant Hsp72 were able to trigger cytokine release from macrophages. NETs can participate in the innate response and influence the immune regulation[41].
The macrophages are activated for many stimuli in the course of an immune reaction and are important in the innate and adaptive immune response. Special attention has been given to macrophages and dendritic cells during the Mtb infection. In the pathogenesis of TB, macrophages are the first-line of defense as the TB bacilli enter the airways[42-45]. Mtb has several mechanisms for persisting in human tissues[46-48]. The necrosis of Mtb-infected macrophages is considered as the dominant form of cell death instead of apoptosis[47,49,50].
Mtb also promotes its replication by inhibiting the apoptosis of infected macrophages[51]. Apoptosis-associated biomarkers, rather than inflammatory cytokines, are independent factors in predicting active TB. Among the apoptosis-associated biomarkers, Decoy receptor 3 (DcR3) seems to be the most associated with immune cells[52-54]. It has the potential to discriminate between latent and active TB. If 99% of active TB cases can be identified by DcR3 plus PGE2, these both will be useful as a screening criterion[55].
Researchers have demonstrated that Mtb suppresses the pyroptosis by macrophages, and possibly in dendritic cells. Pyroptosis is a cell death that is accompanied by the release of pro- inflammatory cytokines from the dying cells and attracts an innate response to the site of infection. This mechanism is different to apoptosis and necrosis[56].
A study has demonstrated that culture conditions can promote or limit replication of the bacteria in macrophages. Also, the cytokines had different effects depending on: the cell period (differentiation or activation), time (early or late) of exposure, concentration of the cytokines, and the magnitude of the microbial challenge. The authors had demonstrated that 40% human plasma, under 5%-10% oxygen, and the involvement of granulocyte macrophage colony-stimulating factor (GM-CSF), TNF-α, followed by IFN-γ, limit the replication of the bacteria in macrophages. However, if fetal bovine serum is used, 20% oxygen, GM-CSF, higher concentrations of regulating proteins, and there is premature exposure of IFN-γ, the control of the infection by phagocytic cells is lost. Even, GM-CSF and/or TNF-α contributed with the most successful cellular differentiation, whereas IFN-γ and TNF-α allowed for the best activation. The new culture method will favor the study of antimicrobial mechanisms of human macrophages[57].
Mature dendritic cells (mDCs) are antigen presenting cells. DCs capture Ags of Mtb and transport it to the lymph nodes for T cell priming and T helper type 1 polarization because they are important secretors of Interleukin-12 (IL-12) after bacterial stimulation. In contrast, macrophages realize their microbicidal function in the granuloma because they are more efficient in killing intracellular Mtb[58,59] and for the maintenance of the Th1 polarity. The IL-12-secreting DCs are considered as the bridge between innate and adaptive immunity in TB, with important implications for DCs-based vaccine designed strategies[60,61]. However; the increment of Cortisol affects significantly the functions of Mtb-induced DCs. It has demonstrated a cross-regulation between adrenal steroids and the function of antigen-presenting cells in TB[62].
B lymphocytes
B cells contribute to adaptive immunity by secreting antibodies. Studies have shown that the administration of an Mtb high dose in aerosol[63] or intravenous[64] provoke in B cell-deficient mice higher bacterial loads compared to control mice. However, low dose does not alter lung bacterial burden[65-68].
The lungs of Mtb-infected B cell-deficient mice display exacerbated inflammation, with enhanced neutrophil recruitment[63]. Experimental evidence suggests that humoral immunity plays a role in the regulation of the Th1 response in TB[69]. It has recently been reported that a subset of B cells (CD19+, CD1d+, CD5+) in the blood of humans with tuberculous infection can suppress pro-inflammatory Th17 phenotype[70].
The lung neutrophilia and enhanced Th17 response seen in Mtb-infected B cell-deficient mice could be reversed by passive immune serum therapy, increasing the possibility that immunoglobulins may contribute to the regulation of some immune system cells. Researchers have demonstrated that B cells are required for the development of optimal protective anti-TB immunity upon BCG vaccination by regulating the IL-17/neutrophilic response[40]. The presence of antibody to Ag85 in the sera of TB patients has been associated with a good prognosis[71]. However, studies of B cell immunodeficiency in both humans[72,73] and mice[66,67] have questioned whether these lymphocytes impart a protective effect against Mtb.
Investigators based in their results appoint that the participation of B lymphocytes in tuberculous infection is phase-specific. These cells participant in the granuloma formation during the acute infection maintain the local response against Mtb and prevent reactivation of the disease during its evolution[29,63,74].
A more recent study has demonstrated that when antibodies interact with stimulatory FCγ receptors of the antigen presenting cells enhance the Th1 response (Predominance of IFN-γ) which controls the infection. Interaction of the antibodies with inhibitory FCγ receptors compromises the anti-bacterial immunity (Predominance of IL-10)[24].There exist immunopathological differences in each case[69]. Other researchers have revealed that the immunity to Mtb can be modulated by B cells "in an organ specific manner" with the participation of cytokine production and macrophage activation[75] (Figure 2).
T lymphocytes
Armed effector T cells are crucial to almost all adaptive immune response. Alterations of the Th cells functions conduce to inefficient clearance of pathogens and can cause inflammation and autoimmunity[76].
The reasons for the impaired Mtb-specific T cell function in active tuberculosis remain controversial. Patients with mutations in Th-1 cytokine signaling pathways such as IFN-γ and IL-12 (a p40 and p35 heterodimer) are susceptible to overwhelming infection with Mtb[77,78]. Impaired Th1 lymphocyte response in HIV infection also produces ineffective immunity to Mtb[79]. Several observations suggest that the Th2 cytokines, IL-4 and IL-10, are associated with LTB infection, reactivation and advanced TB[80,81].
Patients with extrapulmonary disease have immune responses in vitro suggestive of Th1 response, whereas patients with miliary/disseminated disease have a suggestive Th2 response[82]. There are several lines of evidence suggesting that overexpression of Th2 cytokines increases the severity of TB, including observations that virulent Mtb strains preferentially induce Th2 cytokines expression, whereas less virulent strains induce Th1 cytokines, including IFN-γ and TNF-α[83-85] (Figure 3). There are many factors that can change the immune response in different pathologies, such as: the etiological agent and its immunogenicity, evasion mechanisms of the pathogen, the type of pathology, the phase of the clinical entity, concurrent infections and infestations, the host genetic condition and the sufficiency or insufficiency of the immune system among others[86] (Figure 4). Thereon, authors express that coincident hookworm infection exerts a profound inhibitory effect on protective Th1 and Th17 response in latent TB and may predispose toward the development of active TB in humans[87].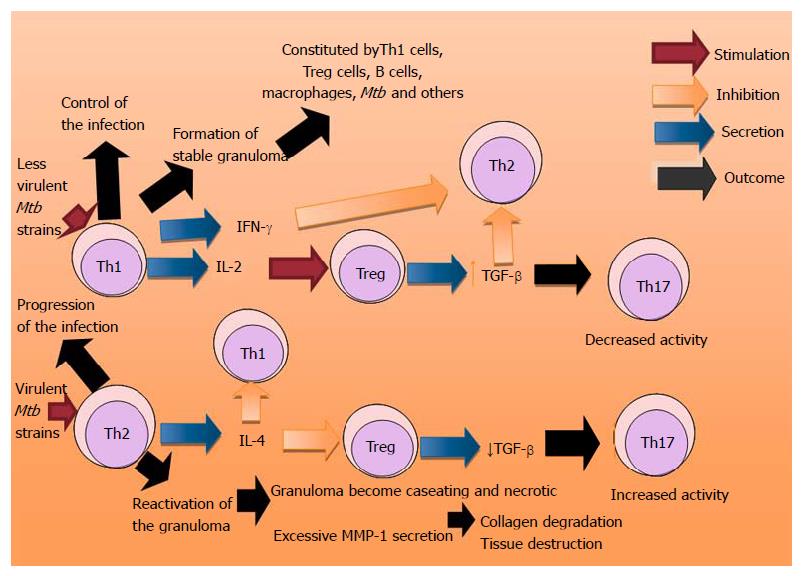 Figure 3 Participation of Th1, Th2, Th17 and T reg phenotypes in the evolution of the Mycobacterium tuberculosis infection.
TGF-β: Transforming growth factor-beta; IL: Interleukin; IFN-γ: Interferon-γ.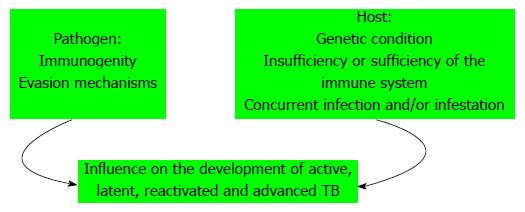 Figure 4 Factors involved in the evolution of Mycobacterium tuberculosis infection.
TB: Tuberculosis.
In the antigenic presentation the function of MHC class II molecules is to present peptides generated in the intracellular vesicles of B cells, macrophages, and other antigen-presenting cells to CD4 T cells. CD4+ T cells are required for the control of intracellular Mtb. The depletion of CD4 T cells increases in quantitative form the bacterial burden associated with MHC II (+/+) cells but not MHC II (-/-) cells[88].
There is no doubt that immunity to Mtb depends on Th1-cell activity (IFN-γ and IL-12 and the production of tumoral necrosis factor-α), but Th1 immunity alone is not sufficient to protect the host from Mtb infection, development of the disease, or dissemination[8]. For other authors, active TB is characterized by a profound and prolonged suppression of Mtb-specific T cell responses, as evidenced by decreased production of the Th1 phenotype cytokines as IL-2 and IFN-γ[89-93]. Overproduction of immunosuppressive cytokines (IL-10 and Transforming growth factor-β) by mononuclear phagocytes has been implicated in decreased T cell function during TB[94-97]. Other studies are controversial with respect to IFN-γ serum levels. These reported in active TB levels significantly higher than in patients during anti- TB therapy, in patients after treatment, in contact and in healthy control. Also, they observed the increment of IL-10, IL-6 and decrease of IL-4[98].
The predominance of Th1 phenotype plays a relevant role in immunity to TB in children. The children are more prone to developing extrapulmonary manifestations of TB than adults. Pediatric TB is characterized by diminished Th1, Th2 and Th17 phenotype cytokines, which favor the development of neurologic TB, suggesting a crucial role for these cytokines in protection against pediatric tuberculosis. Among children with extrapulmonary TB, those with neurologic involvement exhibited a more significantly diminished Ag-driven IFN-γ and IL-17 production[99].
Investigations have implicated Regulatory T cells (Treg) in the pathogenesis of Mtb infection. The induced Treg cells (iTreg) are differentiated from naïve T cells in the presence of Transforming growth factor β following T cell receptor (TCR) stimulation. These cells produce large amounts of IL-10 and Transforming growth factor-β[100,101]. Unlike Th1, Th2 or Th17 cells, iTreg displays immune-suppressive activity with minimal antigen specificity[102]. Tregs are increased in the peripheral blood of active TB patients compared with M. bovis BCG vaccinated healthy donors. This agrees with recent reports in humans[103] and in the murine TB model[104,105]. It has been demonstrated that Treg cells proliferate and accumulate at sites of infection, and have the capacity to suppress immune responses[105]. Circulating Treg cells in the peripheral blood declined progressively by anti-TB treatment[106].
During the initial T cell response to Mtb infection, the pathogen induces the expansions of Treg cells that delay the onset of adaptive immunity, suggesting that Mtb has sequestered Treg to allow that the bacterium replicate endlessly in the lungs until T cells finally arrive[107]. The increase of these cells causes down- regulation of adaptive immune response facilitating the persistence of bacterial infections. The induction of Treg by Mtb can be an evasive mechanism of the bacterium that permits its replication[108]. Studies have appreciated in active TB infection high levels of circulating Treg cells which inhibit the Th1 response but not the Th17, facilitating the bacterial replication and tissue damage. The presence of persisting immune activation and high frequencies of Treg lymphocytes may reflect immune dysregulation that predisposes individuals to clinical tuberculosis, specifically to extrapulmonary TB[109,110].
CD8 +T cells secrete preformed perforins and granzimes that act over the target cells to die via apoptosis. A study has demonstrated reduced numbers of CTLs expressing low levels of perforin and granulysin, correlated with an elevated frequency of FoxP3+ Treg cells inside of the granulomas. Also, there are high levels of transforming growth factor-β that produce active immunosuppression at the local infection site. These results suggest that an imbalance in the proportion of effector T cells to Treg cells, present at the site of infection, may contribute to the establishment of TB infection[111]. A recent study has identified a mycobacterial protein and peptide recognized by γδ T cells isolated from pulmonary tuberculosis patients. The activated γδ T cells exhibited cytolytic effector function against BCG-infected cells and played a role in the recruitment and activation of other immune cells involved in the antibacterial response[112].
Studies reveal that cytokines network is formed with the participation of the regulating proteins and different subset of cells to achieve control, persistence and severity of TB (Figure 3).
Natural killer cells
Natural killer cells (NK) are important components of innate immune system and mediate resistance against intracellular pathogens. Their cytotoxicity is modulated by a wide variety of cell surface receptors. Both inhibitory and activating receptors encoded by killer immunoglobulin-like receptors (KIR) genes bind to HLA ligands to control the activation NK. Not much is known about KIR genes and their influence on the pathogenesis with Mtb infection. Activating genes KIR2DS1, KIR2DS5 and inhibitory genes KIR3DL1, KIR2DL3 conferred susceptibility towards TB either individually or in haplotype combinations[113]. A study demonstrated that the aerosol infection with Mtb, permit the expansion of the NK cell within the lungs, the expression of markers of activation, and the production of IFN-γ and perforin. These authors appoint that the depletion of NK cells did not affected the bacterial load. Redundant biological actions may be involved[114].
Before, was thought that the memory-like responses were limited to adaptive immunity. Recently, has been demonstrated that NK cells have the capacity for memory-like responses. Three steps have been proposed in the participation of NK cells for the control of infectious processes: initial infection, resolution of inflammation and new inflammatory challenge. An in vivo adoptive transfer system was used to determine the NK cell immune memory property. Cytokines secreted by macrophages and dendritic cells induced the production of IFN-γ by NK cells. IFN-γ active CPAs and the naive NK cells transform into memory like NK cells which will be prepared for a new infection and an effective control of the intracellular pathogens such as Mtb[115-117]. Investigations have demonstrated that human CD45RO+ NK cells from pleural fluid cells (PFCs) of tuberculous patients express a "memory-like" phenotype that may have an important role in the defense against infection by Mtb[118] (Figure 5).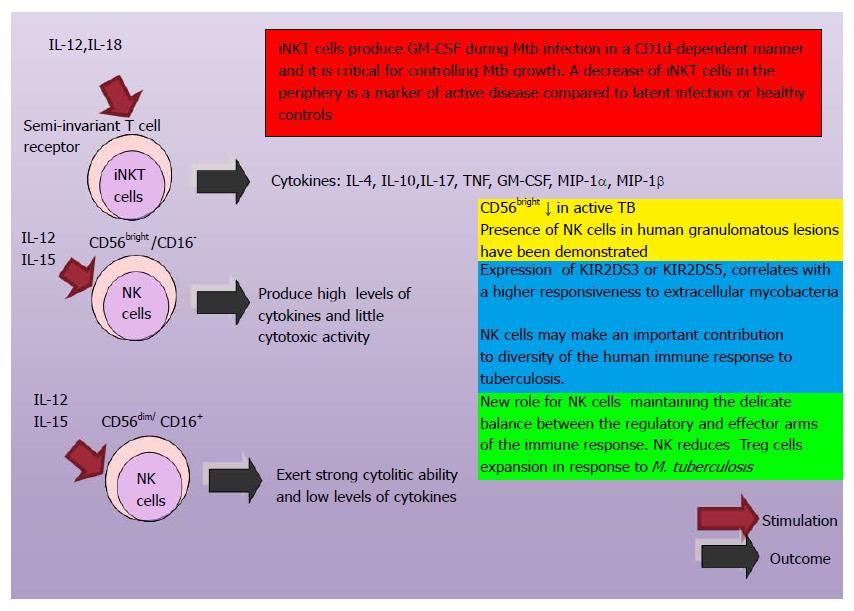 Figure 5 Participation of invariant natural killer T and natural killer cells in the control of Mycobacterium tuberculosis infection.
iNKT: Invariant natural killer T; CD: Clusters of differentiation; MIP: Macrophage inflammatory protein; GM-CSF: Granulocyte macrophage colony-stimulating factor; TB: Tuberculosis; NK: Natural killer; IL: Interleukin.
Osteoclasts
Virulent Mtb strains that infect multinuclear osteoclasts present an intracellular rapid growth and an osteolytic response, rather than inflammation. Also, highly-fused multinucleated osteoclasts incapacitated the production of cytokines and chemokines[119]. A study reveals that Mtb produces a protein called chaperonin Cpn60.1 which stimulates the human and murine monocytes cytokines sintesis. Also, it is a potent inhibitor of osteoclastogenesis both in vitro and in vivo and is considered a potential cure for osteoporosis[120].
CYTOKINES AND THEIR PARTICIPATION IN THE ANTIBACTERIAL IMMUNE RESPONSE
Cytokines are proteins that participate in regulating the immune system in physiological entities such as pregnancy[121] and other pathologies: bacterial[86,108], viral[122,123], parasitic[124,125], allergic[126,127], rheumatologic[128,129] and neoplastic[130,131], and in deficiencies of Vitamin A and iron[132-134]. Their synergistic, antagonistic, redundant and pleiotropic biological effects can affect or not the immune response against Mtb. The cytokines can be regulated for the control of the immune system and the maintenance of homeostasis[86].
Study has provided important details on the Mtb lineage-specific patterns of growth and cytokine induction. The lineage 2 Mtb strains induce low levels of TNF-α and IL12p40, lineage 3 strains induce high levels of TNF-α, but low levels of IL12p40 and the lineage 4 strains induce high levels of both cytokines[135]. The Modern lineages (lineages 2, 3 and 4) induce lower levels of proinflammatory cytokines when compared with ancient lineages (lineages 1, 5 and 6)[136]. The variability of the immune post challenge response with the strains of those lineages, establishes that studies realized without knowledge of the participant strain, conduces to controversial investigative results.
Strains of Mtb influence in the immune response and the evolution of the disease depending of their virulence. Strains of the modern or ancient Beijing (Bj) genotype, as well as the Euro-American lineage, have been used for the induction of ex-vivo cytokine production by PBMCs in healthy individuals. Regarding this, researchers have demonstrated that modern and ancient Mtb Beijing genotypes induced different cytokine patterns[137].
Every cytokine, based in its biological actions and interactions with elements of the immune system and other factors, will have a relevant effect in the control or eradication of the Mtb infection (Figure 6).
CONCLUSION
The existence of lineages, sublineages, strains and substrains reveal the complexity of Mtb and hence differences in the behavior of the immune system and the evolution of the disease. There is evidence suggesting some strains of Mtb may result in higher rates of disease progression, treatment failure, and relapse. The presence of persisting immune activation and high frequencies of Treg lymphocytes may reflect immune dysregulation that predisposes individuals to clinical tuberculosis, specifically to extrapulmonary tuberculosis. There is no doubt that immunity to Mtb depends on Th1-cell activity (IFN-γ and IL-12 and the production of TNF-α), but Th1 immunity alone is not sufficient to protect the host from Mtb infection, development of the disease, or dissemination. CD8+ T and γδ T cells exhibit cytolytic effector functions in the Mtb infection which amplifies the response. Studies of B cell immunodeficiency in both humans and mice have questioned whether these lymphocytes impart a protective effect against Mtb.
Recently, has been demonstrated that NK cells have the capacity for memory-like responses which permit greater control of the bacterial infection. IFN-γ, TNF-α, IL-12 and IL-17 are important participants in Mycobacterium-induced granuloma formation. Cytokines produced by Th17 phenotype enhance the clearance of intracellular Bacillus Calmette-Guérin (BCG) by macrophages.
IL-27 and IL-10 can serve as counter-regulatory of the cytokines to prevent extensive immunopathology by keeping anti-bacterial cellular response in control. The excessive production of TGF-β is believed to be related to the clinical progression of the disease, particularly, in the physiopathology of pleural thickening. Some chemokines may mediate correct spatial localization of immune cells to form granulomas and mediate the control of Mtb and others are also involved in the migration of different cells to infected tissues. As appreciated, the immune system is an extensive network and its final outcome is based in biological actions of cytokines and the participation of the factors aforementioned.
P- Reviewer: Boonsarngsuk V, Drain P S- Editor: Song XX L- Editor: A E- Editor: Jiao XK