World J Otorhinolaryngol.
Feb 28, 2016;
6(1): 13-18
Published online Feb 28, 2016. doi: 10.5319/wjo.v6.i1.13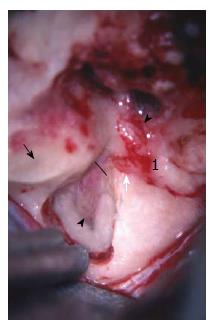 Figure 3 Intraoperative photograph of a left subtemporal/middle cranial fossa approach to the facial nerve. The middle fossa approach to the internal auditory canal is appropriate for decompression of the bony canal surrounding the nerve. Access to the upper tympanic segment (proximal to the cochleariform process) is achievable via this approach. 1Geniculate ganglion. Solid line represents the entrance of the bony facial canal; Solid black arrow: Blue-line of superior semicircular canal; Black arrowhead: Fundus of the internal auditory canal decompressed; White arrow: Labyrinthine segment; White arrowhead: Tympanic segment.
---
Citation: Makadia L, Mowry SE. Management of intratemporal facial nerve schwannomas: The evolution of treatment paradigms from 2000-2015. World J Otorhinolaryngol 2016; 6(1): 13-18
---