Copyright
©2014 Baishideng Publishing Group Inc.
All rights reserved.
World J Obstet Gynecol.
Aug 10, 2014;
3(3): 90-97
Published online Aug 10, 2014. doi: 10.5317/wjog.v3.i3.90
Acceptability of self-collected human papillomavirus specimens in cervical cancer screening: A review
Brenda L Quincy, Department of Physician Assistant Studies, School of Health Sciences, Elon University, Elon, NC 27244, United States
Author contributions: Quincy BL solely contributed to this article.
Correspondence to: Brenda L Quincy, PhD, MPH, PA-C, Department of Physician Assistant Studies, School of Health Sciences, Elon University, Campus Box 2087, Elon, NC 27244, United States. bquincy@elon.edu
Telephone: +1-336-2786844 Fax: +1-336-2782898
Received: February 24, 2014
Revised: April 3, 2014
Accepted: June 14, 2014
Published online: August 10, 2014

Cervical cancer morbidity and mortality is an important public health problem around the world. Some of the barriers to cervical cancer screening include the embarrassment, discomfort, lack of privacy and time and cost associated with clinician-collected, clinic-based screening with cytology or human papillomavirus tests. Self-collection of a human papillomavirus (HPV) test has been found to be generally more acceptable, less embarrassing, more comfortable, more private and easy to do and preferred to pelvic examination for cervical cytology by many women worldwide. The most commonly reported limitation to self-collection is a woman's lack of confidence in her ability to perform it correctly. Self-collected human papillomavirus tests have been shown to be as or more sensitive than cytology or clinician-collected HPV tests. With confidence-building education about self-collection, it is likely a viable method to extend the reach of screening in high and low-resource areas around the world.
Core tip: Self-collected human papillomavirus specimens using swabs, brushes or lavage devices have been found to be as accurate as clinician-collected specimens. With appropriate education to increase self-efficacy and confid ence in the quality of the collection and the results, self-collected HPV tests may improve cervical cancer detection among unscreened and underscreened women in high and low resource areas.
---
Citation: Quincy BL. Acceptability of self-collected human papillomavirus specimens in cervical cancer screening: A review. World J Obstet Gynecol 2014; 3(3): 90-97
---
INTRODUCTION
Though it is largely preventable, cervical cancer is an important cause of morbidity and mortality throughout the world. The age-adjusted incidence of cervical cancer is 14 cases per 100000 women worldwide. It is as high as 15.7 per 100000 in less developed areas of the world and 9.9 per 100000 in more developed areas. The age-standardized mortality rate for cervical cancer is 8.3 per 100000 for women in less developed regions, with a much lower rate of 3.3 per 100000 women in more developed areas[1]. The much lower rates in more developed areas underscore the importance of effective screening programs. In lesser developed regions with fewer healthcare resources, the lack of a reliable screening test and inadequate screening coverage result in more new cervical cancer cases and ultimately in more cervical cancer deaths[2].
Human papillomavirus (HPV) infection is now known to be a necessary cause of cervical cancer and as a result, testing women for high-risk subtypes of HPV is proving to be an effective method of screening. As the relative value of HPV testing in cervical cancer screening became more apparent, a variety of self-collection options were developed. Self-sampling options tend to be more acceptable to women because they overcome the previously identified barriers to cervical cancer screening. As a result, self-collection of HPV specimens will extend the reach of cervical cancer screening programs even in low-resource areas.
BARRIERS TO CERVICAL CANCER SCREENING
While every woman is an individual in terms of how personal characteristics and life circumstances affect her health care behaviors, women who are underscreened or unscreened for cervical cancer often experience one or more of a number of common barriers to participation. In a group of primarily urban minority women, the reluctant tended to possess a fatalistic attitude, believing that they are better off not knowing about their cancer or that cancer occurs in those who have bad luck. Additionally they reported a lack of family support and lack of understanding of the risk of cervical cancer[3]. Among 300 women in Botswana who answered questions about their perceptions of barriers to Papanicolau (Pap) testing, 32% found it embarrassing and 52% believed that getting a screen suggested a woman is sexually active. Many (63.3%) of the women who had never been screened and 51.7% of those who had been screened thought lack of information was a barrier for screening for cervical cancer. However, none of the barriers identified by the women was significantly associated with their screening behaviors[4]. In a study of 493 women in Brazil, 36.7% of women had adequate knowledge of cervical cancer, 67.2% had an appropriate attitude (recognized the importance of screening) and 69.6% reported having had a Pap in the past 3 years. The barriers to undergoing Pap testing with the highest scores were a lack of symptoms of cervical cancer and the embarrassment associated with the exam[5]. In a study 345 Appalachian women aged 40-64, questions regarding barriers were grouped according to the PRECEDE-PROCEED model as predisposing factor barriers, enabling factor barriers and reinforcing factor barriers. Barriers that were found among more than half of the women included: (1) worry (78%); (2) fear of cancer (67%); (3) embarrassment (56%); (4) the belief that cervical cancer (52%) and polyps (50%) would have symptoms; (5) unavailability of public transportation (71%); (6) preference for home screen (66%); (7) insurance coverage (65%); and (8) lack of choice of a male or female provider (62%)[6]. Among 21-65 year-old Malaysian women, 70% reported that cervical cancer screening is too embarrassing and almost half found the attitude of clinic staff, the lack of female healthcare providers, the worry associated with the outcome and the fear that she would no longer be a virgin after the test were important barriers[7]. In a review of the literature on cervical cancer screening in Asian women, barriers to screening could be grouped as cognitive, emotional, economic, logistic or social. Barriers to screening identified in each of these categories included a lack of understanding of the reason for or benefits of testing, fear, time away from work, lack of insurance, transportation and childcare issues, wait times in the clinic, and lack of support from family and healthcare clinic staff[8]. Lastly, a study of women with cervical abnormalities who were enrolled in a research program to help them navigate the healthcare system in multiple cities in the United States found that nearly half of the women experienced at least one barrier to care and some experienced as many as seven. Barriers that significantly delayed time to diagnosis included the presence of comorbidities, health insurance issues, minimization of the importance of treatment, out of town travel, and employment demands or healthcare system problems. Interestingly, the time from detection of the cervical abnormality to definitive diagnosis was not affected by fear, attitudes toward providers, perceptions about tests and treatments, quality of communication, ability to read and write, or language[9].
SELF-COLLECTED HUMAN PAPILLOMAVIRUS TEST
Self-collection of cervicovaginal HPV specimens is purported to be a viable alternative to Pap testing or clinician-collected HPV specimens that will overcome some of these barriers and extend the reach of screening in low-resource or underscreened populations. A variety of self-collection methods have been developed and tested around the world to determine their diagnostic accuracy (Figure 1). The available devices today include swabs, brushes, and lavage devices. In addition to the polyester (Dacron) tipped swab, flocked swabs are now available. The flocked swab is a variation on the polyester swab that comprises a solid plastic applicator with short nylon fibers attached perpendicularly to the tip. It is designed to allow the specimen to remain near the surface of the swab for ease of retrieval relative to the traditional cotton or Dacron swab. An additional variation on the swab includes the Fournier device. Its swab is wrapped in a sheath much like a tampon applicator. Upon insertion, the woman pushes the end of it to deploy the swab and after collection the swab retreats back into the sheath to prevent absorption of vaginal secretions when the device is removed. There are also a variety of brushes available including the cervical sampler brush and broom-shaped devices commonly used for clinician-collection of cervical cytology specimens. The Evalyn brush also offers an applicator to ease deployment of the brush. Following collection, the pink cap is snapped back onto the transparent applicator and the specimen is transported dry to the lab. Cervical lavage devices have also been developed. For the lavage, the woman inserts the device as she would a tampon and then pushes and holds a button for three seconds. During that time, a small amount of sterile fluid is released from the end near the proximal vagina and cervix. When she releases the button, the fluid flows back into the device along with cervical and vaginal cells.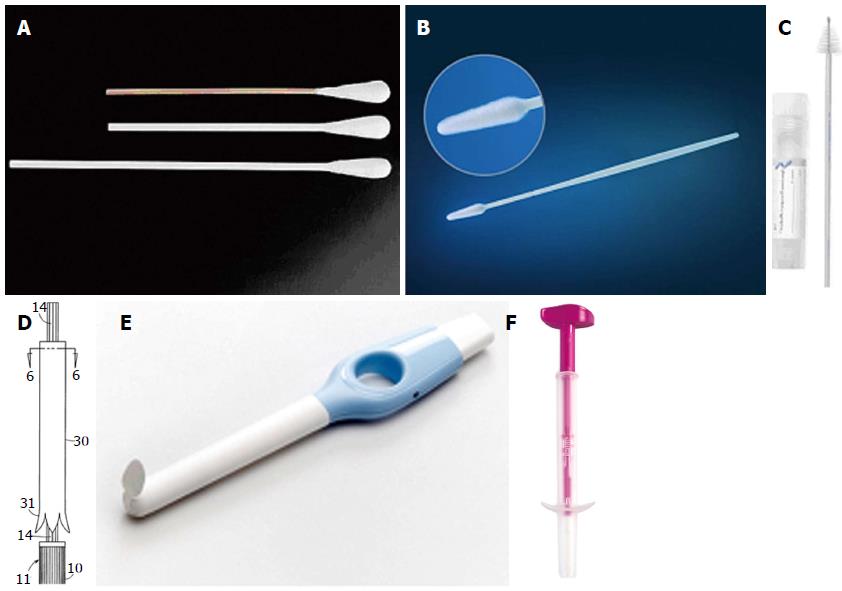 The agreement of HPV self-collected specimens with clinician-collected specimens has been demonstrated to be strong in several studies[10-13]. The sensitivity of the self-collected studies has been consistently as high or higher than that of cervical cytology specimens for the detection of high-grade cervical intraepithelial neoplasia[10]. Self-collected HPV tests are emerging as an alternative to cervical cytology or even clinician-collected HPV tests because their diagnostic accuracy has been favorable and the self-collection kit can be distributed in person or by mail with the collection occurring almost anywhere. If HPV self-collection methods are acceptable to women and they are willing to collect, self-collection has the potential to extend the reach of screening to under- or unscreened women in high or low resource regions.
ACCEPTABILITY OF SELF-COLLECTION
The acceptability of self-collected HPV samples has been examined in a number of different ways. It is usually measured by an interview or a written questionnaire and compared with clinician-collected HPV or Pap test with acceptability parameters determined by the previously reported barriers to cervical cancer screening. Pain, discomfort, degree of embarrassment, level of privacy, ease of use, trust or confidence in the results are commonly measured parameters for acceptability. Other studies focused on women's preferences for self-collection or clinician-collection and the reasons for their preferences.
CONCLUSION
Cervical cancer prevention is an important health priority around the world. Historically, cytology based screening programs have been effective in reducing morbidity and mortality but there are still significant numbers of unscreened or underscreened women in more developed as well as less developed countries. Barriers to cervical cancer screening range from personal issues such as the embarrassment and discomfort associated with the speculum exam and issues with being examined by a male provider to logistical concerns such as transportation to a clinic, childcare during the visit and the extended clinic wait times keeping women away from a job or family. Human papillomavirus testing, including self-sampling for HPV has been demonstrated to be as or more sensitive than cytology in the detection of high-grade cervical neoplasia. A number of different self-collection instruments including various brushes, swabs and lavage devices have been developed and found to be highly acceptable to women. The number of acceptability studies, conducted on at least five continents, continues to grow and the preponderance of the evidence indicates that women find the various types of self-collection instruments highly acceptable. Most women have indicated a preference for self-collection and willingness to self collect in the future. The most commonly occurring limiting factor to self-collection has been the woman's confidence that she is collecting the specimen correctly. Another reason offered by women who preferred the clinician exam to self-collection despite a higher acceptability for self-collection was their concern that they would lose contact with their physicians. They preferred the clinician-collection because it provided an opportunity for somewhat regular interaction with the provider. These are important concerns that need to be considered in the development and implementation of large scale screening projects designed to draw unscreened or underscreened women by offering self-collection. Simple diagrams and written instructions for literate populations or clear oral instructions by culturally similar women who have used the device are likely to help overcome this barrier. As with any screening program, the systems-related barriers will need to be minimized for the extended reach of the screening program to have a meaningful impact on mortality and quality of life. With these caveats, self-collection of human papillomavirus specimens as a primary screen for cervical cancer seems to be highly acceptable to women and has the potential to extend the reach of screening programs, particularly in previously unscreened or underscreened women.
P- Reviewer: Ciotti M S- Editor: Wen LL L- Editor: A E- Editor: Wu HL