Copyright
©2014 Baishideng Publishing Group Inc.
World J Gastrointest Pathophysiol.
May 15, 2014;
5(2): 71-81
Published online May 15, 2014. doi: 10.4291/wjgp.v5.i2.71

Figure 1 Computed tomography.
A: Computed tomography (CT) findings in autoimmune pancreatitis: Showing diffuse enlargement and a "sausage like" appearance of the pancreas (arrow); B: Axial contrast enhanced CT image demonstrating a characteristic low signal rim or halo surrounding the body and tail of the pancreas in another patient with autoimmune pancreatitis.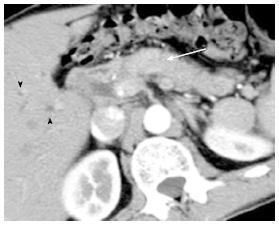 Figure 2 Focal enlargement of the pancreatic parenchyma in the head of the pancreas (arrow), and dilatation of the intrahepatic bile ducts visible (arrowheads).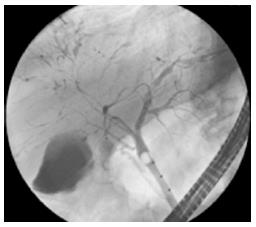 Figure 3 Endoscopic retrograde cholangiopancreatography findings of multiple and focal strictures and dilatation in the intrahepatic bile ducts in autoimmune pancreatitis.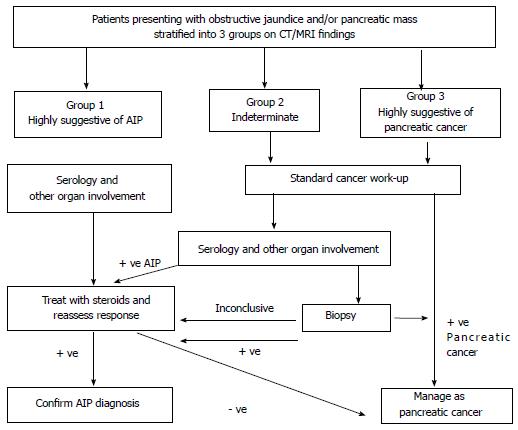 Figure 4 A strategy for distinguishing autoimmune pancreatitis from pancreatic cancer (based upon the Mayo clinic strategy[23]).
CT: Computed tomography; MRI: Magnetic resonance imaging; AIP: Autoimmune pancreatitis.

Figure 5 Axial computed tomography image.
A: Demonstrating a characteristic sausage shaped enlarged pancreas with surrounding halo in keeping with autoimmune pancreatitis; B: From the same patient 8 mo later following corticosteroid therapy demonstrating response to treatment.
---
Citation: O'Reilly DA, Malde DJ, Duncan T, Rao M, Filobbos R. Review of the diagnosis, classification and management of autoimmune pancreatitis. World J Gastrointest Pathophysiol 2014; 5(2): 71-81
---