Copyright
©2014 Baishideng Publishing Group Inc.
World J Gastrointest Surg.
Nov 27, 2014;
6(11): 229-234
Published online Nov 27, 2014. doi: 10.4240/wjgs.v6.i11.229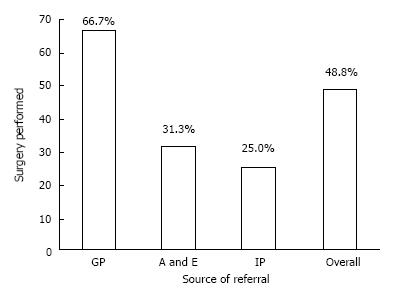 Figure 6 Percentage of patients receiving surgery or other invasive diagnostic procedure by source of referral. GP referrals were more than twice as likely to undergo surgery than patients referred from A and E (OR 4.40, CI: 1.09-17.72, P = 0.04). However, due to the small number of in-patient referrals, significance was not reached for GP vs In-Patient referrals (P = 0.15). IP: In-patient referrer; GP: General practitioner.
---
Citation: Sajid MS, Hollingsworth T, McGlue M, Miles WF. Factors influencing the diagnostic accuracy and management in acute surgical patients. World J Gastrointest Surg 2014; 6(11): 229-234
---