World J Gastrointest Oncol.
Jun 15, 2017;
9(6): 257-262
Published online Jun 15, 2017. doi: 10.4251/wjgo.v9.i6.257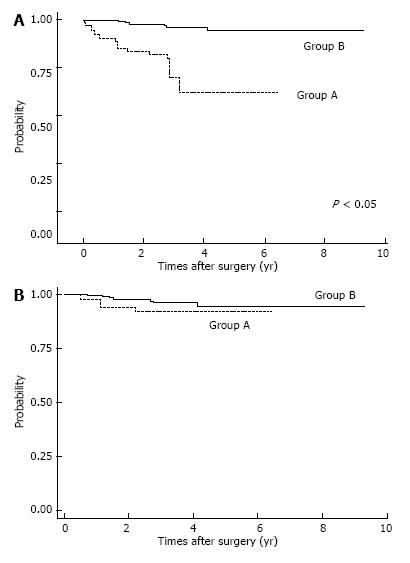 Figure 3 Overall survival (A) and cause-specific survival (B) by age group among patients with pStage I gastric cancer who underwent gastrectomy. OS was significantly lower significantly lower in Group A than Group B after IPTW method (P < 0.05). OS: Overall survival; CSS: Cause-specific survival; IPTW: Inverse probability of treatment weighting.
---
Citation: Fujiwara Y, Fukuda S, Tsujie M, Ishikawa H, Kitani K, Inoue K, Yukawa M, Inoue M. Effects of age on survival and morbidity in gastric cancer patients undergoing gastrectomy. World J Gastrointest Oncol 2017; 9(6): 257-262
---