Copyright
©2014 Baishideng Publishing Group Inc.
World J Gastrointest Oncol.
Nov 15, 2014;
6(11): 420-429
Published online Nov 15, 2014. doi: 10.4251/wjgo.v6.i11.420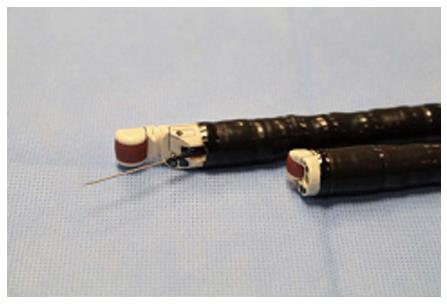 Figure 1 The curved linear array videoechoendoscope (GF-UCT180) (Back); The new prototype forward viewing linear array videoechoendoscope (TGF-UC180J) (Front).

Figure 3 Curved linear echoendoscope showing a rounded hypoechoic left lobe liver lesion with no well-defined border representing liver metastasis in a

Figure 4 Hyperechoic rounded liver lesion (white arrow) representing a metastasis in patient with pancreatic neuroendocrine tumor with biliary obstruction and dilated intrahepatic duct (A); endoscopic ultrasound-guided fine needle aspiration of liver lesion using 22 gauge needle (B).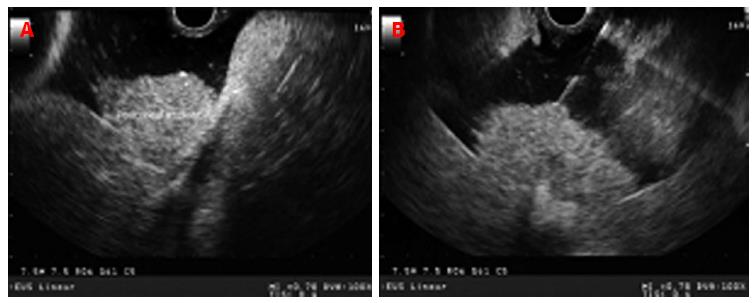 Figure 5 Peritoneal deposits in a patient with malignant ascites.
Peritoneal implants appear as hypoechoic in comparison to the surrounding tissue but hyperechoic in comparison to the anechoic ascitic fluid (A); endoscopic ultrasound-guided fine needle aspiration of a large peritoneal deposit (B).

Figure 6 Malignant distal biliary strictures are most commonly secondary to pancreatic malignancy and/or distal bile duct cholangiocarcinoma.
A: Distal common bile duct stricture secondary to a large heterogenous hypoechoic pancreas head mass with irregular border; B: Endoscopic ultrasound-guided fine needle aspiration of pancreas head mass/stricture; C: Distal irregular common bile duct stricture seen on cholangiogram.
---
Citation: Hammoud GM, Almashhrawi A, Ibdah JA. Usefulness of endoscopic ultrasound-guided fine needle aspiration in the diagnosis of hepatic, gallbladder and biliary tract Lesions. World J Gastrointest Oncol 2014; 6(11): 420-429
---