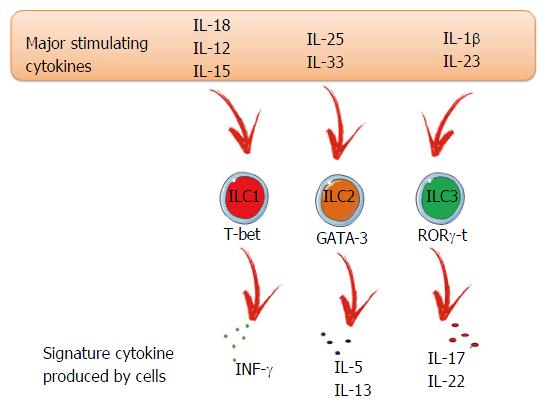 Figure 1 Innate lymphoid cell family.
Each individual ILC subset is characterized by differential expression of transcription factors and patterns of expression of cytokines. ILCs can be activated by a diverse array of cytokines and can contribute to immunity, inflammation and maintenance of tissue homeostasis. IL: Interleukin; IFN-γ: Interferon γ; ILC: Innate lymphoid cell.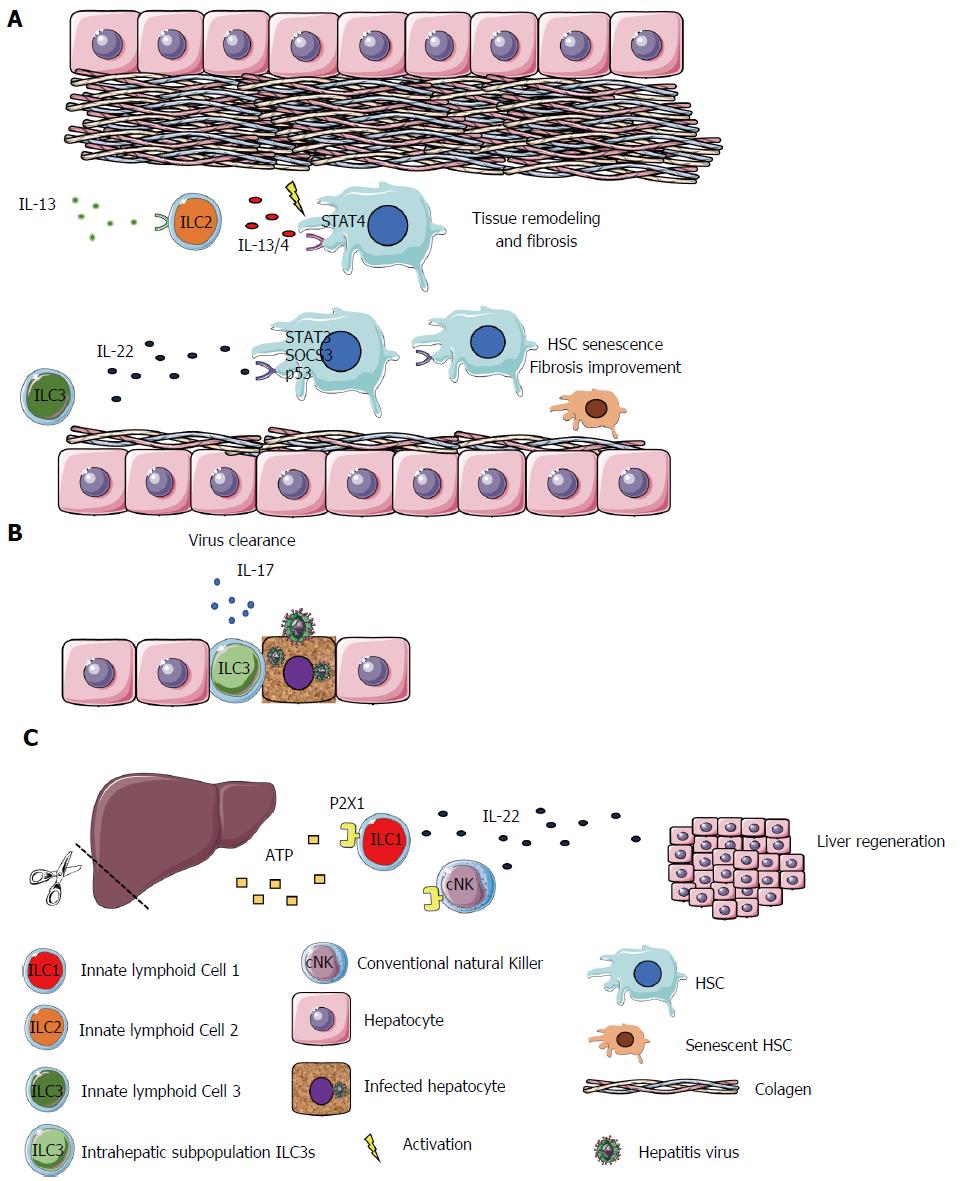 Figure 2 Innate lymphoid cell family plays different roles in the liver. ILCs can develop different functions depending on the organ and environment in which they are found. In the liver (A) IL-33, produced by hepatic cells, can act on ILC2s, promoting the release of anti-inflammatory cytokines, such as IL-13 and IL-4. These cytokines can activate HSCs, via STAT4, promoting tissue remodeling and fibrosis. On the other hand, IL-22, produced by ILC3s, acts on HSCs, via STAT3, SOCS3 and p53, promoting their senescence and ameliorating liver fibrosis; B: IL-17 can be released by the intrahepatic subpopulation ILC3s, during the virus infection promoting the clearance of the virus; C: IL-22 can be produced by ILC1s and cNK cells in the liver, contributing to liver regeneration via ATP-P2X1. Therefore, different cytokines can be manipulated, as therapeutic targets, in benefit of hepatic inflammation, fibrosis and tissue regeneration. IL: Interleukin; IFN-γ: Interferon γ; ILC: Innate lymphoid cell; HSCs: Hepatic stellate cells.
---
Citation: Ignacio A, Breda CNS, Camara NOS. Innate lymphoid cells in tissue homeostasis and diseases. World J Hepatol 2017; 9(23): 979-989
---