Copyright
©The Author(s) 2015.
Published by Baishideng Publishing Group Inc. All rights reserved.
Importance of being Nernst: Synaptic activity and functional relevance in stem cell-derived neurons
Aaron B Bradford, Patrick M McNutt, Cell/Molecular Biology Branch, US Army Medical Research Institute of Chemical Defense, Aberdeen Proving Grounds-EA, MD 21010, United States
Author contributions: Bradford AB and McNutt PM collected relevant figure materials, wrote and edited the paper.
Conflict-of-interest statement: The authors declare no conflict of interest.
Open-Access: This article is an open-access article which was selected by an in-house editor and fully peer-reviewed by external reviewers. It is distributed in accordance with the Creative Commons Attribution Non Commercial (CC BY-NC 4.0) license, which permits others to distribute, remix, adapt, build upon this work non-commercially, and license their derivative works on different terms, provided the original work is properly cited and the use is non-commercial. See: http://creativecommons.org/licenses/by-nc/4.0/
Correspondence to: Patrick M McNutt, PhD, Cell/Molecular Biology Branch, US Army Medical Research Institute of Chemical Defense, 3100 Ricketts Point Road, Aberdeen Proving Grounds-EA, MD 21010, United States. patrick.m.mcnutt2.civ@mail.mil
Telephone: +1-410-4368044
Received: December 19, 2014
Peer-review started: December 21, 2014
First decision: February 7, 2015
Revised: February 28, 2015
Accepted: May 8, 2015
Article in press: May 11, 2015
Published online: July 26, 2015

Functional synaptogenesis and network emergence are signature endpoints of neurogenesis. These behaviors provide higher-order confirmation that biochemical and cellular processes necessary for neurotransmitter release, post-synaptic detection and network propagation of neuronal activity have been properly expressed and coordinated among cells. The development of synaptic neurotransmission can therefore be considered a defining property of neurons. Although dissociated primary neuron cultures readily form functioning synapses and network behaviors in vitro, continuously cultured neurogenic cell lines have historically failed to meet these criteria. Therefore, in vitro-derived neuron models that develop synaptic transmission are critically needed for a wide array of studies, including molecular neuroscience, developmental neurogenesis, disease research and neurotoxicology. Over the last decade, neurons derived from various stem cell lines have shown varying ability to develop into functionally mature neurons. In this review, we will discuss the neurogenic potential of various stem cells populations, addressing strengths and weaknesses of each, with particular attention to the emergence of functional behaviors. We will propose methods to functionally characterize new stem cell-derived neuron (SCN) platforms to improve their reliability as physiological relevant models. Finally, we will review how synaptically active SCNs can be applied to accelerate research in a variety of areas. Ultimately, emphasizing the critical importance of synaptic activity and network responses as a marker of neuronal maturation is anticipated to result in in vitro findings that better translate to efficacious clinical treatments.
Core tip: During stem cell neuronal differentiation, functional synaptogenesis and the emergence of coordinated, networked activity are critical behaviors in confirming that cells have developed into a relevant neuronal population. As the number of stem cell-derived neuron (SCN) models continues to proliferate, the use of specific functional readouts to evaluate SCN maturity will become increasingly important compared to morphological or proteomic characterization of neuronal maturation. The review provides diverse options for reliably assaying the development of synaptic neurotransmission in derived neurons and describes the strengths, weaknesses and potential applications of several stem cell-based neuron models.
---
Citation: Bradford AB, McNutt PM. Importance of being Nernst: Synaptic activity and functional relevance in stem cell-derived neurons. World J Stem Cells 2015; 7(6): 899-921
---
INTRODUCTION
Over the last few decades a large variety of in vitro models have been developed for use in basic and applied neuroscience. These neurogenic models originate from diverse sources, including dissociated primary neurons, immortalized cell lines derived from neuronal and non-neuronal tissues and, most recently, stem cells. The predictive value of these models is critically dependent on their ability to recapitulate fundamental neuronal behaviors exhibited by primary neurons. This is particularly important given the profound effects that subtle changes in neuron development or maturation can have on emergent network properties.
In vivo, the differentiation of neural precursors into synaptically active, post-mitotic neurons involves a complex developmental cascade of gene expression and morphological changes[1-3]. These changes ultimately orchestrate synaptic, neuronal and network behaviors to produce the emergent properties responsible for sustained central nervous system (CNS) function. Given the complex cellular behaviors involved in producing synaptically active neurons, it is not surprising that synaptogenesis and maintenance of synaptic activity are highly sensitive to genetic and environmental perturbation[4,5]. While many dissociated primary neuron cultures reliably form functioning networks that exhibit physiological behaviors, their use is limited by several factors, including the difficulty of dissection, variability among cultures, poor viability for longer-term studies and the regulatory, administrative and ethical burdens imposed by animal studies. In contrast, while immortalized cells have been extensively used as a replacement for primary neurons, they uniformly fail to recapitulate many neurotypic properties[6].
The advent of neurons derived from stem cells offers the potential for a unique experimental platform that combines the relevance of primary neurons with the flexibility and scalability of immortalized cells[6]. Stem cell-derived neuron (SCN) models that produce functionally mature neurons have multiple characteristics that render them exceedingly well-suited to the study of neural development, neuron function and human disease. For example, SCNs can recapitulate functional behaviors that are characteristic of primary neurons, such as synaptic neurotransmission and network emergence. Many stem cell lines can be maintained in culture for prolonged periods prior to differentiation, enabling scalable expansion to accommodate the demands of high-throughput approaches and endowing differentiated neurons with reduced inter-experimental phenotypic and genetic variability. The ability to convert primary cells to patient-specific induced pluripotent stem cells (iPSCs) has kindled the extraordinary potential of personalized medicine, in which iPSC-derived neurons (i-neurons) expressing cellular correlates of particular neurological pathologies can be studied in vitro in the context of the patient's genome[7]. Finally, SCNs have also been proposed to have a direct application in cell-based therapies, whereby partially differentiated neural progenitor cells or post-mitotic immature neurons can be directly injected into the CNS to integrate into existing architecture, supplement endogenous neurogenic processes and promote the repair of damaged neural tissues[8,9]. However, SCN models must be shown to be competent to form context-appropriate, functioning neurons before these approaches can be used as intended.
The signature characteristic of CNS neurons is action potential (AP)-induced synaptic neurotransmission that synchronizes neuron firing to give rise to emergent circuit behaviors. Since synaptic activity is a principal endpoint of neurogenesis, detection of synaptic events and/or synaptically driven network behaviors serves as a higher-order readout that confirms the proper elaboration of the full range of biochemical, proteomic and morphological properties that are required for neuron function. However, in many cases the rigor and specificity of techniques used to characterize the physiological relevance of SCNs have been highly variable[10,11]. Frequently, characterizations have been limited to expression of small sets of neurotypic genes or electrophysiological assessment of intrinsic electrical excitability, without evaluation of functional synaptogenesis or network formation[12,13]. SCNs are frequently described as physiologically relevant based on insufficient or incomplete characterizations, therefore producing data of uncertain value. These inconsistencies illuminate a critical need for the identification of appropriate assays to evaluate the functional maturity and physiological relevance of derived neuron models.
In this review we will discuss methods to characterize the progression of in vitro neurogenesis and propose specific functional assays to confirm the physiological relevance of SCNs. We will focus on SCNs derived from four sources (summarized in Figure 1): embryonic stem cells (ESCs); restricted-potency neural stem cells (NSCs); iPSCs; and direct conversion of post-mitotic cells into induced neurons (iNs). Note that although iNs do not explicitly incorporate a pluripotent phase, the derivation of iNs uses principles and techniques involved in production of other SCN models and therefore will be addressed in this review. We will also describe the current status of existing SCN models, and elaborate on reasons why synapse and network formations are critically important to SCN applications, even in cases where applications may not directly rely on neuronal function.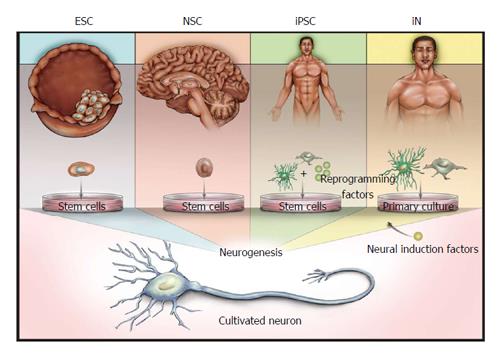 Figure 1 Illustration of the sources of derived neurons.
Embryonic stem cells (ESCs) are derived from the inner cell mass of blastocysts, whereas neural stem cells (NSCs) are derived from several defined niches in the developing or adult brain. Both ESCs and NSCs are capable of neurogenesis without the forced expression of induction factors. Induced pluripotent stem cells (iPSCs) and induced neurons (iNs) can be derived from various tissues, and proceed to neuronal states via either reprogramming to a stem cell phenotype (iPSCs) or direct conversion using neuronal induction factors (iNs).
METHODS TO CHARACTERIZE NEUROGENESIS AND NEURONAL MATURATION
SCNS: TYPES AND CHARACTERISTICS
APPLICATIONS OF SCNS FOR NEUROSCIENCE AND THERAPEUTICS
CONCLUSION
With available stem cell derivation and SCN differentiation techniques growing rapidly, researchers must be able to critically analyze and compare these models to in vivo neurons and circuits. Many SCN models, particularly those derived from human origins, still require optimized protocols to reproducibly generate synaptically active neurons. It may be a challenge for some researchers to functionally validate SCN models, but validation is essential for physiological relevance and to increase the translatability of findings regarding neurological development, function and dysfunction. It is encouraging to see newer research in the literature recognizing that functional endpoints, such as the establishment of a neuronal network, are highly sensitive and powerful tools. This review presents some variations in the approaches used to establish synaptic and network activity, but for now it should be apparent to those pursuing electrophysiological approaches that post-synaptic activity must be measured alongside intrinsic characteristics, followed by assays for networked activity. It is hoped that as techniques improve, the means of proving functional synaptogenesis and networked activity in SCNs will also expand. With expanding collections of validated models available, researchers will have excellent options for both basic neuroscience and therapeutic applications.
ACKNOWLEDGMENTS
We would like to acknowledge Kyle Hubbard and Megan Lyman (USAMRICD) for providing cells and exemplar images; Phillip Beske (USAMRICD) for providing exemplar traces; and Tracey Hamilton (USAMRICD) for electron microscopy images; James Abraham (USAMRICD) for illustration work; and Katie Hoffman and Cindy Kronman (USAMRICD) for editorial assistance.
P- Reviewer: Sarkadi B S- Editor: Tian YL L- Editor: A E- Editor: Liu SQ