World J Gastroenterol.
Sep 15, 2003;
9(9): 1959-1962
Published online Sep 15, 2003. doi: 10.3748/wjg.v9.i9.1959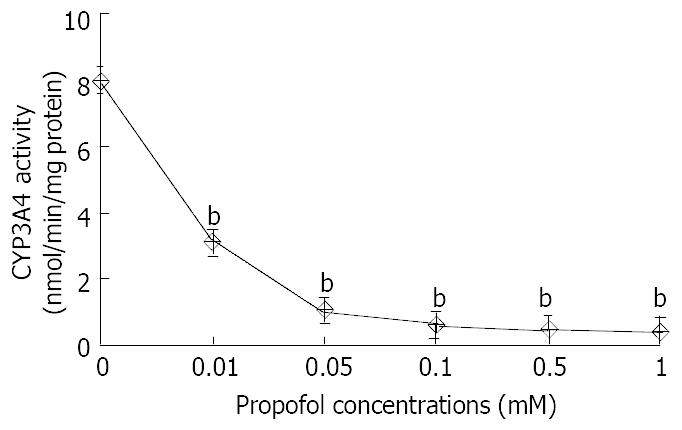 Figure 1 Effect of propofol on CYP3A4 activity in primary cultured hepatocytes. Hepatocytes prepared from donors were treated for 24 h with 0, 0.01, 0.05, 0.1, 0.5, and 1.0 mM propofol. At the end of this time, the medium was changed and eryth-romycin at 0.4 mM was added to the cells. After incubated for 30 min, aliquots of the medium were removed, and N-demethylation of erythromycin activity was determined as described above. Each value represented the mean of triplicate treatments with SD indicated by the vertical bars. b:P < 0.01.
---
Citation: Yang LQ, Yu WF, Cao YF, Gong B, Chang Q, Yang GS. Potential inhibition of cytochrome P450 3A4 by propofol in human primary hepatocytes. World J Gastroenterol 2003; 9(9): 1959-1962
---