World J Gastroenterol.
Feb 21, 2018;
24(7): 810-818
Published online Feb 21, 2018. doi: 10.3748/wjg.v24.i7.810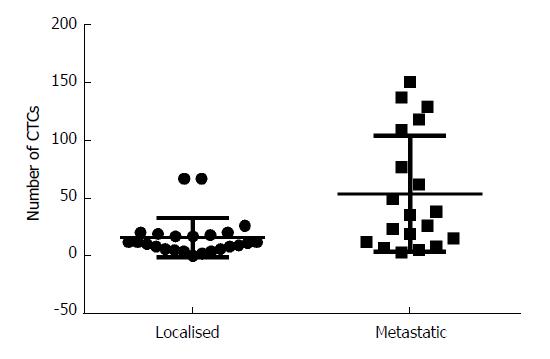 Figure 3 Circulating tumor cell count by stage. CTC processing post cryopreservation produced a higher mean CTC count in metastatic patients compared to the resectable patients (mean CTC in metastatic 53.8 vs resectable 15.8, P = 0.0013). CTC: Circulating tumor cell.
---
Citation: Brungs D, Lynch D, Luk AW, Minaei E, Ranson M, Aghmesheh M, Vine KL, Carolan M, Jaber M, de Souza P, Becker TM. Cryopreservation for delayed circulating tumor cell isolation is a valid strategy for prognostic association of circulating tumor cells in gastroesophageal cancer. World J Gastroenterol 2018; 24(7): 810-818
---