Copyright
©The Author(s) 2016.
Published by Baishideng Publishing Group Inc. All rights reserved.
Liver cancer stem cell markers: Progression and therapeutic implications
Jing-Hui Sun, Qing Luo, Ling-Ling Liu, Guan-Bin Song, Key Laboratory of Biorheological Science and Technology, Ministry of Education, College of Bioengineering, Chongqing University, Chongqing 400044, China
Author contributions: Sun JH designed the main concepts and wrote, revised the manuscript; Song GB supervised the writing, drafting and critical revision and final approval of the final version; Luo Q and Liu LL provided scientific and technical knowledge.
Supported by The Natural National Science Foundation of China, No. 11272365.
Conflict-of-interest statement: We declare that the authors have no conflict of interest.
Open-Access: This article is an open-access article which was selected by an in-house editor and fully peer-reviewed by external reviewers. It is distributed in accordance with the Creative Commons Attribution Non Commercial (CC BY-NC 4.0) license, which permits others to distribute, remix, adapt, build upon this work non-commercially, and license their derivative works on different terms, provided the original work is properly cited and the use is non-commercial. See: http://creativecommons.org/licenses/by-nc/4.0/
Correspondence to: Guan-Bin Song, PhD, Professor of Biomedical Engineering, Key Laboratory of Biorheological Science and Technology, Ministry of Education, College of Bioengineering, Chongqing University, No.174, Shapingba Street, Shapingba District, Chongqing 400044, China. song@cqu.edu.cn
Telephone: +86-23-65102507 Fax: +86-23-65102507
Received: December 21, 2015
Peer-review started: December 22, 2015
First decision: January 28, 2016
Revised: February 12, 2016
Accepted: March 2, 2016
Article in press: March 2, 2016
Published online: April 7, 2016

Cancer stem cells (CSCs) are a small subpopulation in cancer, have been proposed to be cancer-initiating cells, and have been shown to be responsible for chemotherapy resistance and cancer recurrence. The identification of CSC subpopulations inside a tumor presents a new understanding of cancer development because it implies that tumors can only be eradicated by targeting CSCs. Although advances in liver cancer detection and treatment have increased the possibility of curing the disease at early stages, unfortunately, most patients will relapse and succumb to their disease. Strategies aimed at efficiently targeting liver CSCs are becoming important for monitoring the progress of liver cancer therapy and for evaluating new therapeutic approaches. Herein, we provide a critical discussion of biological markers described in the literature regarding liver cancer stem cells and the potential of these markers to serve as therapeutic targets.
Core tip: Liver cancer is the fifth most common cancer and the third leading cause of cancer-related mortality worldwide despite remarkable progress in understanding hepatocarcinogenesis and new therapeutic approaches. Recently, the presence of highly resistant cancer stem cells (CSCs) in liver cancer has been proposed to be responsible for tumor growth, invasion, metastasis and recurrence. CSC involvement in liver cancer pathogenesis also highlights them as preferential targets for therapy. This review specifically focuses on the markers used to define human liver cancer stem cells, the therapeutic implications of the expression of these markers in patient's primary tumors, and the potential of the markers to serve as therapeutic targets.
---
Citation: Sun JH, Luo Q, Liu LL, Song GB. Liver cancer stem cell markers: Progression and therapeutic implications. World J Gastroenterol 2016; 22(13): 3547-3557
---
INTRODUCTION
Hepatocellular carcinoma (HCC), the most common liver cancer, is the third leading cause of cancer-related mortality worldwide[1], mainly due to its high rate of recurrence, which can be as high as 70% following conventional treatments, such as chemotherapy, arterial embolization, surgical resection, and radiofrequency ablation[2]. Some research studies have demonstrated that liver cancers are derived from liver stem cells that are present in adult liver tissue with endogenous or exogenous liver origin, where the former are oogonia located in the smallest terminal of the intrahepatic bile duct. However, the cellular origin of HCC recurrence remains poorly understood, and no specific treatment strategy has been developed that focuses on HCC recurrence. Although the cytological pathogenesis of HCC remains unclear, it has been proposed that HCCs are not created equally and display a great deal of heterogeneity[3,4], as there are abundant distinct tumor cell populations expressing different markers. Only a rare subset of cancer cells with stem cell properties, often referred to as liver cancer stem cells (LCSCs), are considered to be responsible for tumor growth, metastasis and recurrence of HCC as well as for the failure of chemotherapy and radiotherapy[5]. These findings indicate that liver cancer therapies, although killing a majority of tumor cells, may ultimately fail because they do not eliminate LCSCs, which survive to regenerate new tumors (Figure 1). Therefore, the cancer stem cell theory offers novel insight into tumor diagnosis, treatment and prevention.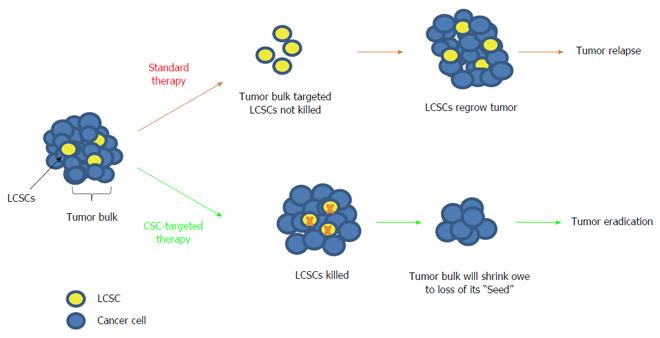 Figure 1 Targeting liver cancer stem cells is necessary to prevent tumor recurrence.
LCSCs are resistant to the current standard of care: surgical resection, radiotherapy and chemotherapy. Therapeutic approaches and strategies to target LCSCs in addition to the differentiated tumor cells are necessary to effectively treat the entire cancer and prevent tumor recurrence. LCSCs: Liver cancer stem cells.
Recent rapid progress in CSC research has encountered increasing challenges in which the identification of CSC-specific marker sets and targeted therapeutic destruction are the most frequently debated topics. CSC markers must be clearly defined for each tissue, and clarifying cellular and signaling functions of CSCs is key to conducting better identification and diagnosis based on CSC biomarkers for targeting CSCs, which will undoubtedly improve prevention and treatment for many types of CSCs. To achieve better understanding and treatment of LCSCs, we must better understand the markers of stemness and cell fractions associated with prognosis, metastasis, and resistance. These markers are necessary to isolate CSCs and analyze their biological characteristics to target them efficiently for therapeutic purposes. Therefore, we summarize here current knowledge on putative markers that define LCSCs, potential functional implications, and therapeutic targets of these markers and provide insights into new therapeutic approaches for more specific targeting and eradication of liver CSCs.
CELL SURFACE MARKERS OF LIVER CSCS
Current surface markers or a particular phenotype are used to identify CSCs. Several markers proposed in the literature to identify CSCs in liver cancer using cell surface antigens are enriched in LCSCs (isolated by FACS or Ab-conjugated magnetic beads). Additionally, cytokeratin 7 and 19 may also serve as relatively specific markers of LCSCs, playing significant roles in hepatocellular carcinoma[6,7].
ESTABLISHMENT OF A HIERARCHY IN LIVER CANCER THROUGH LIVER CANCER STEM CELL MARKERS
Some research studies have indicated that different biomolecules are used as markers to identify and isolate cell populations with liver cancer stem cell properties, including the ability to generate tumors through the stem cell processes of self-renewal, ability to differentiate into multiple cell types, ability to undergo asymmetric division, and increased resistance to radio-/chemotherapy. One important task will be to confirm the relationship among these markers, as different markers of liver CSCs may be organized as a hierarchy of liver cancer cells (Figure 2). The establishment of such a hierarchy allows for the identification of which markers regulate CSC self-renewal, proliferation and differentiation. These abilities of LCSCs represent important therapeutic targets.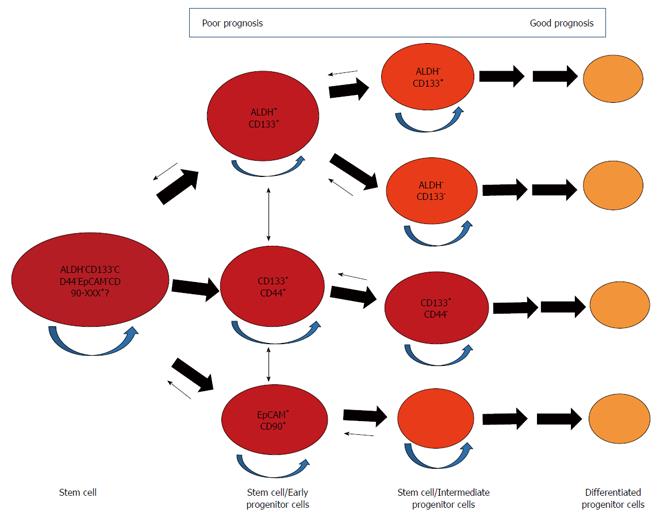 Figure 2 Proposed hierarchy of liver cancer stem cells according to the current literature. Liver cancer stem cell markers have been defined that can give rise to ALDH+CD133+, EpCAM+CD90+, CD133+CD44+ and other early progenitor cells, each of which can subsequently divide into more differentiated progenitor cells. Rounded arrows show cells with self-renewal capacity that have the potential to serve as CSCs. Small arrows show the unproven potential for "de-differentiation". CSCs: Cancer stem cells.
In the basic research field, Ma et al[80] found that ALDH and CD133 as CSC markers could be used either alone or in combination to identify different chemoresistant liver CSC populations and define a simple hierarchy. ALDH+ cells with CD133+ or CD133- phenotype could initiate tumors in mice. The study also showed that the majority of ALDH+ cells were CD133+, yet not all CD133+ HCC cells were ALDH+. A hierarchical organization of cells that differentially express CD133 and ALDH exhibit an ascending tumorigenic potential in the order of CD133+ALDH+, CD133+ALDH-, and CD133-ALDH-. Similarly, Zhu et al[40] observed that CD44 was consistently preferentially expressed in CD133+ cells at the mRNA level compared to the corresponding CD133- cells from HCC cell lines. Multimarker analyses by flow cytometry revealed similar preferential expression of CD44 in the CD133+ cell population. Specifically, the majority of CD133+ cells from the SMMC-7721, MHCC-LM3 and MHCC-97L cell lines also expressed CD44. For Huh7, although the percentage of CD133+ cells was more than 60%, only 1.88% of cells co-expressed CD133 and CD44, more likely representing a minority of the CSC subset. CD133+CD44+ HCC cells showed stem cell properties, including extensive proliferation, self-renewal, and differentiation into the bulk of cancer cells. In vivo xenograft experiments revealed that, actually, the highly tumorigenic capacity of CD133+ cells as previously described was primarily attributed to the CD133+CD44+ cell subpopulation instead of their CD133+CD44- counterparts. Moreover, cells double-positive for CD133 and CD44 exhibited preferential expression of some stem cell-associated genes and were more resistant to chemotherapeutic agents due to the upregulation of ATP-binding cassette (ABC) superfamily transporters, including ABCB1, ABCC1, and ABCG2, further supporting that these cells are of HCC cell origin. These findings suggest that CD133+CD44+ cells might represent true cancer stem/progenitor cells in HCC, which could allow for a better understanding of HCC initiation and progression as well as establish a precise target for the development of more effective therapies[40]. Captivatingly, in the clinical research field, Yamashita et al[54] found that EpCAM+ and EpCAM-HuH1 cells equally expressed CD133, but only EpCAM+ cells developed large hypervascular tumors. In addition, these results suggested that EpCAM may be a better marker than CD133 for enriching HCC tumor-initiating cells from AFP+ tumors. They also found that CD90 expression was limited to HCC cell lines that are EpCAM-AFP-, and Wnt/β-catenin signaling had little effect on CD90+ cell enrichment. These results identified that the expression patterns of various stem cell markers in tumor-initiating cells with stem/progenitor cell features may be different in each HCC subtype, possibly due to the heterogeneity of activated signaling pathways in normal stem/progenitor cells where these tumor-initiating cells may originate. Consequently, it would be useful to comprehensively research the expression patterns of stem cell markers to characterize the population of CSCs that may correlate with the activation of their distinct molecular pathways.
From all of the observations described above, asymmetric division of liver CSCs gives rise to CD133+CD44+ or CD133+ALDH+ early progenitor CSCs, and additional tumor-forming progenitors with more differentiated histology could be produced by further asymmetric division of these early progenitor cells.
LIVER CSC MARKERS AS THERAPEUTIC TARGETS
CSCs are defined by several markers that could represent potentially important therapeutic targets. In addition, these markers may be functionally important for CSCs, making them even more attractive as therapeutic targets. Despite reports that some markers are useful in the isolation and study of liver CSCs, other tissues may share these markers with hepatocellular carcinoma because of histological variation. The CSC phenotype might not necessarily be universal in all cancer subtypes. It thus appears relevant to identify specific CSC biomarkers, including cell surface markers, to improve prognosis and ultimately patient survival. New treatment strategies involve the development of antibodies that can target these markers. Antibody therapies against tumor cell surface antigens have improved clinical prognosis through inhibition of specific signaling pathways or enhanced activation of direct immune effectors. In some cases, these antibodies are conjugated to a bioactive drug that enables selective targeting of chemotherapeutic agents. Additionally, they block a signaling pathway in which the marker may be involved. Antibodies may also act by an antibody-dependent cytotoxicity (ADCC)/complement-dependent cytotoxicity (CDC) mechanism, thereby enhancing the immune response against CSCs[81]. CD133-expressing cells have been suggested to be critical tumorigenic progenitors in HCC, conferring chemoresistance by preferential activation of AKT/PKB and Bcl-2 cell survival response[82]. The treatment of CD133+ HCC cells with an AKT1 inhibitor, which is specific to the Akt/PKB pathway, significantly reduced the expression of survival proteins. In addition, suppression of CD133 by a murine antibody to human CD133 conjugated to a potent cytotoxic drug reduced the proliferation rate of Hep3B cells in vitro and delayed tumor growth in a SCID mouse model[83]. Potential drug-resistant cell subpopulations can hopefully be eliminated in many cancers, such as liver cancer, retinoblastoma, ovarian cancer, prostatic adenocarcinoma, pancreatic cancer, or colorectal cancer, through the development of CD133-targeting antibodies. Multimarker methods have been applied in the characterization of CSCs in breast[34] and pancreatic cancers[37]. In liver cancer, CD133+/CD44+ HCC cells were more tumorigenic than those of CD133+/CD44- cells in vivo. A recent study suggested that the CSC phenotype could be precisely defined by co-expression of CD133 and CD44 cell surface markers. CD133+/CD44+ HCC cells showed stem cell properties, including extensive proliferation, self-renewal and differentiation into the bulk of cancer cells. Additionally, recent studies also revealed that blocking CD44 signaling using an anti-CD44 antibody might be a potential strategy to eradicate liver CSCs and consequently cure those patients[40]. A previous study demonstrated that CD90+CD44+ HCC cells possess a high capacity for tumorigenicity. Researchers who have characterized this subpopulation of cells have also examined the potential benefits of targeting CD44 via a neutralizing antibody approach. The systemic administration of anti-human CD44 antibodies in immunodeficient mice, formed by the intrahepatic inoculation of CD90+ liver CSCs, suppressed tumor nodule formation of liver tissue and metastatic lesions in lung tissue. Furthermore, the administration of CD44 antibodies was also shown to induce apoptosis in both CD90+ and CD90- cells in vitro[39]. In research on CD13+ liver CSCs, Haraguchi et al[52] have also indicated that the combination of a CD13 inhibitor and 5-FU dramatically reduced tumor volume compared with that of either agent alone. 5-FU inhibited proliferating CD13+ semiquiescent CSCs, and the self-renewing and tumor-initiating abilities of liver CSCs were suppressed by CD13 inhibition. These studies demonstrated a novel treatment strategy of liver cancer by combining a CD13 inhibitor with reactive oxygen species (ROS) -inducing chemo/radiation therapy. Currently, several EpCAM-targeting antibodies are in clinical development, which include Catumaxomab and Adecatumumab. Clinical trials have been conducted in various cancers, including breast, prostate and colon cancers[84,85]. In liver cells, RNAi targeting of EpCAM significantly decreased the CSC pool and reduced both tumorigenicity and invasive capacity of CSCs[52,57]. Because EpCAM expression is a downstream target of Wnt/β-catenin, these results may have implications for the development of novel target therapies.
In addition to antibody-targeted therapy, a recent discovery by Lee et al[86] showed that lupeol, a phytochemical present in fruits and vegetables, could target CD133+ liver CSCs by inhibiting their self-renewal and tumorigenic capacity. In addition, lupeol was able to sensitize HCC cells to chemotherapeutic agents (doxorubicin and cisplatin) via the PTEN-AKT-ABCG2 signaling pathway. The combination of lupeol, doxorubicin and cisplatin was found to exert a synergistic effect on tumor suppression, allowing the use of a lower dosage of conventional chemotherapeutic drugs, which may substantially reduce the cytotoxic side effects.
Other approaches have also been applied to target liver CSCs utilizing mechanisms that are not dependent on CSC-specific markers. Research studies targeting stem cell-related signaling pathways have shown some efficiency, and these therapeutic studies have been reviewed elsewhere[87,88].
CONCLUSION
During the past few years there has been a great quantity of work researching markers that identify liver CSCs, and these discoveries have contributed to one of the most important developments in cancer treatment. Nevertheless, some important issues still need to be resolved. For example, some of the pivotal markers that are significant to CSCs are also shared by normal stem cells; thus, drugs targeting these markers could have a negative effect on normal stem cells. To specifically target CSCs without unnecessarily affecting normal stem cells, molecular differences between them need to be delineated. In addition, in the coming years, one of the major challenges will be to determine how these different liver CSC markers relate to one another. There is growing concern that a single marker cannot isolate a LCSC population. Increasing evidence has demonstrated that combinations of multiple markers can specifically label CSC populations.
In summary, in the future, more effective liver CSC markers are required to identify and design more specific anti-CSC marker therapies. The apparent advantages of specifically targeting CSCs in improving the potency of existing therapies are revealed in current knowledge, leading to long-term clinical benefits by providing an important framework for developing a novel therapeutic regimen.
P- Reviewer: Hubscher SG, Mizuguchi T S- Editor: Ma YJ L- Editor: A E- Editor: Zhang DN