World J Gastroenterol.
Jan 14, 2015;
21(2): 675-687
Published online Jan 14, 2015. doi: 10.3748/wjg.v21.i2.675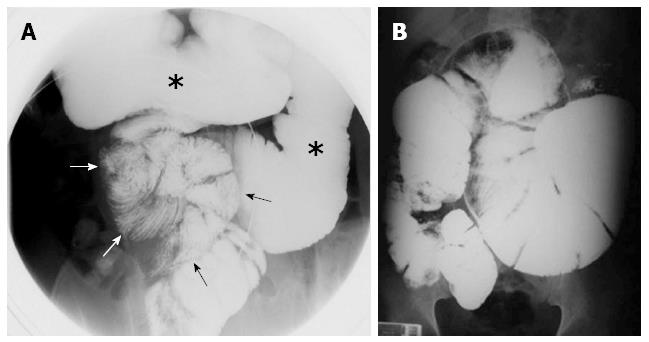 Figure 3 Small bowel transit.
Procubitus image with localized compression. Liquid distension of the gastroduodenum (asterisks) and adhesion of the small intestinal loops (arrows) are persistent despite localized compression, producing a "cauliflower" appearance[24]; B: Upper gastrointestinal images reveal dilatation of the duodenum and jejunal loops, delayed bowel transit, and failure of the oral contrast to pass distally[38].
---
Citation: Akbulut S. Accurate definition and management of idiopathic sclerosing encapsulating peritonitis. World J Gastroenterol 2015; 21(2): 675-687
---