Copyright
©2012 Baishideng Publishing Group Co.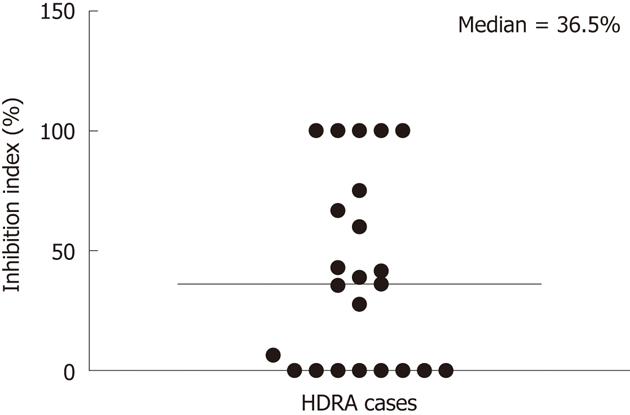 Figure 3 Distribution of percent of inhibition index of 23 cholangiocarcinoma tissues to 200 μg/mL 5-fluorouracil.
Sensitivities of 23 cholangiocarcinoma (CCA) tissues to 5-fluorouracil (5-FU) were evaluated at 200 μg/mL 5-FU using histoculture drug response assay (HDRA). The median value of % I.I. (36.5%) was selected as the cut-off for classifying these tissues as responders and non-responders. Each circle represents one CCA sample. The median is shown by the long, thin horizontal line.
---
Citation: Hahnvajanawong C, Chaiyagool J, Seubwai W, Bhudhisawasdi V, Namwat N, Khuntikeo N, Sripa B, Pugkhem A, Tassaneeyakul W. Orotate phosphoribosyl transferase mRNA expression and the response of cholangiocarcinoma to 5-fluorouracil. World J Gastroenterol 2012; 18(30): 3955-3961
---