Copyright
©2011 Baishideng Publishing Group Co.
World J Gastroenterol.
Feb 28, 2011;
17(8): 976-986
Published online Feb 28, 2011. doi: 10.3748/wjg.v17.i8.976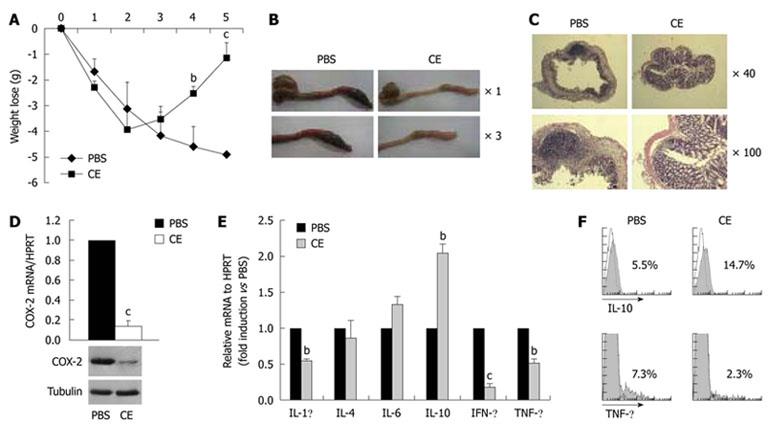 Figure 6 Oral administration of cinnamon extract ameliorates experimental colitis. Mice were orally fed with PBS or cinnamon extract (CE) (50 μg/g per day) for 20 d, and intestinal colitis was induced by intrarectal injection of TNBS (50 μg/g in 50% ethanol). A: A change in body weight was monitored for 5 d; B: Gross intestinal changes were analyzed with a magnifying glass 3 d after colitis induction; C: After HE staining, histological analysis was performed by comparing colon sections of treatment groups; D: After induction of inflammatory bowel disease, cyclooxygenase (COX)-2 expression in mesenteric lymph nodes was compared by quantitative real-time PCR and immunoblotting; E: Expression levels of cytokines in mesenteric lymphocytes were measured by quantitative real-time PCR; F: Intracellular protein levels of interleukin (IL)-10 and tumor necrosis factor (TNF)-α were measured by flow cytometry. Error bars indicated SD. bP < 0.005, cP < 0.001. Data are representative of three independent experiments. IFN: Interferon.
---
Citation: Kwon HK, Hwang JS, Lee CG, So JS, Sahoo A, Im CR, Jeon WK, Ko BS, Lee SH, Park ZY, Im SH. Cinnamon extract suppresses experimental colitis through modulation of antigen-presenting cells. World J Gastroenterol 2011; 17(8): 976-986
---