Copyright
©2011 Baishideng Publishing Group Co.
World J Gastroenterol.
Jan 28, 2011;
17(4): 459-469
Published online Jan 28, 2011. doi: 10.3748/wjg.v17.i4.459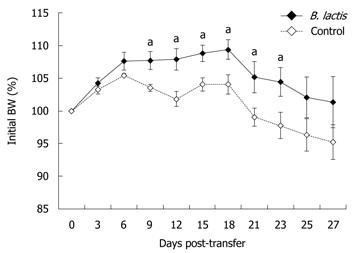 Figure 2 Bifidobacterium lactis feeding significantly delayed weight loss. Weight curves for control-fed and Bifidobacterium lactis (B. lactis)-fed recipient mice following adoptive T cell transfer. Every three days or every other day following T cell transfer, body weight (BW) of control-fed and B. lactis-fed recipient mice was recorded. Results are expressed as the mean ± SE (n = 5 mice per group) and statistical significance is indicated (aP < 0.05).
---
Citation: Philippe D, Favre L, Foata F, Adolfsson O, Perruisseau-Carrier G, Vidal K, Reuteler G, Dayer-Schneider J, Mueller C, Blum S. Bifidobacterium lactis attenuates onset of inflammation in a murine model of colitis. World J Gastroenterol 2011; 17(4): 459-469
---