Copyright
©2008 The WJG Press and Baishideng.
World J Gastroenterol.
Sep 14, 2008;
14(34): 5274-5281
Published online Sep 14, 2008. doi: 10.3748/wjg.14.5274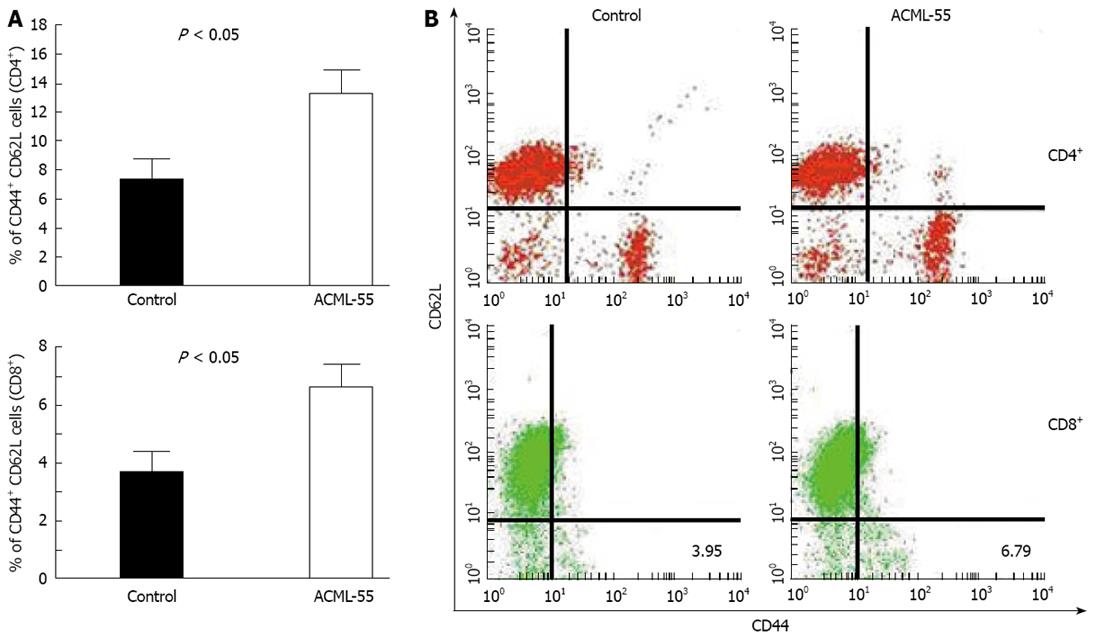 Figure 3 ACML-55 enhances CD4+ and CD8+ T cell activation. Sex- and age- matched BALB/c mice were administered orally with 2 mg/mL (200 μL/mouse) ACML-55 or equivalent volume of PBS daily for 15 days (n = 5 for each group), and on day 7, received an intraperitoneal inoculation with EG7 tumor cells (1 × 106 cells/mouse). Ten days postinoculation, splenoctyes were stained with antibodies against different surface molecules and analyzed by FACS. A: The percentage of activated CD4+ and CD8+ T cells (mean ± SD) is shown (P < 0.05); B: An example of the FACS profile for CD4+ and CD8+T cells is given.
---
Citation: Ma YH, Cheng WZ, Gong F, Ma AL, Yu QW, Zhang JY, Hu CY, Chen XH, Zhang DQ. Active chinese mistletoe lectin-55 enhances colon cancer surveillance through regulating innate and adaptive immune responses. World J Gastroenterol 2008; 14(34): 5274-5281
---