Copyright
©2008 The WJG Press and Baishideng.
World J Gastroenterol.
Jun 21, 2008;
14(23): 3672-3680
Published online Jun 21, 2008. doi: 10.3748/wjg.14.3672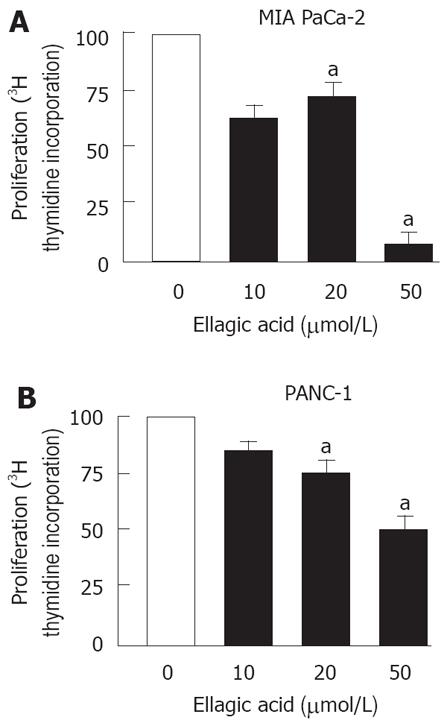 Figure 2 Ellagic acid inhibits proliferation in pancreatic cancer cells. MIA PaCa-2 (A, C) and PANC-1 (B) cells were cultured for 48 h in the presence or absence of indicated doses of ellagic acid. Proliferation was assessed by measuring (3H) thymidine incorporation into DNA. The results are representative of at least 3 independent experiments, aP < 0.05 vs control.
---
Citation: Edderkaoui M, Odinokova I, Ohno I, Gukovsky I, Go VLW, Pandol SJ, Gukovskaya AS. Ellagic acid induces apoptosis through inhibition of nuclear factor κB in pancreatic cancer cells. World J Gastroenterol 2008; 14(23): 3672-3680
---