Copyright
©2008 The WJG Press and Baishideng.
All rights reserved.
World J Gastroenterol.
Jan 7, 2008;
14(1): 1-14
Published online Jan 7, 2008. doi: 10.3748/wjg.14.1
Growth factor receptors and related signalling pathways as targets for novel treatment strategies of hepatocellular cancer
Michael Höpfner, Institute of Physiology, Charité-Universitätsmedizin Berlin, Campus Benjamin Franklin, Berlin 12200, Germany
Hans Scherübl, Klinik für Innere Medizin, Gastroenterologie und Gastrointestinale Onkologie, Klinikum am Urban, Vivantes Netzwerk für Gesundheit, Berlin 10967, Germany
Detlef Schuppan, Beth Israel Deaconess Medical Center, Harvard Medical School, Boston, MA 02215, United States
Correspondence to: Hans Scherübl, Professor, Dr, Klinik für Innere Medizin, Gastroenterologie und Gastrointestinale Onkologie, Klinikum Am Urban, Vivantes Netzwerk für Gesundheit, Dieffenbachstrasse 1, Berlin 10967, Germany. hans.scheruebl@vivantes.de
Telephone: +49-30-130225201
Fax: +49-30-130225205
Received: May 22, 2007
Revised: October 10, 2007
Published online: January 7, 2008

Growth factors and their corresponding receptors are commonly overexpressed and/or dysregulated in many cancers including hepatocellular cancer (HCC). Clinical trials indicate that growth factor receptors and their related signalling pathways play important roles in HCC cancer etiology and progression, thus providing rational targets for innovative cancer therapies. A number of strategies including monoclonal antibodies, tyrosine kinase inhibitors ("small molecule inhibitors") and antisense oligonucleotides have already been evaluated for their potency to inhibit the activity and downstream signalling cascades of these receptors in HCC. First clinical trials have also shown that multi-kinase inhibition is an effective novel treatment strategy in HCC. In this respect sorafenib, an inhibitor of Raf-, VEGF- and PDGF-signalling, is the first multi-kinase inhibitor that has been approved by the FDA for the treatment of advanced HCC. Moreover, the serine-threonine kinase of mammalian target of rapamycin (mTOR) upon which the signalling of several growth factor receptors converge plays a central role in cancer cell proliferation. mTOR inhibition of HCC is currently also being studied in preclinical trials. As HCCs represent hypervascularized neoplasms, inhibition of tumour vessel formation via interfering with the VEGF/VEGFR system is another promising approach in HCC treatment. This review will summarize the current status of the various growth factor receptor-based treatment strategies and in view of the multitude of novel targeted approaches, the rationale for combination therapies for advanced HCC treatment will also be taken into account.
---
Citation: Höpfner M, Schuppan D, Scherübl H. Growth factor receptors and related signalling pathways as targets for novel treatment strategies of hepatocellular cancer. World J Gastroenterol 2008; 14(1): 1-14
---
INTRODUCTION
Hepatocellular carcinoma (HCC) is the fifth most common malignancy worldwide. With an alerting 5 years relative survival rate of about 7% HCC is estimated to cause more than half a million deaths annually. HCC is the third most common cause of cancer deaths. The disease is most prevalent in Eastern and Southeastern Asia, and Middle Africa, with more than half of the patients being reported from China[1]. However, also in the developed countries the incidence of HCC dramatically increased in the past decades, mainly due to the increasing prevalence of chronic hepatitis C[2].
HCC is one of the few cancers with well-defined major risk factors. In Western countries > 80% of HCC develop in livers with cirrhosis mainly due to chronic hepatitis C, alcohol abuse, chronic hepatitis B or hemochromatosis. Especially in developed countries there is increasing concern regarding the epidemic of obesity which is associated with type 2 diabetes and other features of the metabolic syndrome and which frequently leads to non-alcoholic steatohepatitis (NASH). Here NASH may become to be one of the major causes of cirrhosis; diabetes and NASH are risk factors for developing HCC[2–4]. Rarer causes are cirrhosis due to hemochromatosis, autoimmune liver diseases or congenital disorders of metabolism. Cirrhosis in a setting of chronic liver cell injury, with inflammation, hepatocyte necrosis and regeneration, is a particular breeding ground for hepatocyte dedifferentiation and HCC[5]. In developing countries, HCC frequently arises in non-cirrhotic livers, mostly on the basis of congenital infection with the hepatitis B virus which acts as mutagen due to insertion in the human genome and/or on the basis of aflatoxin exposure from contaminated food[24].
Unfortunately, the majority of patients suffer from advanced HCC at presentation. Therefore, curative treatment like local ablation, surgical resection or liver transplantation can be achieved in only a minority of HCC patients[6]. Local tumour destruction, chemoembolisation or systemic therapy are the treatment options of advanced HCC. Apart from transarterial chemoembolisation, which improves survival in well-selected patients with unresectable HCC, conventional palliative treatment options do not appear to improve overall outcome[56]. A recent meta-analysis of Simonetti and coworkers, who evaluated the results of randomized clinical trials of systemic and regional chemotherapy of HCC patients confirmed the disappointing results and revealed that nonsurgical therapies are more or less ineffective and do not prolong the survival of HCC patients, while further compromising quality of life[7].
Effective palliative treatment is hampered by the fact that advanced HCC represents a tumour entity which is extremely resistant to radiotherapy and conventional chemotherapy[8]. Moreover, the existing conventional chemotherapeutics are more or less non-selective cytotoxic drugs with significant systemic side-effects. Importantly, as most patients with advanced HCC have compromised liver function aggressive medical therapy regimens can not be applied. Thus, usually no effective therapy can be offered to these patients.
Because of the lack of any survival benefit of treatment with conventional drugs, new agents and novel therapeutic strategies are urgently needed to improve palliative treatment, prolong life expectancy and improve quality of life in patients with advanced HCC.
POTENTIAL TARGETS FOR FUTURE HCC THERAPIES
Growth factors and their related receptors are interesting targets for future therapeutic approaches. During foetal life, a large number of growth factors including the epidermal growth factor (EGF), insulin-like growth factors (IGFs), the hepatocyte growth factor (HGF), the vascular endothelial growth factor (VEGF), the fibroblast growth factor (FGF), the platelet-derived growth factor (PDGF) and the transforming growth factors -α and -β (TGF-α, TGF-β) are produced in the liver. In the adult normal liver many of them decline or are even absent. On the other hand adult hepatocytes are able to upregulate the production of particular growth factors like EGF, TGF-α, IGFs and VEGF, when liver regeneration is required after injury or damage[910]. This normally transient upregulation is dysregulated in the chronic injured liver leading to sustained mito-oncogenic signalling. Thus, dysregulation of the growth factor production and growth factor receptor signalling of adult hepatocytes plays an important role in hepatocarcinogenesis.
Furthermore, members of the fibroblast growth factor and platelet-derived growth factor families, FGFs and PDGF play important roles in promoting liver fibrosis and HCC growth[1112]. Like HGF, these growth factors are produced and released from non-hepatocyte sources like activated hepatic stellate cells, myofibroblasts, endothelial cells, Kupffer cells and bile duct epithelia and do also contribute to hepatocarcinogenesis.
GROWTH FACTOR RECEPTOR RELATED SIGNALLING PATHWAYS IN HCC CELLS
In the last decade some of the relevant pathways in cancer biology have been deciphered and there is emerging evidence that particularly growth factor receptors and their related downstream signalling pathways play a pivotal role in the development and maintenance of various cancers including HCC. Among the most critical cellular signalling pathways which support hepatocarcinogenesis are the receptor tyrosine kinase-activated pathways which include the rat sarcoma/rat sarcoma-activated factor (raf) /mitogen activated protein kinase/extracellular regulated kinase kinase/extracellular regulated kinase pathway (Ras/Raf/MEK/ERK), the Janus kinase/signal tranducers and activator of transcription pathway (JAK/STAT)s, and the phosphatidyl inositide 3 kinase/protein kinase B (AKT) /mammilian target of rapamycin pathway (PI3K/AKT/mTOR) (Figure 1).
Ras/Raf/MEK/ERK pathway
The Ras/Raf/MEK/ERK pathway appears to be one of the most significant cellular signalling sequences in the development and maintenance of hepatocellular cancer. This pathway transduces extracellular signals from ligand-bound tyrosine kinase receptors, such as the epidermal growth factor receptor (EGFR), the insulin-like growth factor receptor (IGFR), the vascular endothelial growth factor receptor (VEGFR) or the platelet-derived growth factor receptor (PDGFR) to the nucleus in a series of specific phosphorylation events, starting with the activation of Ras which in turn activates serine threonine kinases of the Raf-family[1]. Activated Raf phosphorylates MEK 1/2 kinases which finally activate the extracellular regulated kinases ERK 1/2. Once activated, ERK 1/2 translocates to the nucleus where it acts as a regulator of gene expression of various proteins, including those for cell cycle progression, apoptosis resistance, extracellular matrix (ECM) remodeling, cellular motility angiogenesis and drug resistance[13]. Dysregulation of this crucial pathway occurs due to oncogenic transformation of Ras and Raf isoforms, or overexpression and/or overactivation of the Ras and Raf genes. In a recent study overexpression of the Raf-1 gene was shown in 50% of HCC biopsies, while increased activation of the Raf-1 protein was found even in 100% of the n = 30 evaluated HCC biopsies[14]. However, significant contribution of the proliferative Ras pathway to the development of HCC has long been a matter of debate. Previous studies suggested that activation of the Ras pathway might only be important in rodent, but not in human HCC, because of the low incidence of Ras gene mutations found in human HCC, while activation of the Ras cascade also occurred in the presence of wild-type Ras[15]. Recently, the components of the Ras cascade in human HCCs were characterized, demonstrating a downregulation or loss in the expression of specific members of the RAS inhibitor family. Among them the RAS association family 1 gene A (RASSF1A) and its homologue NORE1A in 100% of the n = 35 examined HCC[16]. The inactivation of these inhibitors resulted in a persistent activation of the Ras pathway and the authors suggested that the use of Ras inhibitors may thus be an interesting therapeutic modality for future treatment of HCC.
JAK/STAT pathway
The same holds true for the JAK/STAT pathway which plays an important role in cellular processes like differentiation, proliferation, and apoptosis[17]. STATs are latent in the cytoplasm and become activated through tyrosine phosphorylation which typically occurs through JAKs or growth factor receptor tyrosine kinases. Activated STATs enter the nucleus and serve as transcription factors. As to apoptosis and cell cycle related genes the transcriptional changes induced by STATs are similar to those described for ERK1/2.
In normal cells, ligand-dependent activation of STATs is transient, but in tumours the STAT proteins (in particular STAT-1, -3 and -5) are often constitutively activated[1819]. This constitutive activation is partly due to inactivation of specific STAT inhibitors, the suppressors of cytokine signalling (SOCS), which normally balance and terminate STAT activity[2021]. Thus, loss of activation of the STAT inhibitors such as cytokine-inducible SH2-protein (CIS), SOCS1, SOCS2, SOCS3, and SH2-containing phosphatases (SHP1) was shown to account for the constitutive activation of antiapoptotic and mitogenic STAT-3 and -5 in HCC[16].
In terms of both the Ras and the JAK/STAT pathway it may not be the increase in gene mutations of the respective pathway proteins, but the state of activation of these pathways due to an imbalanced interplay of activators and inhibitors, which accounts for the pivotal role of these pathways in HCC.
PI3K/AKT/mTOR pathway
The activated PI3K/AKT/mTOR pathway has only recently emerged as a novel contributor to (HCC) tumour development. PI3K associates with the intracellular domain of several growth factor receptors. Upon activation PI3K triggers the generation of phosphatidylinositol 3,4,5-triphosphate (PIP3) which provokes the subsequent activation of AKT, a serine/threonine kinase which regulates multiple cellular target proteins. Among these proteins is proapoptotic BAD, which becomes inactivated by phosphorylation, and also the mammalian target of rapamycin (mTOR) subfamily of proteins, which become activated by AKT. mTOR proteins regulate the phosphorylation of p70 S6 serine-threonine kinase and the translational repressor protein PHAS-1/4E-BP. Both proteins regulate the translation of proliferation- and angiogenesis-relevant proteins, such as c-myc, cyclin-D1, ornithine decarboxylase, hypoxia-induced factor 1-α, and are indirectly involved in the expression of VEGF[122].
In nontransformed cells the PI3K/AKT/mTOR pathway is controlled by the phosphatase and tensin homolog deleted on chromosome ten (PTEN), a tumour suppressor which inhibits this pathway by reversing the PI3K reaction and blocking AKT activation. Mutation or silencing of the PTEN gene leads to activation of the pathway and promotes carcinogenesis. PTEN expression is reduced or absent in almost half of the studied HCCs, and hepatocyte-specific abrogation of PTEN expression in mice results in the development of HCC[23]. Thus, constitutive activation of this pathway can be due to enhanced stimulation of growth factor receptors, like EGFR and IGFRs, but can also result from decreased PTEN expression[1]. In non-HCC tumour models loss of PTEN expression has been demonstrated to negatively influence the sensitivity towards EGFR-TK inhibition by gefitinib[24]. Thus, it will be interesting to evaluate if this also holds true for HCC. If so, PTEN expression can serve as a novel marker for predicting the response to tyrosine kinase inhibition-based treatment strategies in HCC and therapeutic strategies in which normal PTEN expression can be restored, should be an attractive approach for combined therapeutic strategies in HCC treatment in the future.
Moreover, recent work by Boyault and coworkers demonstrated that in specific subgroups of HCC patients, namely those that are infected with low copy number hepatitis B virus (HBV) and concomitant overexpression of genes expressed in fetal liver, as well as those infected with a high copy number of HBV, but concomitant mutations in the catalytic domain of the phosphoinositide-3 kinase (PIK3CA) and the tumor suppressor protein 53 (TP53), there is a frequent upregulation of AKT expression and activation, rendering these patients especially susceptible to therapeutic approaches that inhibit the AKT-pathway[25].
Due to the importance of the above-described signalling pathways linked to growth factor receptors in the development and maintenance of (hepatocellular) cancer, several attempts have been undertaken to develop specific inhibitors which either block the communication of growth factors and their cognate receptors using antibodies or growth factor trapping decoy receptors, or by interrupting the transmission of growth factor receptor which signals to the respective downstream signalling cascades by membrane permeable small molecule inhibitors which block the intrinsic receptor tyrosine kinase activity. The following section will provide a concise overview of selected agents which are currently in the development and testing for the targeted treatment of solid tumours and HCC.
EGFR-based strategies
The crucial role of epidermal growth factor receptor (EGFR) in tumour proliferation and its overexpression in several solid tumours have provided the rationale for targeting and interrupting this key signalling network. EGFR blockade through monoclonal antibodies and tyrosine kinase inhibitors has translated into promising evidence of clinical benefit in gastrointestinal tumours, particularly colorectal cancer[26]. EGFR is expressed in a high proportion of HCCs, and EGFR-inhibitors, such as the monoclonal antibody cetuximab or the tyrosine kinase inhibitors gefitinib, erlotinib or ANAPD have been shown to inhibit HCC growth and metastasis formation in vitro[27–31] and in vivo[32]. Recently, Philips and coworkers conducted a phase II trial with erlotinib for advanced HCC and could demonstrate very encouraging results, as they observed good response rates in approx. One third of the treated patients and a prolonged survival with mild and tolerable side effects after treatment with a dose of 150 mg/d[33].
Despite the encouraging findings on the general suitability of anti-EGFR-based-approaches for the treatment of HCC, only few clinical trials have been conducted so far. Most of our current knowledge on the clinical benefit of anti-EGFR-based therapies originates from studies on other tumour entities, such as colorectal cancer, renal cell carcinoma and non-small cell lung cancer (NSCLC). Nevertheless, at present several clinical trials evaluate the efficacy of anti-EGFR-interventions for the treatment for HCC (http://www.clinical-trials.gov), and based on the data that are available so far there is hope that anti-EGFR mono- or combination therapies will qualify for improving the treatment of advanced HCC in the near future. Currently, another phase II trial is conducted in patients with advanced HCC which evaluates the efficacy of a combination of erlotinib and the anti-angiogenic VEGF-blocking antibody bevacizumab (NIH, NCT00365391). Dual-targeting of the HCC cells and their nutrient supply via the surrounding vasculature may improve the antitumoural effects as compared to monotherapy with either erlotinib or bevacizumab alone[34].
Thus the majority of the currently tested anti-EGFR-based approaches are increasingly combined either with conventional cytostatics or with other targeted-agents[28293536]. The rationale for applying combination therapies is the existence of multilevel receptor cross-stimulation or of redundant signalling pathways that lead to neoplasia. Blocking only one of these pathways allows others to act as salvage or escape mechanisms for cancer cells. Preclinical evidence of synergistic antitumour activity achievable by combining targeted agents that block multiple signalling pathways has recently emerged[37–41]. The multi-target approach can be accomplished by using either combinations of selective agents or agents which interfere with various targets[42]. Table 1 shows the current status of anti-EGFR-strategies for the treatment of solid tumours including HCC.
Name
Target
Mechanism
Current status
Small molecule inhibitors
Gefitinib (Iressa)
EGFR
Reversibly acting tyrosine kinase inhibitor
Approved for NSCLC with restricted indications
PhaseIfor HCC[133]
Erlotinib (Tarceva)
EGFR
Reversibly acting tyrosine kinase inhibitor
Approved for NSCLC and pancreatic cancer
Phase II for hepatocellular cancer[33]
EKB-569
EGFR
Irreversibly acting tyrosine kinase inhibitor
Phase I/II for colorectal cancer[134]
Phase II for NSCLC[135]
Lapatinib (Tykerb)
EGFR, erbB2
Reversibly acting tyrosine kinase inhibitor
Phase III for breast cancer
Phase II for HCC[136]
Canertinib (CI-1033)
Pan-erbB
Irreversibly acting tyrosine kinase inhibitor
Phase II for SCC and ovarian cancer[137]
BMS-599626
EGFR, erbB2
Reversibly acting tyrosine kinase inhibitor
Phase II for HCC [138]
Monoclonal antibodies
Cetuximab
EGFR
Approved for colorectal cancer
Phase III for head and neck cancer, NSCLC and pancreatic cancer
Phase II for HCC[139]
Trastuzumab
erbB2
Approved for breast cancer
ABX-EGF
EGFR
Phase III for colorectal-, head and neck-, and renal cell cancer
Matuzumab (EMD 72 000)
EGFR
Phase I/II for NSCLC[140], ovarian-[141], pancreatic cancer[142]
IGF/IGFR-based strategies
There is compelling evidence that both insulin-like growth factors IGF-I and -II and their receptor tyrosine kinase, IGF-1R, are involved in the development and progression of cancer[43–46]. Interaction of IGF-I and -II with the IGF-1R plays a pivotal role in tumourigenesis, proliferation and spread of many cancers, by promoting cell cycle progression, preventing apoptosis, and by regulating and maintaining the tumourigenic phenotype. A wide variety of tumours including HCC show abnormal, or enhanced expression of IGFs and IGF-1R, which has been correlated with disease stage, reduced survival, development of metastases and tumour de-differentiation[47–49]. In men, obesity and diabetes are clearly associated with an increased risk of HCC, and this seems to be due to alterations in the metabolism of endogenous hormones, including sex steroids, insulin and the IGF/IGFR system. Thus, a promising approach of innovative HCC treatment may be the blockade of the IGF/IGFR, but also the mTOR-signalling system, which is functionally upregulated in HCC cells in vitro[50–52] and in vivo[47], and which has been shown to exert strong stimulatory effects on the growth of hepatoma cells[48]. In addition to the increased expression of IGF-1R and IGFs, a simultaneous reduction of IGF binding protein expression (IGFBP) and enhanced proteolytic cleavage of IGFBPs often occurs. Both mechanisms lead to an excessive increase in the amount of bioactive IGF[5053] which further enhances the mito-oncogenic effects of IGFR-signalling in HCC and other cancer cells. The expression of IGF-1R is very low in normal hepatocytes that are poorly responsive to IGFs, whereas significant expression is found in Kupffer, endothelial and hepatic stellate cells[50].
Several approaches have demonstrated the therapeutic potential of interfering with IGF-1R mediated signalling in vitro and in vivo, including the use of IGF-1R blocking antibodies, IGF-1R antisense oligonucleotides or IGF-1R siRNA[54–57].
Recently, we and others introduced the potent and selective IGF-1R tyrosine kinase inhibitor, NVP-AEW541, as promising novel agent for the therapy of several cancers[58–60], including HCC[61]. The antineoplastic properties of NVP-AEW541 and related compounds such as NVP-ADW742[62] have been demonstrated in preclinical studies on Ewing's sarcoma-bearing mice[63], fibrosarcoma, breast cancer and muscelosceletal carcinoma[64–66]. Specific IGFR-antibodies have also shown to suppress prostate and breast cancer cell growth in a recent preclinical study[67]. The clinically most advanced anti-IGFR antibody is CP-751,871 which is currently being tested in three phase II trials for advanced breast cancer, NSCLC and prostate cancer (http://www.clinical-trials.gov). Importantly, IGFR-inhibition appears to be well-tolerated in the preliminary clinical studies conducted so far[636869]. Safety is important, since IGFR-based inhibition has long been regarded as a high risk intervention, because of the high homology of the IGF-1R receptor with the related insulin-receptor, and the fear that especially IGF-1R-TK inhibitors might do also block the insulin receptor which could lead to insulin resistance and overt diabetes[70]. However, the current in vivo studies did not confirm this apprehension, resulting in growing interest in anti-IGFR-based therapies[71].
It is widely accepted that a therapy which inhibits IGF signalling may have to be combined with other therapies to enhance the antiproliferative overall-effect, since crosstalk between the signalling of IGF and other growth factor receptors have already been shown to be able to attenuate the antineoplastic effects of a respective monotherapeutic approach[72]. Thus, we and others could show that IGFR and concomitant EGFR-inhibition or conventional chemotherapy enhances the antineoplastic effect of the respective monotherapies[282961]. Especially, dual-targeting EGFR and IGF-1R is a promising approach for future treatment of HCC. The rationale for this particular combination is derived from observations that in HCC cells the EGFR-system is activated by the IGF/IGFR-system via receptor cross-talk leading to mito-oncogenic EGFR-tyrosine kinase activity[7374]. Thus inhibition of IGF-2-related signalling leads to sensitization of HCC cells to anti-EGFR-treatment with gefitinib[72], and it was postulated that inhibition of IGF/IGF-1R-signalling may not only enhance the effects of gefitinib treatment, but may also help to overcome resistance to anti-EGFR-based therapy of HCC[75]. Table 2 summarizes the most promising IGF/IGFR-targeted agents which are currently under intense investigation in preclinical and early clinical trials.
Name
Target
Mechanism
Current status
Small moelcule inhibitors
INSM-18
IGF-1R and HER2
Substrate competitive inhibitor
Phase I[44]
NVP-AEW541
IGF-1R
ATP-competitive inhibitor
Preclinical[63]
NVP-ADW742
IGF-1R
ATP-competitive inhibitor, activation of proapoptotic pathways
Preclinical[62]
BMS-536924
IGF1R and IR
ATP competitive inhibitor,
Preclinical[143]
Cyclolignans
IGFR-1R
IGF competitive inhibitor
Preclinical[144]
Antibodies
CP-751, 871
IGF-1R
IGF1R downregulation
PhaseIfor multiple myeloma
Phase II for Breast-[145], lung-[146], and prostate[147] cancer
A12
IGF-1R
IGF1R down-regulation, apoptosis, cell cycle arrest
Phase I[148]
scFv-Fc
IGF-1R
IGF1R downregulation
Preclinical[149]
AVE-1642
IGF-1R
IGF1R downregulation, cell-cycle arrest, induction of apoptosis
Preclinical[69]
VEGF/VEGFR-based strategies
VEGF is the key angiogenic factor in tumours. The VEGF gene and protein have been reported to be transcribed, expressed, and secreted by HCC cells[76]. Endothelial cells which line tumour vessels express VEGFR-1 and VEGFR-2 which communicate to stimulate each other in a feedback-loop[77]. Given that VEGF protein expression is related to HCC grade[78] and given that the degree of microvascular density correlates with HCC grade[7980], it is comprehensible that inhibitors of VEGF signalling are promising therapeutic agents for HCC treatment.
Bevacizumab is a humanized murine monoclonal anti-VEGF antibody which has entered the clinic for treatment of cancer. Standard cytostatic treatment plus bevacizumab significantly increased survival in metastatic colorectal cancer compared to standard treatment alone in a phase III clinical trial[81] which led to its approval for treatment of colorectal cancer 2005. Comparable results were obtained in a recent phase III clinical with bevacizumab for treatment of NSCLC. This study had to be interrupted because of the obvious survival advantage of patients in the bevacizumab arm[82]. Bevacizumab monotherapy is currently being tested in patients with unresectable HCC[83] (National Cancer Institute: NCT00162669). Moreover, a phase II trial is currently being conducted testing the efficacy of bevacuzimab in combination with capcetabine and oxaliplatin in patients with advanced HCC. An intermediate evaluation of this trial is encouraging and shows that this combination is tolerable to patients with advanced HCC and cirrhosis[84]. As described earlier, bevacizumab is also currently tested in combination with the EGFR-tyrosine kinase inhibitor erlotinib (see above).
In addition, several agents that inhibit the tyrosine kinase activity of VEGFR have been synthesized by combinatorial chemistry. Recent clinical studies revealed the suppression of HCC growth by vatalanib (PTK787/ZK 222584), which inhibits the activities of VEGFR-1 and -2 and has shown antineoplastic effects in other solid tumours[8586]. Another interesting agent is the tyrosine kinase inhibitor sunitinib, which inhibits the VEGFR- as well as the PDGF-βR, c-KIT and FLT-3 tyrosine kinases. Sunitinib has been approved for the treatment of renal cell carcinoma[87]. With restricted indications sunitinib is also approved for the therapy of gastrointestinal stromal tumours (GIST)[88] and is currently tested in phaseIand II trials for HCC (NIH: NCT00361309; NCT00247676).
Another promising approach is the use of dual-targeting tyrosine kinase inhibitors, which inhibit less related tyrosine kinases, such as NVP-AEE788 or zactima (ZD6474) which target both the VEGFRs and the EGFR. In recent in vivo studies of non-HCC tumour models (colon, cholangiocarcinoma, prostate, NSCLC) NVP-AEE788 displayed significant antineoplastic efficacy. These agents can inhibit both tumour cell proliferation and survival by blocking hepatoma EGFR and angiogenesis by inhibiting endothelial VEGFR. These promising recent results warrant further evaluation in clinical trials[89–92]. For zactima successful testing in clinical trials has already been reported for non-HCC tumour entities like NSCLC and thyroid cancer[9394]. Table 3 summarizes the current status of anti-VEGF/VEGFR-based approaches in the treatment of solid tumours including HCC.
Name
Target
Mechanism
Current status
Small molecule inhibitors
Sunitinib (Sutent)
PDGFR, VEGFR, c-KIT, FLT-3
Tyrosine kinase inhibitor
Approved for advanced renal cell carcinoma and GIST (with restricted indications)[87150]
PhaseIfor HCC[151]
Zactima (ZD6474)
VEGFR, EGFR
Tyrosine kinase inhibitor
Phase III for NSCLC[156]
Phase II for thyroid cancer[157]
Vatalanib (PTK787/ZK 222584)
VEGFR, PDGFR, C-KIT
Tyrosine kinase inhibitor
Phase II/III for colorectal cancer[152]
PhaseIfor HCC[153]
Anti-ligand targeting
Bevacizumab
VEGF
VEGF-neutralizing antibody
Approved for colorectal cancer
Phase III for NSCLC[166]
Phase II for HCC[154]
VEGF trap
VEGF
Soluble decoy receptor which neutralizes all VEGF A isoforms
PhaseIfor advanced solid tumours[155]
OTHER MULTI-KINASE AND GROWTH FACTOR RECEPTOR INDEPENDENT INHIBITORS
Multi-kinase inhibition
The novel bi-aryl urea sorafenib is an orally available multi-kinase inhibitor which targets kinases of wild-type B-Raf, mutantV559EB-Raf and C-Raf, thus blocking tumour growth. Furthermore, sorafenib potently inhibits receptor tyrosine kinases involved in angiogenesis, including human vascular endothelial growth factor receptors-2 and -3 (VEGFR-2/-3) and PDGF-βR. The principal mechanism of action of sorafenib is the competitive inhibition of ATP-binding to the catalytic domains of the respective kinases[95]. However, the fact that sorafenib is an oral multi-kinase inhibitor, with effects on several molecular targets in addition to the Raf isoforms makes it difficult to determine which of these targets contributes most to its anti-tumour activity in particular tumour types.
A recent phase II HCC clinical trial, which identified an association between high baseline tumour p-ERK levels and improved response to sorafenib, suggests that inhibition of the Raf/MEK/ERK pathway is central to sorafenib's mode of anti-tumour action in HCC[96]. If this generally holds true for HCC remains to be determined. In other tumour entities the antineoplastic potency of sorafenib appears to be mainly due to its antiangiogenic activity[9798].
It is of particular clinical importance to have reliable markers to individually predict the treatment outcome. It has been suggested that rash, which is commonly associated with EGF-pathway inhibition, could be predictive of treatment outcome, and that the onset of rash could be used for optimal dose titration[99]. This might also be effective in treatment with sorafenib, as it is an inhibitor of Raf kinase, which is a downstream effector molecule of the EGFR signalling pathway. A recent report combining data from four phase I trials supported this hypothesis. Patients receiving sorafenib dosed at or close to the recommended dose of 400 mg bid, and experiencing skin toxicity and/or diarrhea, had a significantly increased time to progression compared with patients without such toxicity[100].
Sorafenib inhibits the proliferation of a variety of human cancer cell lines and retards tumour growth in related xenograft models of NSCLC, breast, colon and pancreas carcinoma[13101102]. Sorafenib is also active in otherwise fairly therapy resistant cholangiocarcinoma cells. Here, it over-additively enhanced the antineoplastic effects of cytostatics such as doxorubicin or the histone deacetylase inhibitor MS-275 and acts synergistically with IGFR blockade[103104]. Recent in vitro studies by our group confirmed the synergistic antiproliferative effects of a combination treatment with sorafenib and MS-275 in hepatocellular carcinoma models. Proliferation studies, with either Hep-G2 or Huh-7 cells, resulted in half-maximal growth inhibition at a sorafenib concentration of 1.6 ± 0.3 &mgr;mol/L (Hep-G2) and 4.4 ± 0.2 &mgr;mol/L (Huh-7), respectively. The IC50 of MS-275 amounted to 1.2 ± 0.1 &mgr;mol/L in Hep-G2 cells and 0.9 ± 0.2 &mgr;mol/L in Huh-7 cells. Co-application of sub-IC50 concentrations of sorafenib and MS-275 for three days resulted in significant over-additive growth inhibition of Huh-7 cells, while in Hep-G2 cells a rather additive growth inhibitory effect was observed (Figure 2). Our data support the idea of dual-targeting hepatocellular carcinoma cells for enhanced treatment efficacy and show that multi-kinase inhibition plus histone deacetylase inhibition appear to be a promising combination, warranting further elucidation in clinical trials.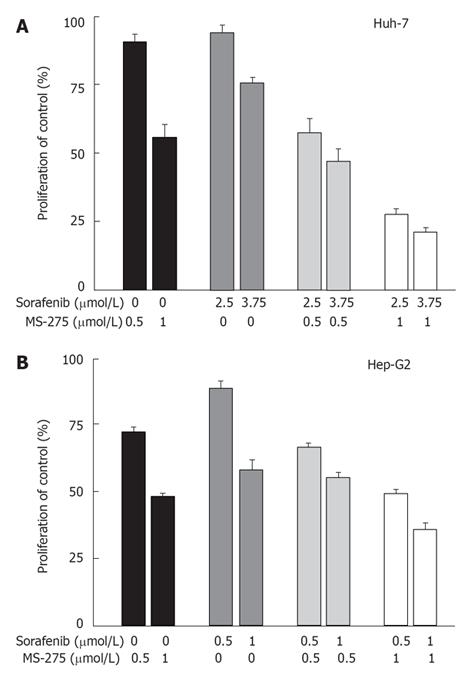 Figure 2 Antiproliferative effects of sorafenib-based combination treatment. A: Huh-7 and B: HEP-G2 cells were treated for 72 h with sub-IC50 concentrations of sorafenib and the histone deactylase inhibitor MS-275. Combination of both agents resulted in synergistic growth inhibition of Huh-7 cells, while rather additive growth inhibitory effects were observed in HepP-G2 cells (mean ± SEM).
A series of clinical studies have tested sorafenib's antineoplastic potency in cancer patients. Phase I trials showed a favourable safety profile of 400 mg sorafenib administered twice daily for 12 wk in patients with advanced solid tumours (e.g. colon, ovary, breast, pancreas, kidney)[100105]. Promising antitumour activities of sorafenib were observed in a phase II clinical study of patients with advanced melanoma[106]. Most encouraging results were seen in phase II and III trails of patients with metastatic renal cell carcinoma (RCC) which led to approval in the US for advanced RCC[107].
Sorafenib has also been tested for the treatment of advanced HCC in phase II and III trials. In a phase IItrial on 137 patients with inoperable HCC the continuous oral application of sorafenib 400 mg bid in 4-wk cycles revealed a significant attenuation of HCC growth in 1/3 of the patients[108] resulting in a further evaluation in a randomized double-blinded phase III trial with 602 patients with advanced HCC. An interim evaluation of this international multi-center SHARP-study (Sorafenib HCC Assessment Randomized Protocol) led to discontinuation, as the HCC patients treated with sorafenib achieved a significant survival benefit over the placebo-treated controls. Llovet et al presented the respective data for the Sharp investigators study group at the ASCO meeting in 2007 and showed that the treatment of advanced HCC patients with sorafenib leads to a 44% improvement in the overall survival as compared to the control group. The median overall survival in the sorafenib treated arm was 10.7 mo vs 7.9 mo in the control arm. Moreover, the median time to progression was almost doubled (5.5 mo in the sorafenib arm vs 2.8 mo in the control arm). The authors concluded that the effects of sorafenib treatment are clinically meaningful and establish sorafenib as first-line treatment for patients with advanced HCC[109]. Based on these findings, sorafenib has recently gained accelerated approval by the FDA for the treatment of advanced unresectable HCC.
mTOR inhibition
The natural antibiotic rapamycin is a potent inhibitor of mTOR[110]. Recently, three analogues of rapamycin with superior pharmacokinetic and biological properties have been synthesized and tested in clinical trials for different malignancies. The cell cycle inhibitor-779 (CCI-779, temsirolimus) is a soluble ester analogue. RAD001 (40-O-[2-hydroxyethyl]-rapamycin, everolimus) is an orally bioavailable derivative of rapamycin, and finally AP23573, which is a non-pro-drug analogue of rapamycin. These agents have been tested successfully in early clinical trials for their antineoplastic potency and/or tolerability in various malignancies, such as renal, breast and lung cancers (CCI-779), or are currently being studied in open clinical trials for the treatment of colorectal, endometrial cancer, recurrent or refractory solid tumours, and brain tumours (RAD001, everolimus)[111–113]. AP23573 has been successfully tested in a phase II trial in sarcomas[114] and two phaseIstudies in patients with refractory or advanced solid tumours, showing partial responses and disease stabilisation in individual patients[115].
In vitro as well as preclinical in vivo data of HCC show, that mTOR inhibition by rapamycin and analogues significantly reduces HCC growth and improves survival primarily via antiangiogenic effects[116]. A Phase I/II trial evaluating everolimus for advanced HCC is currently starting to recruit patients[117] (NIH, NCT00390195). Moreover, the use of rapamycin and analogues for combination treatment together with conventional cytostatic drugs such as doxorubicin or vinblastine has been demonstrated to additively or even synergistically enhance the antineoplastic potency of the respective monotherapeutic HCC treatment with either doxorubicin or vinblastine alone[118–120].
Taken together, the in vitro and preclinical in vivo data as well as the clinical trials conducted so far show that mTOR inhibitors, including the rapamycin analogues CCI-779, RAD001 and AP23573, are promising combination agents for future cancer therapy. They are well tolerated and can produce stable disease or even substantial responses in relapsed or conventional therapy resistant solid tumours[115].
Proteasome inhibition
Another interesting therapeutic approach for innovative cancer treatment is the inhibition of the 26S proteasome, which is a large protease that is present in both the nucelus and the cytoplasm of eukaryotic cells and functions as an identifier and destructor of proteins branded for destruction by the ubiquitin system. The so called ubiquitin-proteasome pathway (UPP) is the major non-lysosomal proteolytic system in eukaryotic cells and triggers degradation of proteins involved in cell cycle progression, apoptosis, nuclear factor kappaB (NF-κB) activation, and angiogenesis. UPP also degrades mutant, damaged, and misfolded proteins[121]. Since these signalling pathways are critical for cell survival and proliferation, especially in cancer cells, the inhibition of the proteasome has emerged as an attractive target for cancer therapy.
Bortezomib (Velcade™) is a proteasome inhibitor, which blocks multi-ubiquitinated protein degradation by reversibly and competitively inhibiting the active site threonine residue of the 26S proteasome[122]. Antineoplastic activity of bortezomib has already been shown in several in vitro and in vivo studies[104123124]. Bortezomib is the first proteasome inhibitor which has been approved for cancer therapy and is in use for the treatment of advanced multiple myeloma[121]. Based on the results of a phase II trial on bortzezomib in the treatment of mantle cell lymphoma (ML) the FDA recently granted approval to bortezomib for the treatment of patients with ML (http://www.cancer.gov)[125]. Other cancers, including neuroendocrine tumours, RCC, NSCLC, or metastatic sarcomas have also been evaluated in recent phase II clinical trials. In some of these studies a significant antineoplastic effect of monotherapy with bortezomib was observed, while in some other studies no or only marginal responses to single treatment with bortezomib were found[126–128]. However, in these cases it was recommended to investigate the role of bortezomib in combination with other antitumoural drugs. The rationale for using bortezomib in combination treatment regimes is that bortezomib's mode of action is mainly based on the inhibition of the NF-κB pathway, which has been shown to exert chemosensitizing effects when administered together with other antitumoural drugs. Combination treatment studies with encouraging results have been reported for lung cancer and lymphoma[129–131]. A phase I/II trial of bortezomib in patients with unresectable HCC was recently reported to result in disease stabilization in some patients and the treatment was generally well tolerated. In this study it was also suggested to especially focus on combination treatment strategies using bortezomib together with HCC-relevant cytostatics such as doxorubicin[132]. We have recently conducted an in vitro evaluation of bortezomib-based treatment of HCC cells. Our findings underline the suitability of bortezomib for the treatment of HCC-alone or in combination with sorafenib. In Huh-7 and Hep-G2 cells nanomolar concentrations of bortezomib induced a marked growth inhibition after three days of treatment. Moreover, the combination of bortezomib and sub-IC50 concentrations of sorafenib resulted in additive growth inhibition in both hepatocellular Huh-7 and hepatoma Hep-G2 cells (Figure 3). Thus, our data support the idea of dual-targeting hepatocellular carcinoma cells for enhanced treatment efficacy using bortezomib as a combinatory drug. Our data strengthen the conception of multi-kinase inhibition plus bortezomib to be a promising combination for future HCC treatment, warranting further elucidation in clinical trials. Table 4 summarizes the current status of multi-kinase inhibitors and growth factor independent inhibitors for the treatment of solid tumours.

Figure 3 Antiproliferative effects of combination treatment with bortezomib and sorafenib in hepatocelluar carcinoma cells. A: Huh-7 and B: Hep-G2 cells were treated for 72 h with sub-IC50 concentrations of sorafenib and the proteasome inhibitor bortezomib. Combination of both agents led to additive growth inhibition both in Huh-7 as well as in Hep-G2 cells (mean ± SEM).
| | | | |
| --- | --- | --- | --- |
| Name | Target | Mechanism | Current status |
| Sorafenib | c-Raf-1, | Tyrosine kinase inhibitor | Approved for advanced RCC |
| | B-Raf, VEGFR, PDGFR | | Phase III for advanced HCC[108] |
| | | | Phase II for melanoma[106], breast cancer[158] and NSCLC[159] |
| | | | Phase Ifor advanced solid tumours[160] |
| Everolimus (RAD001) | mTOR | Tyrosine kinase inhibitor | Phase II for colorectal cancer[165] |
| | | | PhaseI/II for advanced HCC[117116] |
| | | | PhaseIfor endometrial and brain tumours[111112] |
| Temsirolimus (CCI-779) | mTOR | Tyrosine kinase inhibitor | Phase II for metastatic breast cancer[161], advanced RCC[162], and mantle cell lymphoma[163] |
| | | | PhaseIfor advanced solid tumours (e.g. colorectal, ovarian, lung cancer)[164] |
| AP23573 | mTOR | Tyrosine kinase inhibitor | Phase II for sarcomas of soft tissue and bone[114] |
| | | | PhaseIfor advanced solid tumours |
| Bortezomib (Velcade) | Proetasome | Proteasome inhibitor | Approved for multiple myeloma and mantle cell lymphoma[125] |
| | | | Phase II for colorectal cancer[166], neuroendocrine tumours[128], sarcoma[126], RCC[127], and NSCLC[129] |
| | | | PhaseI/II for unresectable HCC[132] |
| | | | PhaseIfor advanced solid tumours[167] |
CONCLUSION
The concept of targeted-therapies which specifically inhibit growth factor receptors and their related signalling pathways emerged to be a promising approach for the innovative and effective medical treatment of various cancers, including hepatocellular carcinoma. Thus, advanced HCC is no longer a tumour disease without specific medical treatment options. The recent findings and clinical trials clearly demonstrate that especially combination treatments inhibiting more than just one signalling pathway will be particularly efficient, as it leaves less mechanisms of escape for the tumour cells.
In addition, there are several other promising new drugs which are currently being tested or which should be investigated in future HCC trials. In this respect combinations with drugs such as multi-kinase inhibitors are particularly intriguing. Thus in the future agents like the multi-kinase inhibitor sorafenib will likely be combined with growth factor receptor inhibitors, proteasome inhibitors, HDAC inhibitors or cytostatics as to effectively control advanced HCC. The advantage of such novel combination therapies is their higher efficacy at lowered toxicity as compared to monotherapeutic approaches. The novel combination treatments will offer new chances for drug therapy even in HCC patients with underlying cirrhosis. Fortunately, most of the new drugs can be taken orally.
S- Editor Ma N L- Editor Rippe RA E- Editor Liu Y