Copyright
©2006 Baishideng Publishing Group Co.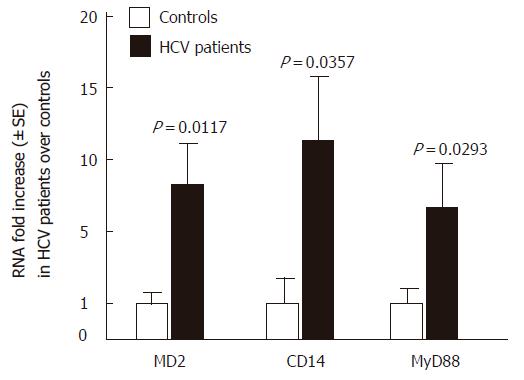 Figure 2 Monocytes of HCV-infected patients express higher levels of TLR co-receptors MD2 and CD14, and TLR adaptor MyD88 compared to controls.
RNA was purified from adherence-isolated monocytes and real-time PCR for MD2, CD14, MyD88 and 18 S RNA (as endogenous control) was performed as described in Materials and Methods. For each individual protein of interest-coding RNA expression was normalized to corresponding 18 S RNA. Results are expressed as fold increase of each protein of interest in HCV-infected patients compared to controls. Results are from 14 HCV-infected patients and 14 controls.
---
Citation: Dolganiuc A, Garcia C, Kodys K, Szabo G. Distinct toll-like receptor expression in monocytes and T cells in chronic HCV infection. World J Gastroenterol 2006; 12(8): 1198-1204
---