Copyright
©2005 Baishideng Publishing Group Inc.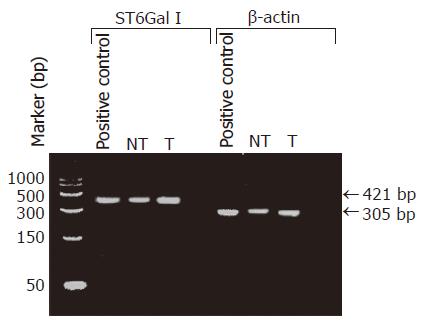 Figure 1 Electrophoresis of RT-PCR products amplified from the total RNA preparations of the tumor (T) and non-tumor liver (NT) tissues from HCC patients.
For both tumor and non-tumor total RNA preparations, the RT-PCR products corresponding to ST6Gal I and β-Actin DNA showing the expected sizes (421 bp and 305 bp respectively) were obtained. Commercially available human normal liver cDNA was used as the positive control. Similar DIG-labeled RT-PCR products with the same sizes were obtained when DIG-dNTPs were used.
---
Citation: Poon TC, Chiu CH, Lai PB, Mok TS, Zee B, Chan AT, Sung JJ, Johnson PJ. Correlation and prognostic significance of beta-galactoside alpha-2,6-sialyltransferase and serum monosialylated alpha-fetoprotein in hepatocellular carcinoma. World J Gastroenterol 2005; 11(42): 6701-6706
---