Copyright
©2005 Baishideng Publishing Group Inc.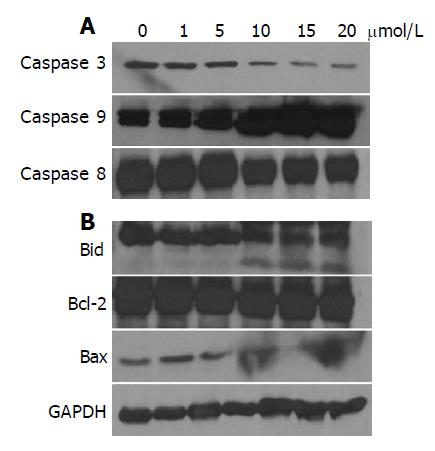 Figure 4 Effect of denbinobin on caspases (A) or Bid, bcl-2 and bax protein levels (B).
The whole cell proteins were extracted from the cultured COLO 205 cells, which had been grown in 10% FCS and incubated for the indicated times with 0.1% DMSO or 20 μmol/L denbinobin in 0.1% DMSO. After electrophoresis, proteins were transferred onto Immobilon-P membranes, and then probed with proper dilutions of specific antibodies. Membranes were also probed with anti-GAPDH antibody to correct for difference in protein loading. Denbinobin dose-dependently induced the activation of caspases (A), Bid protein activation and decreased expression of bax (B).
---
Citation: Yang KC, Uen YH, Suk FM, Liang YC, Wang YJ, Ho YS, Li IH, Lin SY. Molecular mechanisms of denbinobin-induced anti-tumorigenesis effect in colon cancer cells. World J Gastroenterol 2005; 11(20): 3040-3045
---