Copyright
©2005 Baishideng Publishing Group Inc.
All rights reserved.
Atorvastatin-induced severe gastric ulceration: A case report
Ihab I El-Hajj, Fadi H Mourad, Kassem A Barada, Department of Internal Medicine, American University of Beirut Medical Center (AUBMC), Beirut, Lebanon
Nina S Shabb, Department of Pathology, AUBMC, Beirut, Lebanon
Author contributions: All authors contributed equally to the work.
Correspondence to: Dr. Kassem Barada, Associate Professor, Department of Internal Medicine, Division of Gastroenterology, American University of Beirut Medical Center, PO Box, 113-6044, Hamra street, Beirut 110 32090, Lebanon. kb02@aub.edu.lb
Telephone: +961-1-350000 Fax: +961-1-370814
Received: June 24, 2004
Revised: June 25, 2004
Accepted: September 19, 2004
Published online: May 28, 2005

A 41-year-old man presented with severe gastric ulceration 3 mo after beginning treatment with atorvastatin 20 mg once daily for hypercholesterolemia. The patient was not taking any ulcerogenic drugs and had no evidence of Helicobacter pylori infection. Proton pump inhibitor therapy was initiated and atorvastatin was replaced by simvastatin with complete resolution of gastrointestinal symptoms. To our knowledge, this is the first report of atorvastatin-induced gastric ulceration, which should be looked for in patients who develop abdominal pain while on this drug.
---
Citation: El-Hajj II, Mourad FH, Shabb NS, Barada KA. Atorvastatin-induced severe gastric ulceration: A case report. World J Gastroenterol 2005; 11(20): 3159-3160
---
INTRODUCTION
Atorvastatin is generally well tolerated, with most adverse effects related to the gastrointestinal system[1]. Although drug-induced gastric ulcerations are listed as potential adverse effects on package inserts, published reports documenting these adverse effects are scarce[2]. We present a case of reversible drug-induced gastric ulceration, attributed to atorvastatin.
CASE REPORT
A 41-year-old man with a history of familial hypercholes-terolemia was started on atorvastatin (Lipitor) 20 mg daily. Three months later, he started complaining of severe epigastric pain that frequently woke him up at night. He had no other gastrointestinal symptoms. On physical examination, epigastric and right upper quadrant tenderness was noted. Complete blood count, liver biochemistry, amylase and lipase were normal. Ultrasound of upper abdomen revealed a normal gall bladder and a thickened gastric wall suggestive of gastritis. Upper gastrointestinal endoscopy showed a small hiatal hernia, along with multiple superficial and irregular ulcers in the cardia, the body of stomach and the antrum (Figure 1). Multiple antral biopsies were taken. CLO-test for Helicobacter pylori turned out to be negative. Histologic examination of gastric biopsies revealed superficial ulcers associated with hemorrhage and acute inflammation in the lamina propria. There was no evidence of malignancy and H pylori-like organisms were not seen (Figure 2).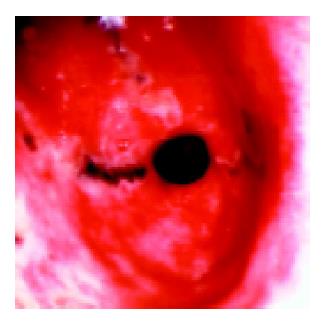 Figure 1 Gastroscopic morphological change of multiple superficial and irregular ulcers in the antrum.
The patient had no previous personal or family history of ulcer disease and was not on aspirin, nonsteroidal anti-inflammatory drugs, or other medications. Atorvastatin-induced gastric ulceration seemed to be the most probable diagnosis. Atorvastatin was discontinued and the patient was put on rabeprazole 20 mg daily for a total of 6 wk and he had a quick relief from symptoms. Simvastatin was started at a dose of 20 mg once daily with no adverse effects during a 3-year follow-up.
DISCUSSION
Atorvastatin has a favorable risk-benefit profile[3]. Common side-effects of this drug (>2%) include constipation, flatulence, dyspepsia, abdominal pain and headache[2]. Infrequent adverse events (<2%) are reported, including diaphragmatic muscle impairment[4], myositis migrans[5], tendinopathy[6], peripheral neuropathy[7], external ophthalmoplegia and ataxia[8], skin and appendages changes/alopecia[9], dermatomyositis[10], dermographism[11], toxic epidermal necrolysis[12], chronic urticaria[13], and severe thrombocytopenia[14]. The serious digestive system side-effects include acute hepatitis[15], cholestatic hepatitis[16], and acute pancreatitis[17].
Our patient developed severe symptoms that were compatible with gastric ulceration. Both endoscopy and histopathology confirmed the presence of significant mucosal injury. Other causes of gastric ulcerations were ruled out. There was no personal or family history of ulcer disease. The patient did not take any other medication. He had been taking atorvastatin for 3 mo before the onset of gastric ulceration.
To our knowledge, this is the first report about gastric ulcerations caused by atorvastatin and it further reinforces the fact that statins may cause gastric ulcers. The mechanism of this side effect is not known. As the use of statins increases, physicians should consider the diagnosis of gastric ulcerations in patients taking these medications who then develop abdominal pain which cannot be explained by any other process. If gastric ulcer is suspected, the drug should be stopped and replaced by another lipid lowering drug to reduce the possibility of further damage to the gastric mucosa.
Science Editor Wang XL Language Editor Elsevier HK