World J Gastroenterol.
Jan 1, 2004;
10(1): 17-21
Published online Jan 1, 2004. doi: 10.3748/wjg.v10.i1.17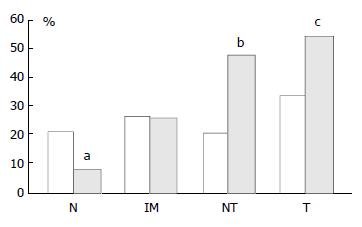 Figure 4 Graph showing percentage of p16 positive cases as pairs of proximal (empty columns, left hand sides) and distal (black columns, right hand sides) tissue samples. N: Biopsies showing normal mucosa, IM: Biopsies showing intestinal metaplasia, NT: Non-involved mucosa from gastric cancer resection specimens, T: Tumour from gastric cancer resection specimens. There was a significant stepwise increase in expres-sion from normal mucosa→intestinal metaplasia→non-involved mucosa from cancer resections→carcinoma in the distal stomach only. aThere was a significantly lower p16 ex-pression in distal normal mucosa than in proximal normal mucosa, P = 0.0045. b and c: There was a significantly higher p16 expression in both non-involved as well as carcinoma from cancer resections from distal compared with proximal stomach, bP = 0.0048 and cP = 0.036.
---
Citation: Gulmann C, Hegarty H, Grace A, Leader M, Patchett S, Kay E. Differences in proximal (cardia) versus distal (antral) gastric carcinogenesis via retinoblastoma pathway. World J Gastroenterol 2004; 10(1): 17-21
---