World J Gastroenterol.
Jan 21, 2021;
27(3): 294-304
Published online Jan 21, 2021. doi: 10.3748/wjg.v27.i3.294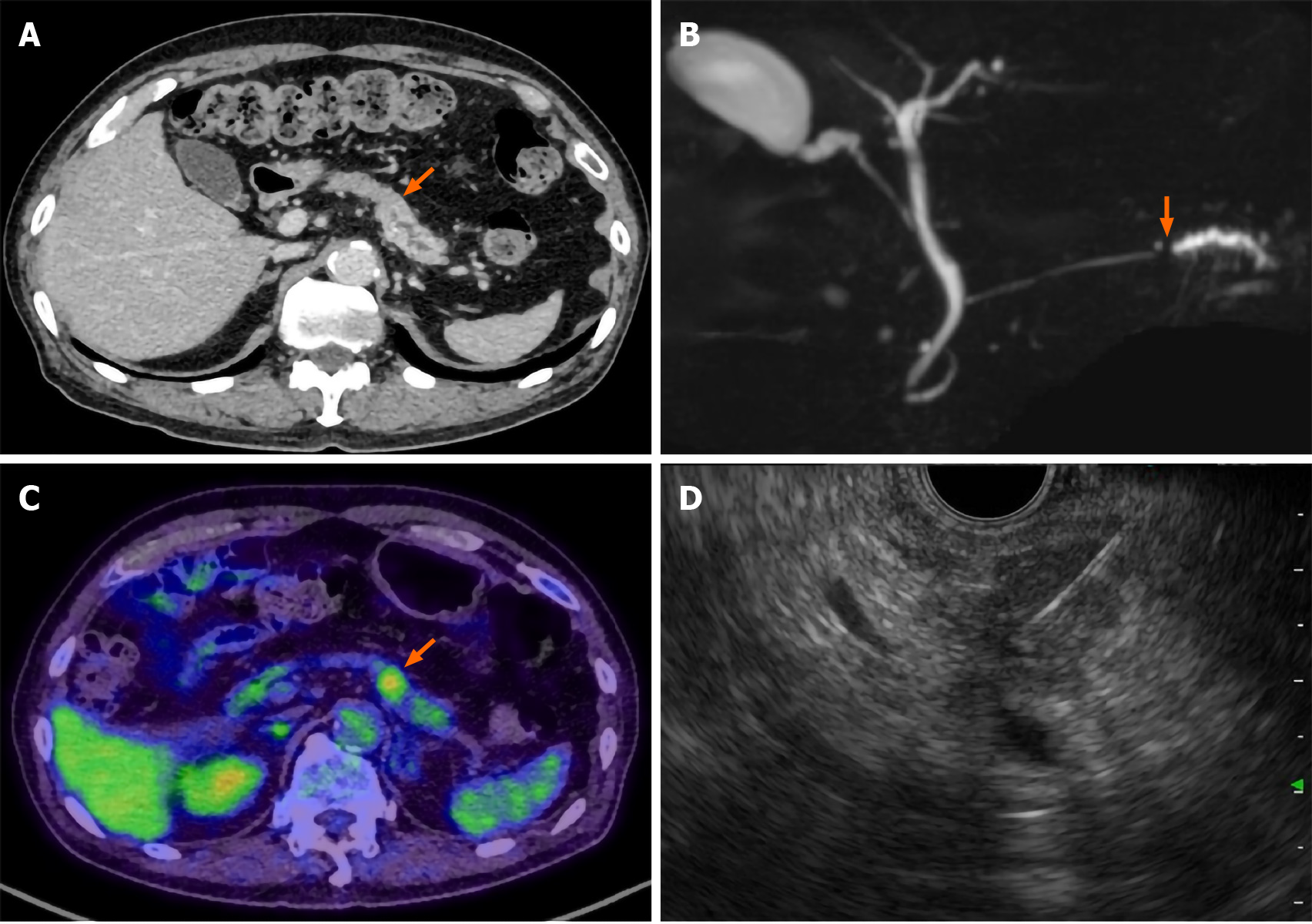 Figure 1 Pre-operative imaging findings.
A: Contrast-enhanced computed tomography (CT) scan showing a hypodense mass lesion (arrow) in the pancreatic tail region as well as dilation of the main pancreatic duct; B: Magnetic resonance cholangiopancreatography showing obstruction (arrow) and dilation of the main pancreatic duct; C: Positron emission tomography-CT scan showing the high uptake (arrow) of fluorodeoxyglucose by the pancreatic tail mass; D: Endoscopic ultrasound-guided fine needle aspiration performed using a 22-gauge needle through the posterior gastric wall.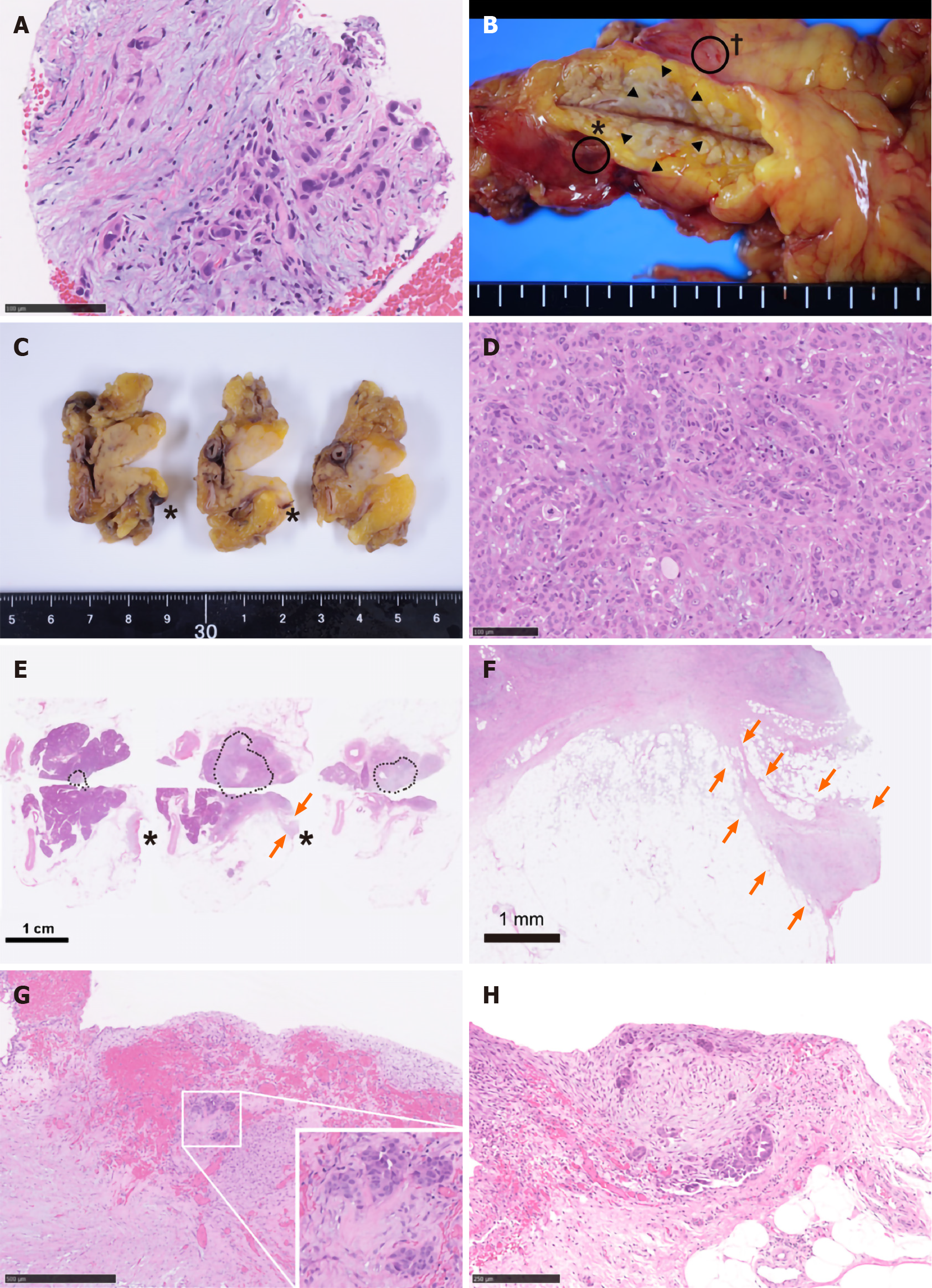 Figure 2 Pathological findings.
A: Specimens obtained
via
endoscopic ultrasound-guided fine needle aspiration (EUS-FNA) biopsy. Atypical cells with enlarged and hyperchromatic nuclei infiltrating the fibrous stroma are visible; B: A fresh gross image of the resected pancreas: a poorly circumscribed whitish tumor mass (arrowheads) is observed within pancreas parenchyma at the cut surface. Two areas of peritoneal thickening with reddish (asterisk) and whitish (dagger) appearance are observed at a distance from the tumor site; C: The cut surface of the formalin-fixed specimen: the peritoneal side is on the right, and the retroperitoneal side on the left; D: Histological image of the main tumor: the tumor is predominantly composed of poorly differentiated carcinoma cells with ill-defined ductular structures; E: A loupe image correspondence to the macroscopic image observed in panel C: the area surrounded by black dots is the main tumor lesion. A trabecular fibrotic scar (arrows) associated with peritoneal surface hemorrhage (asterisks) is observed; F: A low-power view of the fibrotic scar (arrows in E) possibly due to the needle tract injected during EUS-FNA; G: A high-magnification image of hemorrhagic peritoneum (asterisks in B, C, and E) proximal to the fibrotic scar. In this area (considered to be the needle puncture site), small aggregates of tumor cells (inset) are embedded in the fibrotic stroma; H: A high-power microscopic view of the whitish thickened peritoneum (dagger in B). Disseminated tumor cells focally forming the ductular structures are seen on the surface of the serosa.

Figure 3 Computed tomography obtained 5 mo after surgery.
An ascites associated with cancerous peritonitis and liver metastasis (arrow) was observed.
---
Citation: Kojima H, Kitago M, Iwasaki E, Masugi Y, Matsusaka Y, Yagi H, Abe Y, Hasegawa Y, Hori S, Tanaka M, Nakano Y, Takemura Y, Fukuhara S, Ohara Y, Sakamoto M, Okuda S, Kitagawa Y. Peritoneal dissemination of pancreatic cancer caused by endoscopic ultrasound-guided fine needle aspiration: A case report and literature review. World J Gastroenterol 2021; 27(3): 294-304
---