World J Gastroenterol.
Jan 14, 2015;
21(2): 629-636
Published online Jan 14, 2015. doi: 10.3748/wjg.v21.i2.629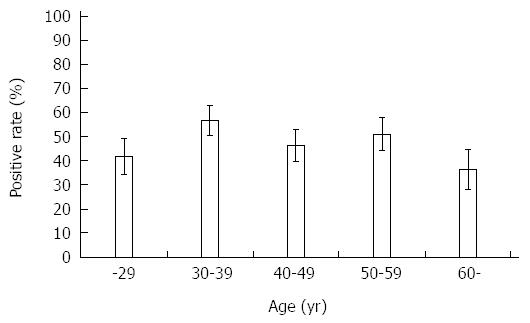 Figure 1 Prevalence of Helicobacter pylori infection by age group in Myanmar. Helicobacter pylori (H. pylori) infection was examined by 5 different methods including rapid urease test, culture, histology, immunohistochemistry, and serology. Subjects were considered to be H. pylori-negative when all 5 tests were negative, whereas H. pylori-positive status required at least one positive test result. Each bar shows the percentage of positive cases and the standard error.
---
Citation: Myint T, Shiota S, Vilaichone RK, Ni N, Aye TT, Matsuda M, Tran TTH, Uchida T, Mahachai V, Yamaoka Y. Prevalence of Helicobacter pylori infection and atrophic gastritis in patients with dyspeptic symptoms in Myanmar. World J Gastroenterol 2015; 21(2): 629-636
---