Copyright
©2013 Baishideng Publishing Group Co.

Figure 1 Expression level of GAEC1 in KYSE150 cells. A: Multiplex reverse transcription-polymerase chain reaction (RT-PCR) analysis showed the overexpression of GAEC1 in KYSE150 compared with the non-tumor esophageal epithelial cell line NE1; B: Multiplex RT-PCR analysis demonstrated the down-regulation of GAEC1 expression in KYSE150 cells transfected with pSilencer P3-4 vector compared with the parental cells and those transfected with pSilencer control vector. The amount of RNA in each lane was normalized with the amplification of β-actin. M: 100 bp ladder marker; H2O: Water control.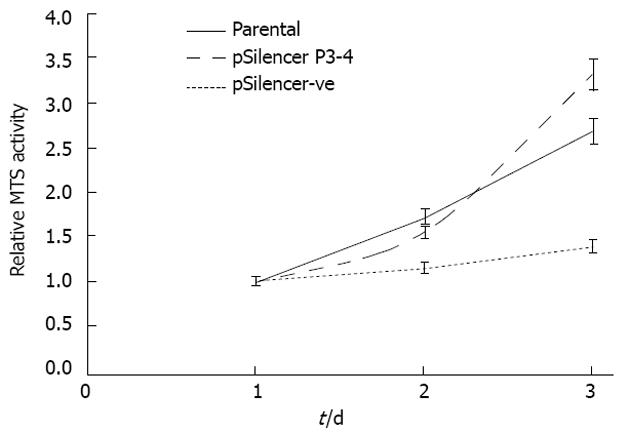 Figure 2 MTS cell proliferation assays for esophageal squamous cell carcinoma cell line KYSE150.
Cells were transfected with pSilencer vector cloned with the P3-4 sequence (pSilencer P3-4) or control vector (pSilencer-ve). MTS assays were then performed every 24 h for 3 d on each type of transfected cells and the parental cells. The respective MTS activities on each day were compared with the corresponding activities of day 1. Representative data from 3 independent experiments are shown.

Figure 3 Flow cytometry analyses for KYSE150 cells.
KYSE150 transfected with pSilencer cloned with P3-4 sequence demonstrated an increased apoptotic population by approximately 50% (C) compared with the parental cells (A) and cells transfected with pSilencer-ve control vector (B).

Figure 4 Immunohistochemical staining of CAPN10. A: In normal esophageal epithelial tissue showing weak CAPN10 staining; B: esophageal squamous cell carcinoma (ESCC) tissue showing strong CAPN10 staining; C: ESCC tissue showing weak CAPN10 staining in tumor. CAPN10 was mainly localized in the cytoplasm of the cancer cells (original magnification, ×100).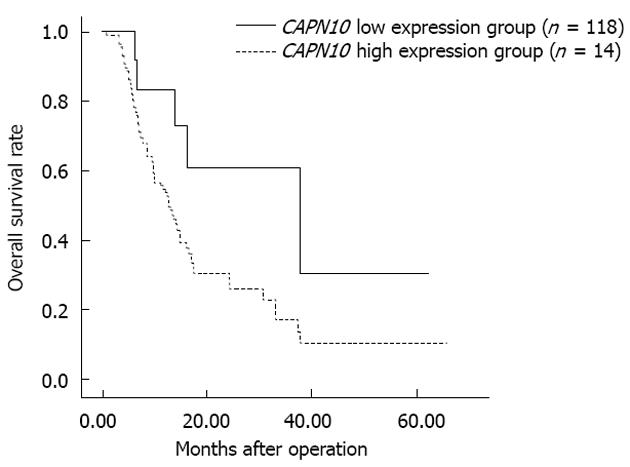 Figure 5 Overall 5-year survival rates as determined by the expression level of CAPN10 in esophageal squamous cell carcinoma patients. Low expression group of CAPN10 in ESCC patients showed a significantly lower 5-year survival rate than those of high expression group.
---
Citation: Chan D, Tsoi MYT, Liu CD, Chan SH, Law SYK, Chan KW, Chan YP, Gopalan V, Lam AKY, Tang JCO. Oncogene GAEC1 regulates CAPN10 expression which predicts survival in esophageal squamous cell carcinoma. World J Gastroenterol 2013; 19(18): 2772-2780
---