Copyright
©2012 Baishideng Publishing Group Co.

Figure 1 Structural features of osteopontin isoforms.
Three isoforms of osteopontin (OPN), OPN-a, OPN-b and OPN-c, are known. All of them possess identical domains [aspartate domain, arginine-glycine-aspartate domain, Ser-Val-Val-Tyr-Gly-Leu-Arg (SVVYGLR) domain, thrombin cleavage domain, calcium binding domain and heparin binding domain] that are linked together with various linkers. These isoforms distinguish themselves by having a variable length of the linker between signal peptide and aspartate domain. RGD: Arginine-glycine-aspartate.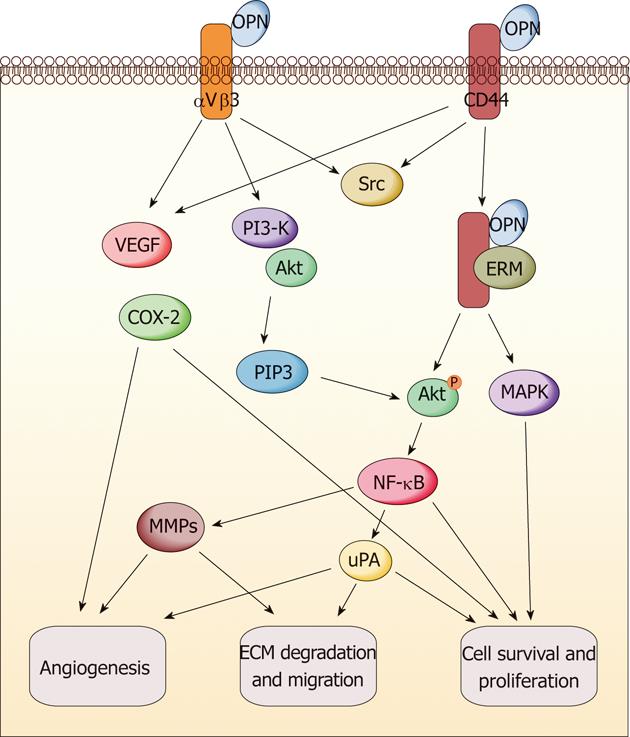 Figure 2 Molecular mechanisms of osteopontin in gastrointestinal cancers.
Osteopontin (OPN) signaling leads to gastrointestinal cancer growth and metastasis through activation of various pathways, including cell survival and proliferation, angiogenesis, and extracellular matrix (ECM) degradation. VEGF: Vascular endothelial growth factor; PI3-K: Phosphoinositide 3-kinase; COX-2: Cyclooxygenase-2; MAPK: Mitogen-activated protein kinase; NF: Nuclear factor; uPA: Urokinase-type plasminogen activator; MMP: Matrix metalloproteinase; ERM: Ezrin/radixin/moesin; Akt: Protein kinase B.
---
Citation: Cao DX, Li ZJ, Jiang XO, Lum YL, Khin E, Lee NP, Wu GH, Luk JM. Osteopontin as potential biomarker and therapeutic target in gastric and liver cancers. World J Gastroenterol 2012; 18(30): 3923-3930
---