Copyright
©2009 The WJG Press and Baishideng.
World J Gastroenterol.
May 14, 2009;
15(18): 2290-2292
Published online May 14, 2009. doi: 10.3748/wjg.15.2290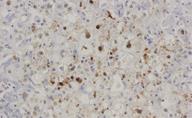 Figure 1 Liver necropsy stained with antibody against hepatitis B core antigen.
FCH is also characterized by massive expression of hepatitis B core antigen (nuclear and cytoplasmic).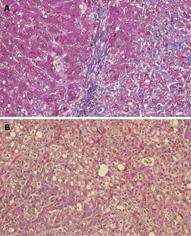 Figure 2 Liver necropsy.
A: Stained with Mason trichromic; B: Stained with eosin-hematoxylin. FCH is characterized by marked hepatocellular swelling, lobular disarray and cholestasis, with only mild or no portal or lobular inflammation, combined with acute cholangiolitis and fibrosis surrounding the cholangioles.
---
Citation: Ceballos-Viro J, López-Picazo JM, Pérez-Gracia JL, Sola JJ, Aisa G, Gil-Bazo I. Fibrosing cholestatic hepatitis following cytotoxic chemotherapy for small-cell lung cancer. World J Gastroenterol 2009; 15(18): 2290-2292
---