Copyright
©2006 Baishideng Publishing Group Co.

Figure 3 STAT-expression and EGF-induced activation in HCC cells.
EGF induced STAT activation could be shown for STATs 1 and 3 (A and B) but not in the case of STAT5 (C).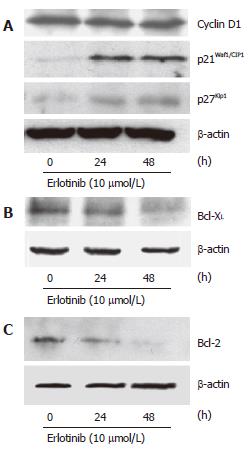 Figure 5 Erlotinib modulated the expression of cell cycle regulators (A) and antiapoptotic members of the Bcl-2 family (B and C).
---
Citation: Huether A, Höpfner M, Sutter AP, Baradari V, Schuppan D, Scherübl H. Signaling pathways involved in the inhibition of epidermal growth factor receptor by erlotinib in hepatocellular cancer. World J Gastroenterol 2006; 12(32): 5160-5167
---