Copyright
©2006 Baishideng Publishing Group Co.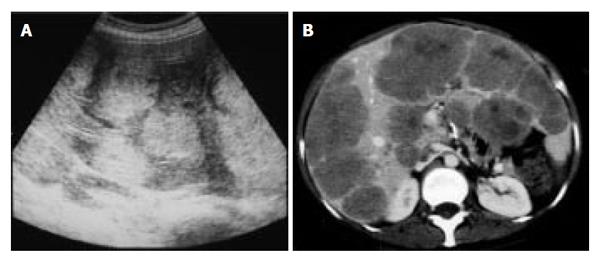 Figure 1 A: Ultrasonography showed multiple hyperechoic masses in the liver; B: Dynamic computed tomography showed multiple liver tumors.
The surfaces of these tumors showed mild enhancement.

Figure 2 A: Macroscopic findings of the resected rectum.
Arrow shows the primary lesion; B: The tumor cells showed tubular and alveolar formation, and their nuclei were slightly swelling (C). (B, C: H&E, original magnification, B: x 40, C: x 400).

Figure 3 A: The cut surface of the resected specimen showed multiple tumors; B: Histopathological findings of the liver tumor were similar to those of the rectal tumor (H&E, original magnification, x 400).
---
Citation: Nakajima Y, Takagi H, Sohara N, Sato K, Kakizaki S, Nomoto K, Suzuki H, Suehiro T, Shimura T, Asao T, Kuwano H, Mori M, Nishikura K. Living-related liver transplantation for multiple liver metastases from rectal carcinoid tumor: A case report. World J Gastroenterol 2006; 12(11): 1805-1809
---