Copyright
©2005 Baishideng Publishing Group Inc.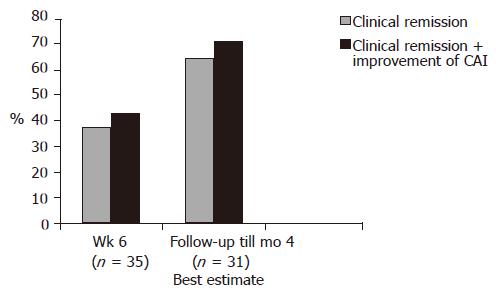 Figure 2 Patients (ITT analysis) in clinical remission or improved during a 4-mo follow-up period without additional apheresis therapy.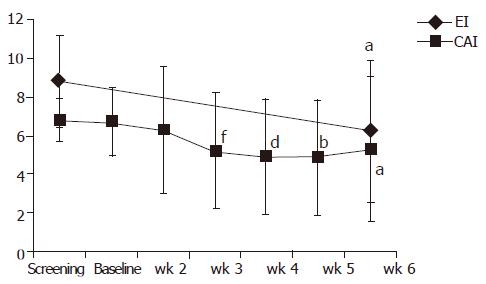 Figure 3 Course of clinical and endoscopic activity indices (CAI, EI) throughout the apheresis treatment. aP<0.05 vs Et at wk 6, bP<0.01 vs Et at wk 5, dP<0.01 vs Et at wk 4, fP<0.05 vs Et at wk 3.

Figure 4 Course of neutrophil, lymphocyte, and monocyte counts as well as CRP between the beginning and wk 6 of the study (numbers are given as means; no significant differences).
---
Citation: Kruis W, Dignass A, Steinhagen-Thiessen E, Morgenstern J, Mössner J, Schreiber S, Vecchi M, Malesci A, Reinshagen M, Löfberg R. Open label trial of granulocyte apheresis suggests therapeutic efficacy in chronically active steroid refractory ulcerative colitis. World J Gastroenterol 2005; 11(44): 7001-7006
---