Copyright
©2014 Baishideng Publishing Group Inc.
All rights reserved.
World J Ophthalmol.
Nov 12, 2014;
4(4): 113-123
Published online Nov 12, 2014. doi: 10.5318/wjo.v4.i4.113
What is new in central serous chorioretinopathy?
Michal Schaap-Fogler, Rita Ehrlich, Department of Ophthalmology, Rabin Medical Center, Petach Tikva 49100, Israel
Author contributions: Schaap-Fogler M and Ehrlich R both contributed to this paper, including: (1) substantial contributions to conception and design, acquisition of data and interpretation of data; (2) drafting the article and revising it critically for important intellectual content; and (3) final approval of the version to be published.
Correspondence to: Michal Schaap-Fogler, MD, Department of Ophthalmology, Rabin Medical Center, Beilinson Campus, 39 Zabotinski Street, Petach Tikva 49100, Israel. fogler@gmail.com
Telephone: +972-39-376107 Fax: +972-39-376104
Received: May 29, 2014
Revised: July 5, 2014
Accepted: September 4, 2014
Published online: November 12, 2014

Central serous chorioretinopathy (CSCR) is considered a benign, self-limiting disease. However, as many as third of the patients have recurrent episodes or chronic disease that may cause significant functional impairment. New diagnostic tools and new treatment modalities are emerging in order to improve the functional outcomes of these patients. Spectral domain optical coherence tomography (SD-OCT) has the ability to image individual layers of the retina and choroid. SD-OCT images in CSCR patients have demonstrated increased subfoveal thickness measurements, high reflective deposits in areas of subretinal precipitates and changes in the Retinal pigment epithelium layers of the asymptomatic eyes of patients with supposedly unilateral CSCR. A positive correlation was found between the level of distribution to the layer of inner segment/outer segment junction of the photoreceptors and the visual impairment. Fundus autoflouresence images show a wide variety during different stages of the disease in CSCR patients. Minimal abnormalities during the early stages are followed by hyperautofluoresence in the detached area in later stages, often in a manner of inferior gravitation and at the borders of the detachments. The chronic phase is characterized by varying degrees of atrophy and areas of decreased autofluorescence surrounding areas of chronic leaks. These changes help differentiate an active disease from an inactive state. Multifocal electroretinography (mfERG) has the ability to demonstrate a persistent depression despite the resolution of subretinal detachments. It is therefore being investigated as a follow up tool for patients with chronic CSCR. An excellent correlation was found between changes in mfERG and visual function. Macular microperimetry, measuring retinal sensitivity within the central visual field, is intended to compensate for the underestimation of visual impairment in patients with macular diseases. Reduced retinal sensitivity was found in areas of previous subretinal fluids in CSCR patients. The device can also serve as a follow up tool in these patients. Regarding treatment in CSCR patients, focal argon laser photocoagulation treatment may be applied to small extrafoveal leaks. However, the main purpose of this treatment is to shorten disease duration, with no advantage over observation regarding final visual outcome, rate of progression to chronic CSCR or number of recurrences. Photodynamic therapy (PDT) with verteporfin has been shown to completely resolve serous detachment in 60%-80% of patients and to have a partial affect in the remaining patients. Reduced-fluence treatment is replacing full-fluence therapy in order to minimize side effects with no accompanying reduced effectiveness. Visual acuity is also improved following reduced-fluence PDT compared to placebo. It has also been found that patients with intense hyperfluorescence are more likely to show resolution of accumulating fluid compared to patients with mild or no leakage observed on indocyanine-green angiography prior to treatment. Regarding newer treatment modalities, intravitreal injections of anti-vascular endothelial growth factor agents have a limited effect in patients with CSCR. Recent reports have not demonstrated an advantage for this treatment in regards to anatomic and functional outcome. Micropulse diode laser was not proven to be safer or more effective than argon laser or PDT. Corticosteroid antagonists, not tested in controlled trials, may have a beneficial effect in patients with CSCR. Aspirin may also play a role in treating these patients, with rapid recovery of visual acuity and reduced number of recurrences observed. In conclusion, imaging is evolving rapidly while the clinical implications of these new imaging modalities are less clear. Large randomized trials investigating different treatment modalities are still lacking.
Core tip: (1) New diagnostic tools and therapies may improve the prognosis of patients with chronic or recurrent central serous chorioretinopathy; (2) Changes in fundus autoflouresence images help differentiate an active disease from an inactive state; (3) Multifocal electroretinography and macular microperimetry may serve as follow up tools due to their ability to measure macular visual function; (4) Focal argon laser photocoagulation shortens disease duration but does not affect final prognosis; (5) Reduced-fluence photodynamic therapy improves visual acuity and resolves serous detachments; and (6) The role of anti-vascular endothelial growth factor agents, micropulse diode laser, corticosteroid antagonists, aspirin, anti-viral or Helicobacter pylori treatment is still being investigated.
---
Citation: Schaap-Fogler M, Ehrlich R. What is new in central serous chorioretinopathy? World J Ophthalmol 2014; 4(4): 113-123
---
INTRODUCTION
Central serous chorioretinopathy (CSCR) was first described by Albrecht von Graefe in 1866 as a relapsing central luetic retinitis[1]. The various terms later used to describe the disease, including the current acceptable term CSCR first used by Gass[2] in 1967, have omitted the relapsing characteristic from the term. However, relapsing serous detachments of the neurosensory retina are known to occur in as many as third of the patients[3]. Moreover, the recurrent and chronic nature of CSCR may result in severe and irreversible visual loss in these patients[4]. Therefore, in order to improve patients outcome, there is an ongoing search for new diagnostic tools, shedding more light on disease pathophysiology, and for new treatments and different treatment protocols.
PATHOPHYSIOLOGY
The typical presentation of CSCR is serous detachment of the neurosensory retina, but the source of the accumulating subretinal fluid is still not completely understood[2-13]. Retinal pigment epithelium (RPE) dysfunction has been hypothesized as the primary pathologic mechanism in CSCR, in part due to images obtained using fluorescein angiography (FA)[4-6]. These images show characteristic single or multiple leaks from the RPE, implicating the RPE as a major factor in the pathophysiology, as can be seen in Figure 1. However, different investigative tools led investigators to challenge this hypothesis. According to some reports, the choroid seems to be primarily affected, with the retinal changes seen with FA representing a later stage in the mechanism of the disease progression[7].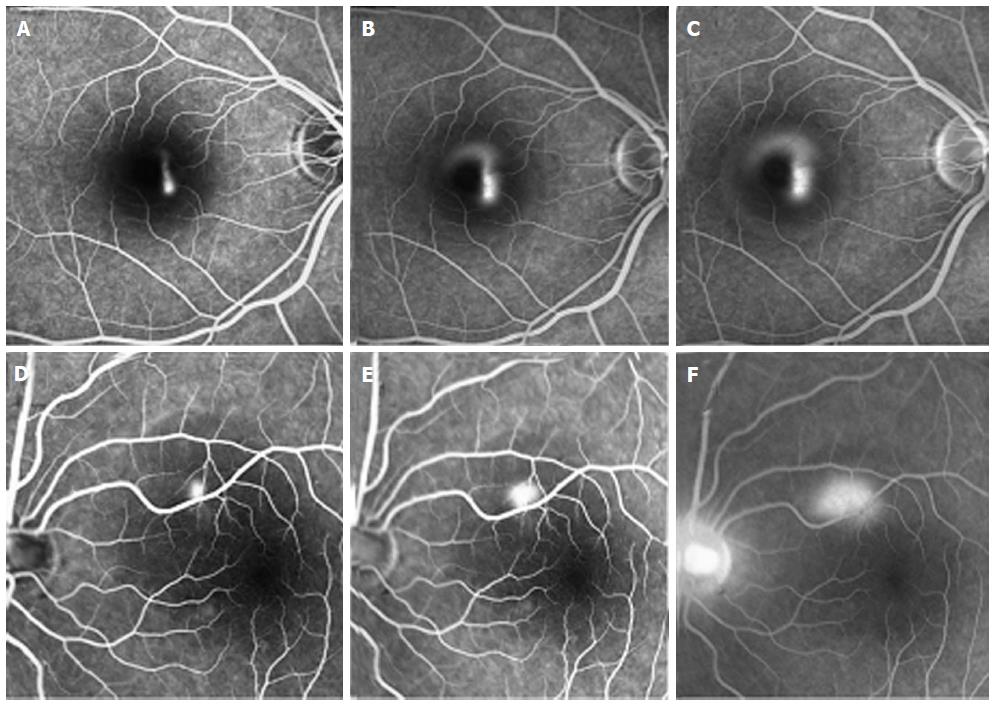 Figure 1 Two different patterns of hyperfluorescent dye leakage on fluorescein angiogram in acute central serous chorioretinopathy; Smokestack pattern of leakage (A, B and C) and inkblot pattern of dye leakage (D, E and F).
In order to further understand the role of the choroid in the disease, indocyanine-green angiography (ICGA) images were investigated. The congestion and dilatation of choroidal capillaries and veins, the choroidal staining and the leakage into the interstitial space all prove the choroid plays a major role in the accumulation of fluid in CSCR[12,13]. These changes in ICGA images are demonstrated in Figure 2. However, ICGA was found to have some limitations as a tool for diagnosis and follow up of patients. Previous studies on cross-sectional optical coherence tomography (OCT) images of eyes with chronic CSCR reported increased choroidal thickness observed, with no corresponding hyperflouresence observed on ICGA[14]. Moreover, ICGA gives a 2-dimensional scans, which means that all choroidal layers overlap in the angiogram.
NEW INSIGHTS ON PATHOPHYSIOLOGY FROM NEW IMAGING AND EXAMINATION MODALITIES
NEW INSIGHTS ON TREATMENT MODALITIES FOR PATIENTS WITH CSCR
Acute CSCR is a self-limited disease in the majority of cases, with good final visual outcomes. The common management of acute CSCR still remains observation and risk modification, with the exception of certain indications prompting immediate medical management. The common indications for the initiation of treatment are non-resolved subretinal fluid for 3 mo, decreased visual acuity from CSCR in the fellow eye or the need for immediate visual acuity rehabilitation. However, chronic CSCR as well as frequent recurrences of serous detachments may lead to RPE atrophy and other changes in the neurosensory retina leaving the patient with impairment of visual function[53]. Therefore, earlier treatment in selected patients may improve the final outcome and even prevent further damage.
CONCLUSION
CSCR is a common cause of visual impairment, especially in the middle aged population. Despite the fact that most patients will have spontaneous recovery, those with recurrent episodes or chronic disease may remain with significant functional impairment. The exact pathophysiology leading to subretinal fluid accumulation remains undetermined, but it is probably a combination of choroidal and RPE pathology. While imaging is evolving rapidly, the clinical implications of all these new imaging modalities are less clear. Treatment is still a subject of dispute, regarding indications, proper initiation time and type of treatment for both acute and choronic CSCR. That is mainly due to the fact that large randomized trials are still lacking.
P- Reviewer: Davey PG, Koleva-Georgieva DN S- Editor: Ji FF L- Editor: A E- Editor: Wu HL