Copyright
©2014 Baishideng Publishing Group Inc.
All rights reserved.
Timely reperfusion for ST-segment elevation myocardial infarction: Effect of direct transfer to primary angioplasty on time delays and clinical outcomes
Rodrigo Estévez-Loureiro, Armando Pérez de Prado, Carlos Cuellas, Norberto Alonso-Orcajo, Maria López-Benito, Felipe Fernández-Vázquez, Division of Cardiology, Complejo Asistencial Universitario de León (CAULE), 24071 Leon, Spain
Ángela López-Sainz, Ramón Calviño Santos, Jorge Salgado Fernández, Jose Manuel Vázquez-Rodríguez, Division of Cardiology, Complejo Hospitalario Universitario A Coruña (CHUAC), 15006 La Coruña, Spain
Author contributions: López-Sainz A, Pérez de Prado A, Cuellas C and López-Benito M performed research; Calviño-Santos R, Salgado Fernández J and Vázquez-Rodríguez JM reviewed critically the literature; Estévez-Loureiro R wrote the paper; Alonso Orcajo N and Fernández-Vázquez F reviewed the text and gave final approval.
Correspondence to: Rodrigo Estévez-Loureiro, MD, PhD, Division of Cardiology, Complejo Asistencial Universitario de León (CAULE), Altos de Nava s/n, 24071 Leon, Spain. roiestevez@hotmail.com
Telephone: +34-987-237400 Fax: +34-987-233322
Received: December 27, 2013
Revised: January 27, 2014
Accepted: April 9, 2014
Published online: June 26, 2014

Primary percutaneous coronary intervention (PPCI) is the preferred reperfusion therapy for patients presenting with ST-segment elevation myocardial infarction (STEMI) when it can be performed expeditiously and by experienced operators. In spite of excellent clinical results this technique is associated with longer delays than thrombolysis and this fact may nullify the benefit of selecting this therapeutic option. Several strategies have been proposed to decrease the temporal delays to deliver PPCI. Among them, prehospital diagnosis and direct transfer to the cath lab, by-passing the emergency department of hospitals, has emerged as an attractive way of diminishing delays. The purpose of this review is to address the effect of direct transfer on time delays and clinical events of patients with STEMI treated by PPCI.
Core tip: Primary angioplasty has emerged as the preferred reperfusion modality for patients with ST-segment elevation myocardial infarction. However, this treatment is associated with longer delays. Several strategies have been proposed to overcome these drawbacks. This review aimed to highlight the effect of a direct transfer strategy on time delays reduction and in the prognosis of this subgroup of patients.
---
Citation: Estévez-Loureiro R, López-Sainz &, Pérez de Prado A, Cuellas C, Calviño Santos R, Alonso-Orcajo N, Salgado Fernández J, Vázquez-Rodríguez JM, López-Benito M, Fernández-Vázquez F. Timely reperfusion for ST-segment elevation myocardial infarction: Effect of direct transfer to primary angioplasty on time delays and clinical outcomes. World J Cardiol 2014; 6(6): 424-433
---
INTRODUCTION
Primary percutaneous coronary intervention (PPCI) is the current preferred strategy to treat ST-segment elevation myocardial infarction (STEMI) when performed in a timely-fashion and by experienced operators. This technique has yielded superior results over thrombolytic therapy even when long transfer distances are accomplished[1-6].
It has been demonstrated a relevant prognostic role of reperfusion delays in STEMI and both door-to-balloon and total ischemic time have been linked to increasing mortality[7-9]. Current guidelines recommend that door-to-balloon delay must be inferior to 90-120 min[10,11]. However, time delays to deliver PPCI are usually longer than recommended in practice guidelines[12,13] and this may nullify the advantages of mechanical reperfusion over lysis[14,15]. To overcome this problem, several strategies have been proposed[16-18] and national efforts have been claimed to address all organizational issues either in United States or in Europe[19,20].
Among these strategies, direct transfer from the field, bypassing the emergency department, to the catheterization laboratory has emerged as a safe and effective protocol for minimizing PPCI-related delays[21-28]. We aimed to review the current evidence regarding the effect of DT on time delays and on clinical outcomes.
TIME EFFECT IN REPERFUSION THERAPY
Experimental models have clearly shown that there is a close relationship between the extension of myocardial necrosis and the time elapsed since the coronary artery occlusion[29-31]. The myocardial damage extends as a "wavefront phenomenon" from the subendocardium to the subepicardium and the amount of muscle that can be saved by reperfusion is related to the time that flow can be restored[32].
In the clinical setting, this relationship was evident in the first studies where a reperfusion method was tested: the thrombolytic therapy. The GISSI trial compared the use of streptokinase against placebo in patients with STEMI and less than 12 h from symptom onset. The overall results showed a net clinical benefit of the thrombolytic therapy[33]. But when results were divided between time delay categories the significant benefit was observed only in those patients that received the lytic in the first 6 h since the start of the symptoms. This finding was subsequently confirmed in the fibrinolytic therapy trialists' analyses where all studies including > 1000 STEMI patients and randomized to thrombolytic or placebo were included[34]. This metaanalysis showed that there was a linear relationship between the time to lytic therapy and the benefit in terms of mortality. The benefit was greater in the first hour (35 lives saved/1000 patients treated) and progressively decline every hour until 12 h since symptom onset. It was calculated that the loss of benefit of every hour of delay was 1.6 lives per every 1000 patients treated. No survival benefit was observed for those patients randomized after 12 h. However, this concept was challenged in a similar analysis but with more studies included by Boersma et al[35] (22 studies, every study with > 100 patients randomized). Authors showed that this time-survival relationship with lytics was better represented by a non-linear regression curve. Survival benefit was maximal in the first two h and thereafter it suffered a steep decline, maintaining the benefit until 12 h of delay.
The relationship between time delays and mortality was as well observed in the setting of PPCI. To assess this association two time intervals have been defined: time to treatment (TTT, interval elapsed between symptom onset and mechanical reperfusion) and door-to-balloon (DTB, time from arrival to interventional hospital and mechanical reperfusion). Both time intervals have been linked to mortality in STEMI patients treated by PPCI. De Luca et al[9] showed that every 30 min of delay in the delivery of PPCI increased the mortality by 7.5%. Cannon et al[7] analyzing the data from the NRMI-2 registry demonstrated as well that the DTB interval was associated with an increasing mortality, above all when it was greater than 120 min. This fact was confirmed subsequently in a more contemporary analysis of the NRMI-3 and 4 registries, noting that a DTB interval > 90 min was associated with worse prognosis[8]. However, several publications have addressed the issue that the time delay effect is related to the risk profile of the patients. In this sense, those patients exhibiting high risk features [anterior wall myocardial infarction (MI), previous MI, advanced Killip class, data of hemodynamic instability], those presenting very early after symptom onset (< 2-3 h) and those in cardiogenic shock, time delays play a key role in their prognosis. On the other hand, those patients of low risk or presenting late are less affected by the delays in reperfusion[36-39].
The aforementioned data allowed the establishment in the practice guidelines the recommended time intervals to deliver PPCI: a DTB time of ≤ 90-120 min[10,40,41]. If mechanical reperfusion cannot be achieved in this time frame, then a selection of thrombolytic therapy might be advisable. However, with the growing evidence of PPCI being superior to lytic therapy in terms of mortality and cardiac events, this mode of reperfusion rapidly gained adoption in the medical community[1]. Notwithstanding, it was rapidly pointed out that the widespread use of PPCI was translated into the fact that most of the patients received their reperfusion treatment out of the time schedule proposed by guidelines. In an analysis of the NRMI-4 registry, Nallamothu et al[12] showed that only 4.2% of patients treated by means of PPCI had a DTB time of less than 90 min. In a more recent analysis by Chakrabarti, including as well transferred patients form non-PPCI hospitals, only 9.9% of patients were into the boundaries of practice guidelines[13]. In Europe, even with a more organized system, delays are as well longer than suggested. Moreover, the retardation induced by the system of care is an independent factor associated with worse prognosis[42]. Several retrospectives studies have tried to elucidate the exact delay with PPCI which will nullify the clinical benefit compared to thrombolysis[14,15,43,44]. This time frame has varied from 60 to 120 min, but all studies have limitations inherent to post-hoc analysis and registries. Therefore, the exact delay assumable is still elusive and, moreover, it may depend on the risk profile of the individual patient[43,45]. Given the evidence supporting the benefit of PPCI over thrombolysis (even though when the patient should be transferred from a non-PPCI facility[6], and likely related to a more stable effect of reperfusion[46,47]) most of efforts of national societies is to implement STEMI networks well organized and strategies in order to minimize delays for a timely PPCI[19,20,48-50].
STRATEGIES TO REDUCE TIME DELAYS IN STEMI NETWORKS
Taking the previous information into account, several efforts have been claimed to reduce the delays involved in the delivery of PPCI and there have been conducted studies to address the strategies associated with the greater reductions in time delays performing PPCI. Most of these studies have been conducted in United States through surveys to hospitals across the country and through analysis of how top hospitals develop their programs of PPCI[16,17,51-53]. The most comprehensive analysis of all studies published has been reported by Bradley et al[18]. Authors conducted a survey in 365 hospitals of United States trying to identify the independent predictors of lower DTB time. In their results 6 strategies were significantly associated with faster door-to-balloon interval: (1) Having an emergency physician activating the catheterization laboratory; (2) Having a single call to a central page operator activate the laboratory; (3) Having the emergency department activate the catheterization laboratory while the patient is en route to the hospital; (4) Expecting staff to arrive in the catheterization laboratory within 20 min after being paged; (5) Having an attending cardiologist always on site; and (6) Having staff in the emergency department and the catheterization laboratory use real-time data feedback.
Interestingly, the use of prehospital electrocardiogram (ECG) was not associated with lower delays in the overall population. However, this strategy was associated with significantly lower time intervals if the emergency medical system activated the cath lab team while the patient was on route to the hospital. Simply diagnosing STEMI in the prehospital setting, activate the interventional team and move the patient directly to the catheterization theater avoiding the emergency department or the coronary care unit is what we call direct transfer strategy (DT).
DT IN PPCI
In recent years there have been several studies that have investigated the association of DT for PPCI with shorter time delays in the delivery of reperfusion. The publications differ in their geographic location, method of ECG interpretation, distance between the reference point and the cath lab and the definitions of the different intervals analyzed[21-26,28,54-63]. Furthermore, it is noteworthy that there is no randomized study on the subject and the evidence that we have rests on observational studies. That is why the results are heterogeneous and difficult to compare.
Role of direct transfer on time delays
The results of the main studies regarding the effect of DT on time delays in PPCI are summarized in Table 1.
| | | | | | |
| --- | --- | --- | --- | --- | --- |
| n | DTB | TTT | FP | Staff | Ref. |
| 161 (DT 13) | 87 vs 168 | - | 14% | Physician | [24] |
| 658 (DT 25.2) | - | 146 vs 191 | - | Physician | [25] |
| 401 (DT 59.9) | 124 vs 154 (group PPCI) | - | - | Paramedics | [55] |
| 301 (DT 35.8) | 74 vs 116 | 150 vs 203 | 7% | Paramedics (teletransmission) | [28] |
| 344 (DT 39.2) | 69 vs 123 | 158 vs 230 | - | Paramedics | [21] |
| 1437 (DT 42.9) | 83 vs 103 | 150 vs 200 | - | Paramedics (teletransmission) | [26] |
| 581 (DT 78) | 69 vs 118 | 149 vs 219 | - | Paramedics (computed algorithm) | [61] |
| 1194 (DT 21) | 102 vs 125 | 189 vs 259 | 4.7% | Physician | [27] |
| 1859 (DT 23) | 105 vs 122 | 185 vs 255 | - | Physician | [67] |
The most relevant publications in terms of number of patients, methodology and results are those published by Le May et al[21], Pedersen et al [26], Dieker et al[61] and our group[27] . Le May et al[21] analyzed the effect of DT in 344 patients with STEMI treated in the metropolitan area of Ottawa. The farthest distance to the PPCI hospital was 59.5 km. In this publication 39.2% of patients were directly transferred to the catheterization laboratory. Notably, for various reasons 2% received fibrinolytic therapy. DT significantly shortened the time delays, with median DTB of 69 min compared to 123 min in the standard admission. A significant reduction in total ischemic time (median 158 min vs 230 min, P < 0.001) was also observed. Ambulances were handled by paramedics. Pedersen et al[26] analyzed their records of STEMI from 2005 to 2008 and included in the analysis 1437 patients of whom 42.9% were transferred directly to the catheterization laboratory. The study region covers a large population nucleus but investigators stress that the maximum transfer distance was 10 km and 90% within 60 min of the interventional hospital. For DTB interval definition the first medical contact instead of the arrival to the interventional hospital was selected. This is in accordance with the new recommendations for measuring these intervals when transferred patients from non-PCI facilities are included[64]. Direct transfer patients consistently showed less delay compared to the conventional admission strategy in the DTB interval (median 83 min vs 103 min, P < 0.001) and in the TTT time (median 150 min vs 200 min, P < 0.001). Sixty-one percent of patients were in the range of DTB < 90 min recommended by the guidelines. In this study, ambulances were equipped with ECG teletransmission and were staffed by paramedics. Dieker et al[61] analyzed 581 patients from a region of Holland with transport distance of 77 km. DT was associated with lower time delays and a higher proportion of patients in the recommended time frame of guidelines (82% vs 23%, P < 0.001). In the publication by our group[27], we studied the role of DT in 1194 patients with STEMI who underwent PPCI at our regional STEMI program. From that group, 255 (21%) experienced DT from the field. It must be stressed that our network has its farthest point of reference located 154 km from the PPCI-hospital. Our data showed that DT was as well associated with lower DTB and total ischemic time compared to those referred through emergency department route. And this finding was consistent for both patients form the catchment area of the PPCI-hospital and for that form catchment areas of non-PPCI hospitals. Furthermore, the longer the distance to the PPCI the greater the time saved by this strategy. Our results confirm and expand the previous observations to those regions with a STEMI network involving large transfer distances.
Role of direct transfer on clinical outcomes
While it is clear that DT reduces temporal delays, it is still more debatable if this strategy is associated with better clinical outcomes. Since the overall ischemic time is diminished a greater myocardial salvage is expected and this should impact prognosis of patients. However, we must take into account that publications of DT are retrospective and observational and the association between DT and clinical events may be biased. Moreover, in the early publications of the topic DT was associated with a negative impact on survival. In the publication of So et al[55] DT group showed significantly higher mortality (13.3% vs 5%, P = 0.001) despite having less delay to reperfusion. But, we should highlight that these figures of mortality are unadjusted and DT patients presented cardiogenic shock more frequently and had higher percentage of intracranial hemorrhage. And even in 2009 a systematic review of studies published to that date with 980 patients concluded that there was still insufficient evidence to confirm that DT improved prognosis[65]. However, this meta-analysis did not include the most recent studies and pooled together trials where fibrinolytic therapy and primary angioplasty were used. These features may explain why this meta-analysis failed to show benefit of DT on prognosis.
However, the most contemporary researches have changed this tendency and consistently pointed to a net clinical benefit with this strategy. In the study by Steg et al[57], avoiding the emergency department was associated with lower early mortality (4.9% vs 8.6%, P = 0.01), being the Emergency service use a factor associated with a worse prognosis (OR = 1.67). At one year there was still benefit in mortality in the direct admission group (11.5% vs 15.6%, P < 0.05). In a post-hoc analysis of the On-Time trial[23] patients in the DT group had a significant improvement in ejection fraction, less ventricular dysfunction [left ventricular ejection fraction (LVEF) < 40%] and lower 30-d mortality (1% vs 3.2%), although this finding was not statistically significant (P = 0.2). However at 1 year, DT was associated with lower mortality (2.1% vs 5.6%, P = 0.04), being direct admission an independent predictor of better clinical outcome (OR = 0.3). Pedersen et al[26] were the first researchers to report an independent clinical benefit of DT. Authors showed a significant reduction in the composite endpoint of death or non-fatal myocardial infarction at 1 year (HR = 0.67). On the other hand, this study present the limitation that the individual figures of the clinical variables were not provided and they found no decrease in both "end points" individually. In the ACTION registry[62] , a registry regarding the use of prehospital ECG, which included patients not undergoing PPCI, a trend towards lower adjusted hospital mortality in prehospital diagnosis group was as well observed (6.7% vs 9.5%, OR = 0.80, P = 0.06). Dieker et al[61] observed a lower mortality in the group of DT (7% vs 13%, P = 0.03). However the mortality reported was unadjusted and DT group were younger, with less diabetes mellitus and lower percentage of previous myocardial infarctions. In a novel study by Le May et al[66] DT strategy was analyzed in 1389 patients. Death at 180 days occurred in 5.0% of patients transferred directly from the field, and in 11.5% of patients transported from the field to a non-PPCI-capable hospital (P < 0.0001). After adjusting for baseline characteristics mortality remained lower among DT group (OR = 0.52, 95%CI: 0.31-0.88, P = 0.01).
The most exhaustive analysis of the effect of DT on mortality was carried out by our group in two separate reports analyzing short (30-d) and long-term mortality (after a median follow-up of 2.4 years)[27,67]. In the first study, we analyzed the effect of DT on 30-d mortality in 1194 patients. Patients transported directly had lower 30-d mortality (2.7% vs 6.8%, P = 0.017). After adjustment in a multivariable logistic regression analysis, DT remained as an independent predictor for improved outcome (OR = 0.33, 95%CI: 0.12-0.92). Subsequently we reported the effect of DT in a larger cohort and with the longest follow-up in the literature. In a multivariable Cox regression model the DT strategy persisted as an independent variable associated with a better prognosis (HR = 0.71, 95%CI: 0.50-0.99) (Figure 1).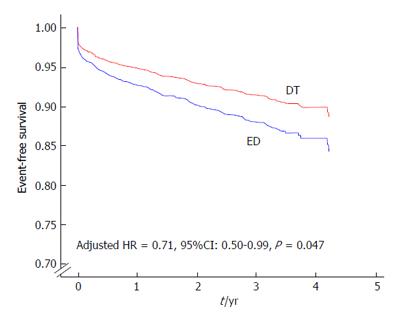 Figure 1 Cox regression survival curves.
There is an adjusted survival benefit of direct transfer (DT). With permission, from reference [67]. ED: Emergency department.
And finally, as we previously stated, the effect of time delays may be related to risk profile of patients. Therefore, the effect of DT on mortality might be influenced as well by some of the baseline characteristics. In this sense, Ortolani found a positive effect on survival of patients with cardiogenic shock who experienced direct transfer[25,59] and our group found a suggested better outcomes in those patients with cardiogenic shock, diabetes mellitus, anterior wall myocardial infarction and those presenting ≤ 2 h from symptom onset (Figure 2)[67]. The evidence of the effect of DT on clinical events is summarized in Table 2.
| | | | | |
| --- | --- | --- | --- | --- |
| n | Short-term mortality | Late mortality | Adjusted mortality | Ref. |
| 401 (DT 59.9) | 13.3% vs 5%, P = 0.001 | - | - | [55] |
| 1204 (DT 66.9) | 4.9% vs 8.6%, P = 0.01 | 11.5% vs 15.6%, P < 0.05 | OR = 1.67 use ED | [57] |
| 467 (DT 44.7) | 1% vs 3.2%, P = NS | 2.1% vs 5.6%, P = 0.04 | OR = 0.3 if DT | [23] |
| 344 (DT 39.2) | 3.7% vs 5.7%, P = 0.3 | 6% vs 7.7%, P = 0.67 | - | [21] |
| 1437 (DT 42.9) | - | - | HR = 0.67 at 1 yr for death/reMI in DT | [26] |
| 7098 (DT 27.4) | 6.7% vs 9.5%, P = NS | - | OR = 0.80, P = NS in DT | [62] |
| 581 (DT 78) | 7% vs 13%, P = 0.03 | - | - | [61] |
| 1389 (DT 59.2) | 3% vs 8.1%, P > 0.001 | 5% vs 11.5%, P < 0.001 | OR = 0.52 at 180 d | [66] |
| 1194 (DT 21) | 2.7% vs 6.8%, P = 0.017 | 9% vs 16%, P = 0.005 | OR = 0.33 at 30 d | [27] |
| 1859 (DT 23) | 3% vs 6%, P = 0.049 | 9.4% vs 14.4%, P = 0.008 at a median 2.4 yr | HR = 0.71 at 2.4 yr | [67] |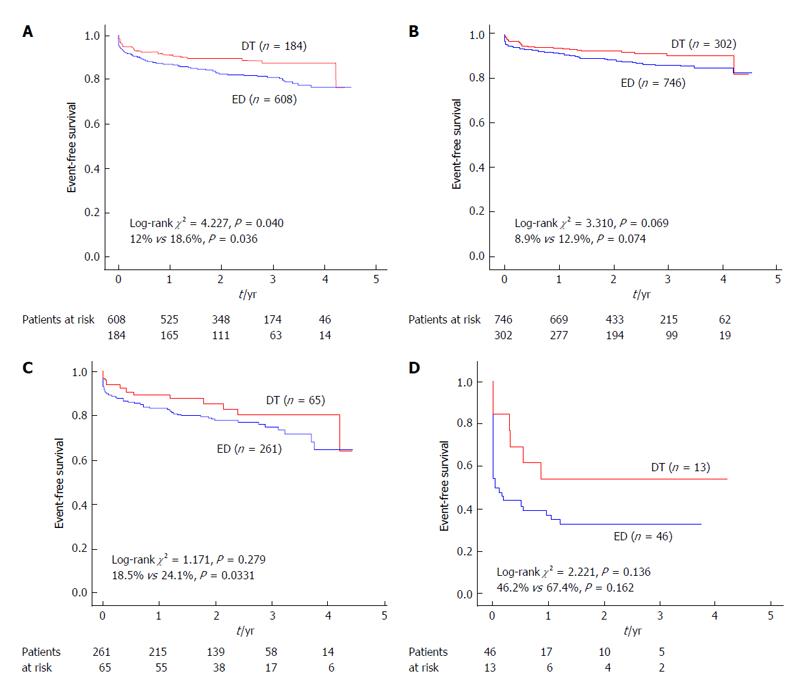 Figure 2 Kaplan-Meier survival curves for the different subgroups of higher risk.
There is a trend to prognostic benefit in all subgroups that reaches significance in the group of anterior-wall myocardial infarction (MI). With permission, from reference [67]. A: Anterior wall MI; B: Early presenters; C: Diabetic patients; D: Cardiogenic shock. DT: Direct transfer; ED: Emergency department.
There are various reasons that may explain this survival benefit. First, patients have an earlier contact with the system, which provides a higher possibility of being in contact with staff that can deliver cardiac defibrillation and resuscitation if necessary, since it has been estimated that 50% of deaths occur in the prehospital phase[68]. It is pertinent to recall that it has been observed consistently in the literature that the time from onset of symptoms to the contact with medical system is lower in DT group. It is possible that the DT group may represent a lower risk profile than those who come or are derived through emergency departments. They usually are younger, probably with clearer symptoms and possibly with a more definite ECG. This fact was shown previously[69] and it is for this reason that when the effect of DT on mortality is assessed, it must be adjusted by this and other relevant variables. Despite this adjustment, the DT is still significantly associated with lower mortality. Second, it is clear that this strategy consistently reduces time delays and following the aphorism that "time is muscle" it is logical to find a prognostic benefit in these patients. The benefit of reperfusion regarding myocardial salvage is maximal in the first h of STEMI[70] and this strategy allows greater diagnosis and treatment in the early stages, therefore driving to a more preserved LVEF. Moreover, the earlier treatment of patients with STEMI has been linked to a better degree of "myocardial blush"[71] and has also reported to significantly increase the percentage of thrombolysis in myocardial infarction 3 flow after PPCI[61], both facts associated with improvement in LV function and prognosis. A recent publication has challenged the concept that lower DTB times are associated with lower in-hospital mortality[72]. However, the retrospective nature of the study, the exclusion of transferred patients, the short DTB times and follow-up and the unadjustment for time from symptom onset to presentation may have affected the results. Since DT decreases all temporal delays in PPCI and not only DTB, we believe that this fact impacts positively the prognosis of patients. In addition, the prehospital diagnosis allows early initiation of antiplatelet and antithrombotic treatment. Drugs such as aspirin, clopidogrel, heparin and IIb/IIIa inhibitors have been associated with an increased permeability of the infarct related artery preangioplasty[73-76], a fact that has been associated with a better prognosis[77].
CURRENT LIMITATIONS OF THE DT STRATEGY
This strategy, although in our view of enormous clinical benefit, has several limitations. First, it can only be applied in areas where a well-organized STEMI network is present. Second, despite having shown that the prehospital diagnosis by emergency medical system (EMS) ambulances and subsequent activation of the interventional cardiology team reduces delays, the use of these resources is underutilized. The main reason is probably related to the difficulty of general population awareness to call the EMS when there is a case of chest pain suggestive of myocardial infarction. Third, despite activating the EMS ambulances, not all of them have the capability to perform and transmit an ECG. In the ACTION registry[62] done on more than 12000 patients, only 58.7% of the patients analyzed had contacted the EMS and only 27.4% had a prehospital ECG available. And together with the low frequency of prehospital ECG there is still the problem of its interpretation, raising the possibility of false activations of the cath lab with the consumption of unnecessary resources. In the literature false positive activations of the PPCI team with DT strategy have ranged from 0% to as high as 17%[54]. However, when a STEMI network is well organized the false positive referrals from the EMS ambulances performing DT do not differ from those observed in the PPCI-hospitals and it is not associated with an increase in mortality[78]. And finally, it is remarkable that, despite the benefits demonstrated and that is recommended in practice guidelines[41], this strategy is underutilized in most of angioplasty networks. In a recent study in Canada[79], and more than 15000 paramedics surveyed, only 18% (95%CI: 10%-25%) of EMS operators had protocols allowing the bypass of emergency departments in case of STEMI. We must work to increase the use of a technique that can offer prognostic benefits.
CONCLUSION
PPCI is the preferred reperfusion strategy in patients experiencing STEMI. On the other hand, it is associated with longer time delays and most of patients do not meet the DTB limit recommended in practice guidelines. DT has emerged as a strategy that has consistently proved to reduce time delays and that is associated with an improved survival. However, it is still underutilized in most STEMI networks, so efforts must be done to increase the percentage of utilization.
P- Reviewers: Dominguez-Rodriguez A, Liu PY, Lee TM S- Editor: Gou SX L- Editor: A E- Editor: Liu SQ