World J Gastrointest Surg.
Oct 27, 2017;
9(10): 209-213
Published online Oct 27, 2017. doi: 10.4240/wjgs.v9.i10.209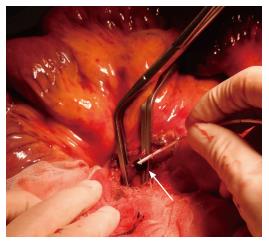 Figure 3 Surgical removal of superior mesenteric vein thrombi with a Fogarty catheter.
A Fogarty catheter was inserted from superior mesenteric vein proximal to the ileocolic vein (arrow). The thrombus was removed and blood flow was confirmed.
---
Citation: Hirata M, Yano H, Taji T, Shirakata Y. Mesenteric vein thrombosis following impregnation via in vitro fertilization-embryo transfer. World J Gastrointest Surg 2017; 9(10): 209-213
---