Copyright
©The Author(s) 2016.
Published by Baishideng Publishing Group Inc. All rights reserved.
World J Gastrointest Surg.
Mar 27, 2016;
8(3): 212-221
Published online Mar 27, 2016. doi: 10.4240/wjgs.v8.i3.212
Duodenal adenocarcinoma: Advances in diagnosis and surgical management
Jordan M Cloyd, Department of Surgical Oncology, University of Texas MD Anderson Cancer Center, Houston, TX 77030, United States
Elizabeth George, Brendan C Visser, Department of Surgery, Stanford University, Stanford, CA 94305, United States
Author contributions: Cloyd JM, George E and Visser BC contributed solely to this manuscript.
Conflict-of-interest statement: The authors report no relevant conflicts of interest.
Open-Access: This article is an open-access article which was selected by an in-house editor and fully peer-reviewed by external reviewers. It is distributed in accordance with the Creative Commons Attribution Non Commercial (CC BY-NC 4.0) license, which permits others to distribute, remix, adapt, build upon this work non-commercially, and license their derivative works on different terms, provided the original work is properly cited and the use is non-commercial. See: http://creativecommons.org/licenses/by-nc/4.0/
Correspondence to: Jordan M Cloyd, MD, Department of Surgical Oncology, University of Texas MD Anderson Cancer Center, 1400 Pressler St, FCT 17.6055, Houston, TX 77030, United States. jmcloyd@mdanderson.org
Telephone: +1-713-7920029 Fax: +1-713-7453039
Received: August 26, 2015
Peer-review started: August 30, 2015
First decision: October 27, 2015
Revised: November 2, 2015
Accepted: December 13, 2015
Article in press: December 15, 2015
Published online: March 27, 2016

Duodenal adenocarcinoma is a rare but aggressive malignancy. Given its rarity, previous studies have traditionally combined duodenal adenocarcinoma (DA) with either other periampullary cancers or small bowel adenocarcinomas, limiting the available data to guide treatment decisions. Nevertheless, management primarily involves complete surgical resection when technically feasible. Surgery may require pancreaticoduodenectomy or segmental duodenal resection; either are acceptable options as long as negative margins are achievable and an adequate lymphadenectomy can be performed. Adjuvant chemotherapy and radiation are important components of multi-modality treatment for patients at high risk of recurrence. Further research would benefit from multi-institutional trials that do not combine DA with other periampullary or small bowel malignancies. The purpose of this article is to perform a comprehensive review of DA with special focus on the surgical management and principles.
Core tip: Duodenal adenocarcinoma is a rare but aggressive malignancy. Complete surgical resection is recommended when technically feasible. Pancreaticoduodenectomy or segmental duodenal resection may be employed, depending on the tumor location, and either are acceptable options as long as negative margins and adequate lymphadenectomy can be achieved. Although specific data are limited, adjuvant chemotherapy and radiation should be considered for patients at high risk of recurrence.
---
Citation: Cloyd JM, George E, Visser BC. Duodenal adenocarcinoma: Advances in diagnosis and surgical management. World J Gastrointest Surg 2016; 8(3): 212-221
---
INTRODUCTION
Although the majority of small bowel adenocarcinomas arise in the duodenum, duodenal adenocarcinoma (DA) still represents less than 1% of all gastrointestinal cancers[1,2]. Not surprisingly, given the rarity of the disease, there is limited data to guide treatment decisions. Early studies grouped DA with other periampullary tumors (pancreatic, ampullary, distal bile duct) when discussing their management options. However, in general, DA has a more favorable outcome. For example, compared to some other periampullary malignancies, DA is more likely to be amenable to curative resection and has more favorable long term outcomes[3]. As a result, treatment strategies have tended to favor aggressive surgical resection. The purpose of this article is to provide a comprehensive review of the epidemiology, presentation, diagnosis, management and prognosis of DA with a special emphasis on surgical principles.
Epidemiology
Small bowel malignancies are relatively rare, accounting for only 2% of all gastrointestinal cancers in the United States[4]. Among small bowel tumors, most malignancies arise from the ileum, followed by the duodenum and lastly the jejunum. While most tumors of the ileum are neuroendocrine in origin, adenocarcinoma is the most common duodenal cancer[4-6]. One large population-based analysis found the duodenum to be the location of 55.7% of adenocarcinomas of the small bowel[5]. The majority of DA arise in the second portion of the duodenum, followed by D3/D4, with cancers of the first portion of the duodenum, especially the duodenal bulb, extremely rare[7,8].
The causative factors for DA have not been clearly identified. Dietary factors, such as increased intake of bread, pasta, sugar and red meat or reduced intake of fruits and vegetables, are risk factors for small bowel adenocarcinoma (SBA) as they are for colorectal cancer[9]. Ingestion of alcohol, coffee and use of tobacco also seem to be risk factors[10]. Nevertheless, the strength of these associations are small and the majority of cases of DA are not associated with any known causative agents. However, duodenal adenomas, such as those that occur in familial adenomatous polyposis (FAP) and Gardner syndrome, are associated with elevated risk of DA[11,12]. Similarly, patients with duodenal polyps are also at increased risk[13]. Although less investigated than in colon cancer, the adenoma-carcinoma sequence is still largely accepted in SBA as well[14,15].
CLINICAL PRESENTATION
Since patients do not typically present until tumors have grown to sufficient size to cause symptoms, the diagnosis of DA is difficult and often delayed. When symptoms do appear they are nonspecific and include abdominal pain, nausea, vomiting, fatigue, weakness, and weight loss. Anemia, gastrointestinal obstruction and jaundice are symptoms associated with advanced disease. Abdominal pain is the most common presenting symptom, associated with 56% of cases[16]. As a result of these delays in diagnosis, many cases of DA are not resectable at presentation due to local and distant invasion. Less often, patients undergoing screening programs may be found to have early DA or even adenoma with dysplasia before symptoms begin[17].
DIAGNOSIS
Imaging
Since early symptoms are typically vague, most patients initially undergo either esophagogastroduodenoscopy or cross sectional imaging. Endoscopy is the preferred diagnostic modality as it allows simultaneous visualization and biopsy. Evaluation by an experienced endoscopist is critical as examination of the entire duodenum is required. While lesions in the third or fourth portion of the duodenum can be technically challenging to view endoscopically, the use of extra-long fiber optic scopes may be helpful[18]. Lesions in the distal duodenum may be missed on initial endoscopic evaluation, resulting in further diagnostic delays. Careful attention to proximity of pertinent structures such as the ampulla of Vater should be given. Endoscopic ultrasound may be performed simultaneously to evaluate local extension or lymphadenopathy. In addition, it may facilitate tissue diagnosis when attempts at luminal biopsy are not successful. Upper gastrointestinal series with oral contrast may facilitate precise localization, evaluate for obstruction and rule out other causes of patients' symptoms. Contrast-enhanced computed tomography is important for assessing involvement of nearby structures, determining resectability and planning surgery. In cases without a confirmed diagnosis, sensitive but non-specific radiographic features suggestive of malignancy include an exophytic or intramural mass, central necrosis and ulceration[19]. While the role of conventional abdominal ultrasound is limited, especially for tumors < 2 cm in size, lesions appear as irregularly marginated hypoechoic masses[20].
Pathology
Diagnosis of DA requires a thorough histopathologic examination of tissue specimens. Adenocarcinoma of gastric, pancreas, distal bile duct and ampullary origin must be ruled out. The degree of associated dysplasia should be assessed. Among extra-ampullary DA, several distinct subtypes have been described: intestinal, gastric, pancreaticobiliary and indeterminate (Table 1)[21,22]. Interestingly, intestinal type DA has been associated with more favorable prognosis compared to other histological subtype[22-24]. Variable expression of the classic cytokeratin markers CK7 and CK20 have made them largely unhelpful in diagnosing DA[25,26]. However, CDX2, a sensitive marker for colorectal carcinoma, is more often expressed in DA and SBA[25,27]. Expression of Her2 in DA has been inconsistently reported in the literature[25,28], perhaps because expression may be limited to gastric subtypes of DA[22]. Conversely, Overman et al[25] found EGFR and VEGF expression rates of 71% and 91%, respectively, in a large series of SBA which was primarily comprised of DA.
| | | | | |
| --- | --- | --- | --- | --- |
| Phenotype | Histological characteristics | Histologically similar | Immunophenotype markers | Prognosis |
| Intestinal | Tubular/cribiforming glands lined by columnar neoplastic cells | Colonic adenocarcinoma | MUC2, CD10, CDX2 | + |
| Gastric | Tubular/papillary proliferation with foveolar or pyloric-type differentiation | Gastric adenocarcinoma | MUC5AC, MUC6 | - |
| Pancreaticobiliary | Simple glands of cuboidal/columnar cells with rounded pleomorphic nuclei; prominent desmoplastic stroma | Pancreatic and Extrahepatic bile duct adenocarcinoma | MUC1 | - |
| Indeterminate | Poor differentiation | None | MUC1 | - |
Staging
Staging of DA is based on the 7th edition of the American Joint Committee on Cancer's TNM staging system that was published in 2010 (Table 2)[29]. Accurate nodal staging depends on adequate lymphadenectomy at the time of surgery[30,31].
Primary tumor (T)
Regional lymph nodes (N)
Distant metastases (M)
Tx - Primary tumor cannot be assessed
Nx - Regional lymph nodes cannot be assessed
Mx - Distant metastases not assessed
Tis - Carcinoma in situ
N0 - No regional node metastasis
M0 - Distant metastases not present
T1a - Tumor invades lamina propria
N1 - Metastasis in 1-3 regional nodes
M1 - Distant metastases present
T1b - Tumor invades submucosa
N2 - Metastasis in 4 or more regional nodes
T2 - Tumor invades muscularis propria
Stage grouping
T3 - Tumor invades into the subserosa
Stage 0
Tis
N0
M0
Stage I
T1-T2
N0
M0
T4 - Tumor perforates visceral peritoneum; or invades pancreas/bile duct
Stage IIA
T3
N0
M0
Stage IIB
T4
N0
M0
Stage IIIA
Any T
N1
M0
Stage IIIB
Any T
N2
M0
Stage IV
Any T
Any N
M1
ADJUVANT THERAPY
Chemotherapy
Unfortunately, little data is currently available to inform the choice of adjuvant chemotherapy following complete surgical resection. The ESPAC-3 trial was a phase 3, multi-institutional, randomized controlled trial comparing observation vs adjuvant fluorouracil vs adjuvant gemcitabine in patients with periampullary cancers (ampullary, bile duct, duodenal or other) who underwent PD with R0 or R1 resection status. Although median survival was not significantly different between the observation and adjuvant therapy groups in the primary analysis (35 mo vs 43 mo), adjuvant chemotherapy was associated with improved OS after multivariable regression (HR = 0.75, 95%CI: 0.57-0.98)[67]. Importantly, periampullary DA comprised a small subset of this study's population and extra-ampullary DA was not included.
Given its rarity, most therapeutic studies have traditionally combined DA with either other periampullary cancers or small bowel adenocarcinomas. For this reason, chemotherapeutic regimens are not standardized, but increasingly DA is being treated similar to colorectal adenocarcinoma with oxaliplatin-based chemotherapy. Given the tendency of this disease to recur systemically, the role of adjuvant chemotherapy warrants further investigation. Current practice at many centers is to treat patients with high risk features (e.g., nodal metastasis) with oxaliplatin-based chemotherapy[50].
Definitive, or palliative, chemotherapy should be offered to all eligible patients with metastatic or unresectable disease. A phase II prospective trial studied 30 patients with metastatic or unresectable small bowel or ampullary adenocarcinoma who received capecitabine and oxaliplatin and noted a 50% overall response rate, 10% complete response. Median time to progression was 11 mo with median overall survival 20 mo[68,69]. Patients should also be considered for clinical trials as appropriate.
Chemoradiation
The role of adjuvant radiotherapy in the treatment of DA is not well defined. No studies have demonstrated an effect on OS with the use of chemoradiotherapy (CRT). One small study of 14 patients from Johns Hopkins with node-positive DA treated with PD and adjuvant CRT (median dose of 50 Gy, concurrent 5-FU) resulted in improved local control compared with surgery alone (93% vs 67%)[70]. Similarly, a retrospective study of 32 patients from Duke University Medical Center was able to show modest improvement in local control (70% vs 49%) with adjuvant CRT[71]. Unfortunately, neither study showed that adjuvant chemoradiation contributed to improved overall survival: 5-year survival 44% vs 43%[70] and 44% vs 57%[71], respectively. Other retrospective series have shown similar results with improvements in locoregional control but not OS[72]. Nevertheless, this approach targeting improved locoregional control may make CRT particularly useful in patients with lymph node metastases. In a study of 122 patients at a single institution who underwent curative resection for DA, adjuvant CRT in patients with a higher prevalence of regional lymph node metastases was associated with a similar overall survival to that of a group of patients with limited or no nodal metastases who did not receive adjuvant therapy[50].
OUTCOMES
Short term
Surgery for DA can be associated with significant morbidity and mortality. Poultsides et al[50] in their contemporary series of PD at MSKCC, reported a postoperative morbidity rate of 35% and 30-d mortality rate of 2.4%. Solaini et al[48] published a postoperative complication rate of 40% and in-hospital mortality rate of 3.3% for all patients undergoing surgery for DA. In these studies, postoperative pancreatic fistulae (POPF) developed following PD in 14.0% and 10.6% of patients, respectively[48,50]. The impact of the type of resection on postoperative outcomes is controversial. Some have suggested that SR is associated with improved outcomes as it avoids the opportunity for POPF. Tocchi et al[13] reviewed their series of 47 patients undergoing surgery for DA and found SR to be associated with less postoperative morbidity, mortality and length of hospital stay. Bakaeen et al[44] found similar complication rates but shorter LOS in the patients undergoing SR. Other studies have failed to find an effect of surgery type on complication rates[43,48]. The occurrence of a postoperative complication may be associated with worse long term survival[73].
Long term
DA represents an aggressive cancer but in patients with resectable disease, long term outcomes are better than with other periampullary malignancies. In a retrospective study of 122 patients who underwent PD for DA over a 22 year period at MSKCC, ten-year OS was 41%[50]. A prospective cohort study of 150 patients from six United Kingdom hepatopancreaticobiliary centers undergoing curative intent surgery for DA from 2000-2013 found 1-, 3- and 5-year OS rates of 83.9%, 66.7% and 51.2%, respectively. Median disease-free survival was 53 mo[48]. A recent population-based study suggested worse outcomes with 5-year OS rates of 65.9%, 50.4%, 31.4%, and 11.9% for Stage I, II, III and IV, respectively (Figure 2)[49]. Patients with metastatic or unresectable disease have median survival that ranges from 2-8 mo[68,69,74,75].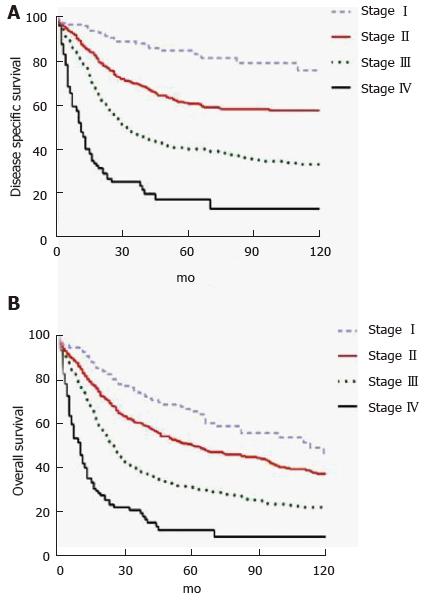 Figure 2 Stage-based disease free (A) and overall (B) survival for patients undergoing surgery for duodenal cancer based on seer data.
Used with permission: Cloyd et al[49].
Prognostic factors
Factors associated with worse outcome in DA include patient age, distant metastasis, lymph node metastasis, lymph node ratio, number of lymph nodes harvested, high tumor grade, tumor (T) stage, margin status, lymphovascular or perineural invasion, and overall cancer stage (Table 3). Lymph node metastasis remains one of the most important prognostic determinants[41,43,44,49-51,74,76-78]. In the largest single institution series of 122 patients who underwent PD for DA, the presence of lymph node metastases was the only independent predictor of decreased survival in multivariate analysis. Five-year survival for node negative (N0) patients was 68% compared to 17% in patients with N2 disease[50]. Another study calculated 3-year survival for node negative patients to be 87.5% compared to only 21% in patients with nodal disease[74]. LNR, the ratio of positive LNs to number of LNs excised, may be even a more accurate predictor of prognosis[2,31,49].
Ref.
Study period
Total No. of patients
No. of patients resected (%)
PD
5-year overall survivalafter resection (%)
Negative predictors of survival

---

Non-predictor
Univariate
Multivariate
Solaini et al[48]
2000-2013
178
150 (84.2)
132
43
T stage, grade, AJCC stage, perineural invasion, size, age
-
Lymphovascular invasion, nodal metastasis
Poultsides et al[50]
1984-2006
122
122 (100)
122
48
T stage, tumor grade
Tumor grade, positive margins, perineural invasion, nodal metastasis, vascular invasion
Nodal metastasis
Onkendi et al[79]
1994-2009
124
99 (79.8)
70
37
Tumor size, positive nodes, surgical approach, adjuvant therapy
-
T stage and pathologic grade
Cecchini et al[80]
1982-2010
169
103 (60.9)
87
42
T stage, nodal metastasis, grade, AJCC stage, lymphovascular invasion, size, age
-
Perineural invasion
Liang et al[77]
1993-2010
36
36 (100)
31
NA
T stage, grade, AJCC stage, lymphovascular invasion, perineural invasion, size
Age > 75, body weight loss, nodal metastasis
Nodal metastasis
Malleo et al[73]
2000-2009
37
25 (67)
25
711
T stage, nodal metastasis, AJCC stage, lymphovascular invasion, perineural invasion, size, age
-
Tumor grade, lack of post-operative complications
Zhang et al[16]
1995-2008
91
59 (65)
NA
491
T stage, grade, AJCC stage, lymphovascular invasion, perineural invasion, size, age
-
Nodal metastasis, positive margins
Han et al[81]
1990-2006
32
28 (88)
18
30
-
Positive margins
-
Struck et al[78]
1989-2006
30
30 (100)
25
332
Positive margins, T stage, adjuvant therapy
Nodal metastasis, stage
Lee et al[74]
1995-2007
53
28 (53)
26
44
Age, gender, weight loss, CA19-9, grade, tumor size
T stage, nodal metastasis, AJCC stage
Nodal metastasis
Hurtuk et al[82]
1984-2005
52
35 (67)
24
NA
Grade, positive margins, nodal metastasis, venous or perineural invasion
Stage T4, tumor size < 3.5 cm
-
Hu et al[47]
NA
43
28 (65)
11
27
-
Positive margins
-
Sarela et al[51]
1983-2000
137
72 (52.5)
56
711
Gender, grade, T stage
Age, nodal metastasis
Age, nodal metastasis
Tocchi et al[13]
1980-2000
47
25 (53)
9
23
T stage, grade, AJCC stage, lymphovascular invasion, perineural invasion, positive margins, size, age
-
Nodal metastasis
Ryder et al[83]
1957-1998
49
31 (63)
27
43
Nodal metastases, location in duodenum, type of resection, adjuvant chemoradiation
-
Tumor size, histologic grade, transmural invasion
Kaklamanos et al[43]
1978-1998
63
37 (59)
26
30
Age, gender, grade, T stage
Nodal metastasis
Nodal metastasis
Bakaeen et al[44]
1976-1996
101
68 (67)
50
54
Histologic grade, tumor size, location in duodenum, adjuvant chemoradiation
Age, weight loss, T stage, nodal metastasis, AJCC stage
Weight loss, positive margins, nodal metastasis, AJCC stage
Sohn et al[35]
1984-1996
55
48 (87)
35
53
Nodal metastasis, adjuvant chemoradiation, tumor size, histologic grade
Positive margins, segmental resection, tumor in third/fourth portion of duodenum
-
Sexe et al[76]
1987-1991
85
34 (40)
31
23
AJCC Stage
-
-
Rotman et al[84]
1978-1988
66
46 (70)
38
45
Gender, age, weight loss, jaundice, T stage, tumor size, pancreatic invasion nodal metastasis, location of metastatic nodes
-
-
Delcore et al[85]
1960-1990
35
28 (80)
21
60
-
GI bleeding, symptomatic > 4 mo, nodal metastasis
-
Barnes et al[40]
1967-1991
67
36 (54)
27
54
Nodal metastasis
Stage
Lowell et al[42]
1970-1991
17
17 (100)
8
45
-
First/second portion of the duodeum
-
Ouriel et al[33]
1950-1981
65
19 (29)
1
30
-
Histologic grade, nodal metastasis
-
CONCLUSION
Duodenal adenocarcinoma is a rare but aggressive malignancy. Because of the nonspecific symptoms it presents with and the difficulty in confirming a diagnosis, patients may often present with advanced disease. Nonetheless, aggressive surgical resection, when possible, affords the best chance at survival. The decision of whether to perform pancreaticoduodenectomy vs segmental resection depends on the location of the primary tumor as both are acceptable options as long as negative margins can be safely obtained. Lymph node positivity is one of the most important prognostic indicators and a wide lymphadenectomy should be routinely performed. Although data are limited guiding adjuvant therapy options, oxaliplatin-based chemotherapy is typically offered to high risk patients, such as those with positive lymph nodes. In some series, adjuvant radiation is associated with improved local control but no difference in overall survival. Previous research on DA has been limited by small sample sizes and single institutional design. Further research would benefit from multi-institutional trials that do not combined DA with other periampullary or small bowel malignancies.
P- Reviewer: Stift A, Tonelli F S- Editor: Qi Y L- Editor: A E- Editor: Wu HL