World J Gastrointest Surg.
Feb 27, 2016;
8(2): 106-114
Published online Feb 27, 2016. doi: 10.4240/wjgs.v8.i2.106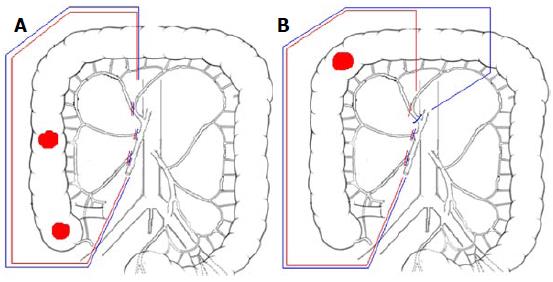 Figure 3 Schematic drawing illustrating the difference between extent of colon resection and lymph node harvesting between D3 right hemicolectomy accordingly to 2010 JSCCR guidelines (red lines) and complete mesocolic excision with central vascular ligation accordingly to Hohenberger's rules (blue lines).
A: Cancer located in the caecum or ascending colon; B: Cancer located in the right (hepatic) flexure.
---
Citation: Siani LM, Garulli G. Laparoscopic complete mesocolic excision with central vascular ligation in right colon cancer: A comprehensive review. World J Gastrointest Surg 2016; 8(2): 106-114
---