Copyright
©2012 Baishideng Publishing Group Co.
World J Diabetes.
May 15, 2012;
3(5): 94-104
Published online May 15, 2012. doi: 10.4239/wjd.v3.i5.94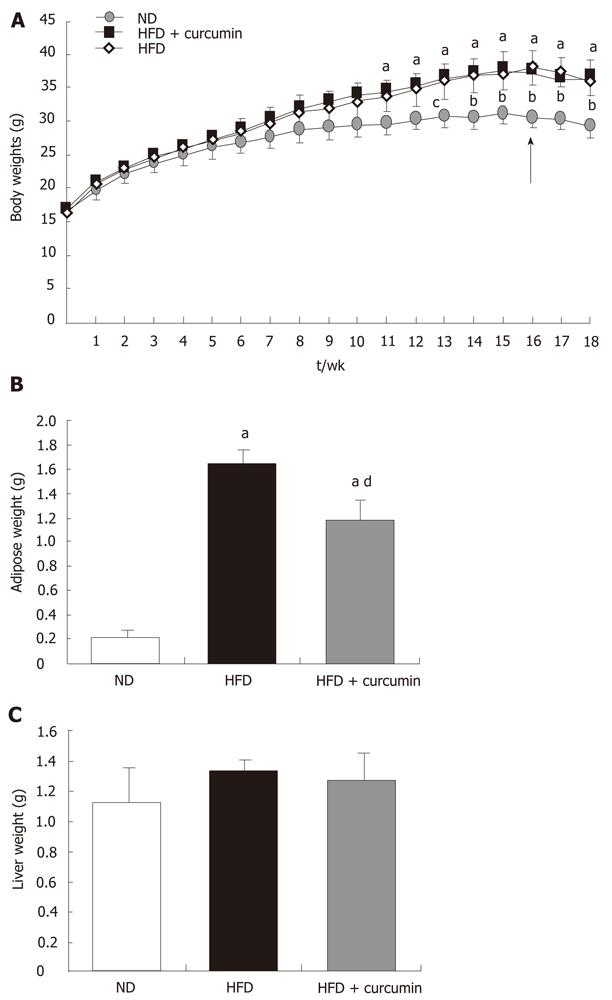 Figure 1 Effects of short term curcumin gavage on weights of whole body, epididymal fat tissue and liver. A: Body weight. The body weight of mice was measured weekly following a normal diet or high fat diet feeding during the period of 18 wk. The arrow indicates the starting time of curcumin gavage; B: Weight of epididymal adipose tissue; C: Liver weight. The mice were fed with either a normal diet (ND, n = 10) or high fat diet (HFD, n = 20) for 16 wk. The HFD fed mice then received gavage of either curcumin (50 mg/kg per day, n = 10) or vehicle (1% carboxymethyl cellulose buffer, n = 10) for 15 d. The ND fed mice were also gavaged with the vehicle. The mice were sacrificed for tissue isolation and weighing. aP < 0.001, HFD or HFD + curcumin vs ND; bP < 0.001, HFD + curcumin vs ND; cP < 0.01 HFD + curcumin vs ND; dP < 0.05, HFD + curcumin vs HFD. Four mice from HFD and four mice from HFD + curcumin group died during the gavage procedure.
---
Citation: He HJ, Wang GY, Gao Y, Ling WH, Yu ZW, Jin TR. Curcumin attenuates Nrf2 signaling defect, oxidative stress in muscle and glucose intolerance in high fat diet-fed mice. World J Diabetes 2012; 3(5): 94-104
---